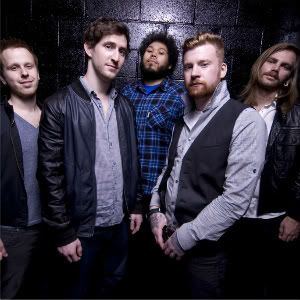 Date: May 1st, 2010
Venue: The Roadhouse, Manchester
Support: In Fear And Faith
Website: None available
MySpace: www.myspace.com/dancegavindance
Rating:


With the loss of original second support act Asking Alexandria due to commitments with Bamboozle Festival and also replacement Azriel due to illness, Dance Gavin Dance are supported solely by In Fear And Faith for their final few dates of their UK headline tour. Their Manchester date at The Roadhouse is their last date of said tour, and though this would diminish the energy and effort from many bands Dance Gavin Dance aren't ones to back down.
Thankfully In Fear And Faith (***) are an exception to such expectations too, ensuring that their long-waited set is one worth waiting for. With it being their first visit to the UK, the co-frontman Californians are out to give it their all, and sticking with familiar ground by avoiding material off their upcoming album. The fun pirate-based 'Pirates… The Sequel' and more emotionally involved 'Your World On Fire' are delivered each with confidence and prowess deserving of them delivering the goods to us overseas. Though stage room is small for the six of them they seem to cope aswell as they would on a stage twice its size, and vocalists Scott Barnes and Cody Anderson act like they're brothers singing and screaming to one another to their faces.
Dance Gavin Dance (****) to begin with are a little more mellowed out than their support, but vocalist Kurt Travis from the word go is flailing about to the music from start to finish, showing no sign of fatigue. Will Swan's capability of playing some of their most technical riffs whilst screaming like a raging caveman who's just had his food stolen is quite a sight to behold, and evidence of a talented musician. Kurt is quite the joker too, claiming three songs into the set that they're about to play their last song of the night, and stating "this is a brand new song we've never played before" to open up old fan favourite 'Lemon Meringue Tie'. Their set is clean, erratic, exciting and energetic encouraging an encore that continues as if they never went offstage with 'Alex English' whipping a frenzy in the crowd. This frenzy moves onto the stage for final song 'Uneasy Hearts Weigh The Most' which somehow manages to draw up to two dozen young girls and boys to join their musical heroes onstage and giving the security a little challenge is removing them.
Both Dance Gavin Dance and In Fear And Faith left the UK with a bang and their British fans a thirst for more, but the question is when will there be more?
Written by Zach Redrup