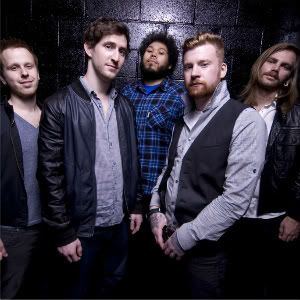 Date: May 25th, 2011
Venue: Camden Underworld, London
Support: Don Broco, The Dangerous Summer
Website: None available
MySpace: www.myspace.com/dancegavindance
Rating:


For the first time ever, progressive post-hardcore types Dance Gavin Dance are in the UK with their full original line-up, and also for the very first time ever, they are playing their famous 'Downtown Battle Mountain' debut album in its entirety. So, as you can imagine, the hype and anticipation surrounding the arrival of the band is extremely high.
Whilst many people have chosen to not show up until the main act, those who arrive early are treated to brief set by Bedford boys Don Broco (***), whose heavy pop-punk tunes cause a minor stir amongst the crowd, and songs like 'Thug Workout' and 'Dreamboy' even seem to win over a few new fans in the process. Whilst their sound is not overly original, they pull it off well even though on occasion they have a tendency to become somewhat dull.
You can't help but feel sorry for The Dangerous Summer (***), their summery throwback to the mid 90's pop-rock tunes seem somewhat out of place considering the band they are opening for. Playing to a disinterested crowd, the band soldier on heartily despite some clear sound problems, to which they must be given full credit. Whilst the songs themselves may be a tad dreary, it's clear they have some potential, and given the right time and place they could prove themselves, however, this was nor the time nor the place for them.
As the time draws closer to the arrival of Dance Gavin Dance (****) the crowd are tense. The band themselves can be seen pottering around backstage, and all the fuss seems to be surrounding infamous frontman, Jonny Craig. Every member of the crowd is most probably wondering the same thing; "will he perform tonight?". As the band rips into 'And I Told Them I Invented Times New Roman' the answer is a clear and most definite yes. He and co-vocalist Jon Mess work in perfect harmony throughout songs like 'Strawberry André' and fan favourite 'Lemon Meringue Tie'. This is the most impressive performance that the band has put in for a long time, as they seem perfectly at home within the tiny confines of the Underworld.
Combining technical, hypnotic riffs with powerful breakdowns, the band roll like a well oiled machine through clear crowd pleaser 'Turn Off The Lights, I'm Watching Back To The Future', and watching them do so is a true pleasure. For a band that has had so much negative publicity of late, it is good to see that they are able to shrug it off and put in a workman like performance such as this. If every show they put on is as good as this, it won't be too long before they explode onto the scene, although somewhat belatedly for far too many people's liking.
Written by Oliver Thompson