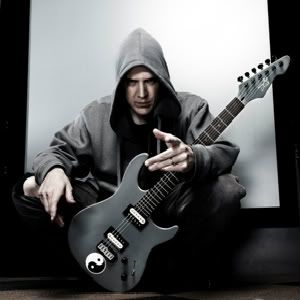 Date: November 5th, 2011
Venue: University, Leeds
Line-up: Humanfly, Cerebral Bore, A Forest Of Stars, Conan, Turisas, Evile, Altar Of Plagues, Amplifier, Godflesh, The Devin Townsend Project
Website: www.damnationfestival.co.uk
Facebook: www.facebook.com/damnationfestival
Rating:


The seventh running of the Damnation Festival falls on bonfire night this year, and there's no shortage of metaphorical fireworks spread across three stages inside Leeds' student union. A one day event, Damnation is very similar to Bloodstock in style, catering for the heavier side of metal with past headliners including Carcass and The Dillinger Escape Plan whilst also employing a number of post- bands like …And So I Watch You From Afar and Maybeshewill. It's been a personal goal to make the 10 hour trip up from Plymouth for the last few years, and so it's awfully lucky that it wasn't a waste of time and in fact a very worthwhile endeavour.
After wandering in before the festival started (people are too busy to care if you're in a band or not), we finally brave the queue for the sake of our ticket price and as a result lose our place for the opening act on the Zero Tolerance stage, Humanfly (**). The general consensus is that the music is interesting enough but the vocals kill it. The Terrorizer stage is due to be opened by Cerebral Bore (***), but due to some inexplicable faffing about, their set only runs for a few minutes before they have to leave the stage. Strange start after we'd been watching them set up this stage all morning. A Forest Of Stars (**) back on ZT are as bizarre as expected, with their Victorian steampunk like take on post-black metal coming off a bit hit-or-miss. Vocalist Mr. Curse stands silently for vast periods of the set, occasionally interjecting with some ungodly screams. It's all very should-have-read-the-memo stuff.
Conan's (****) reputation precedes them as being extremely heavy live and they are no disappointment. Looking like they've just left the pub in their tracksuit get-ups, their style of music is as far away from their image as possible. Their insanely low tuned guitar is strummed excruciatingly slow, alternating mainly between 2 notes and sometimes breaking off into High On Fire-esque stoner metal riffs. There's no doubt that this is ridiculously heavy stuff, like slowly having your balls crushed between two boulders. En route to the Jagermeister (main) stage, we catch a bit of Shining (***) – the blackened jazz Shining – which is enough to thoroughly terrify us; while we were only able to catch one song, it is the most spazzworthy thing you will ever hear with the saxophone flailing seemingly randomly and creating a very unnerving feel about the room.
Turisas (****) are on form as ever as hordes of black and red painted fans pack into the largest stage. You've gotta feel for the guys; their costumes must take longer than the actual set today. Nevertheless, they do not disappoint, playing fan favourites such as the new 'Stand Up And Fight', 'Holmgard And Beyond' and finishing with 'Battle Metal'. Evile (****) are looking perkier than they did on tour a couple of weeks ago as they launch into an all out thrash assault, effortlessly whipping the pit into a frenzy and churning out inspired riffs and solos. Keep on like this and they will surely be headlining this thing come a couple years time.
Back over to third stage for my personal reason for attending; post-black metallers Altar Of Plagues (*****). They do not disappoint, launching into a track from their new album in style. They aren't even hampered so much by guitar issues in their short but sweet set. These performances don't come round every day, but will stay with you for the rest of your life. It's a truly phenomenal thing to witness live, being just utterly beautiful and ferocious in equal measures. It's obvious that they've thought about every part of the set, and it ends in astonishing fashion with vocalist Dave Condon screaming his guts out into the mic, falling to the floor and panting for breath under the weight of the sheer momentum of it all.
Amplifier (*) follow up but mess around for far too long checking sound and their inoffensive rock stylings are rather boring, causing us to head over to main in hope of catching the end of Godflesh (***). People later complain about the noise levels during the bass heavy set, but in this genre of industrial metal it needs to be this loud really to differentiate it from other forms of metal.
It's coming up to 9:00PM by the time they finish, and the announcer tells us to pay attention to the screen while we wait for tonight's headliner. What follows is something that only The Devin Townsend Project (*****) could get away with. Dubbed "Ziltoid FM", the omniscient creature himself introduces himself as the techies set up, somehow managing to get a sea of black t-shirt long haired metalheads to start singing along and dancing to pop songs like Lady Gaga and even the Vengaboys. Devin eventually strides out to rapturous cheers and opens by saying "If you're too cool to dance to the Vengaboys, then fuck off!". What follows is a thoroughly entertaining whirlwind tour through Devin's discography, interspersed with his token wit and charm and also mixed in with small skits involving Ziltoid on the screens behind "75% of the audience here is gay! The other 25% are just ugly!". The set has been impeccably choreographed, and it's almost an honour to be witnessing such an impressive display at times. Only Devin Townsend could get away with a violent mosh pit for a smooth jazz song (from 2009's 'Ki'). Only Devin Townsend could get away with spouting random interjections on songs (Ziltoid interrupting a guitar solo by Devin to shout "Penis!"). The main is an absolute genius, no doubt about it. The entire crowd is awaiting his every move as the man exudes class. The encore is unexpected for the band at least ("Who wants to hear another? Damn, I gave away all my picks…"). Nevertheless, the band reappear to play 'Vampira', complete with the hilarious little music video in the background featuring Devin dressed up as a devil prancing around amusingly. I'm just gonna say it: I am deeply in love with Devin Townsend.
Written by Martin Savage
Founder & Editor for DEAD PRESS!