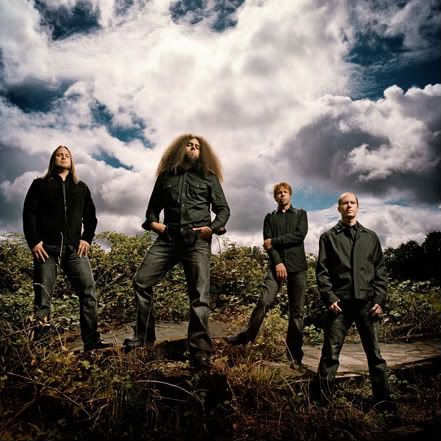 Date: November 12th, 2012
Venue: HMV Ritz, Manchester
Support: Fighting With Wire
Website: www.coheedandcambria.com
Facebook: www.facebook.com/coheedandcambria
Twitter: www.twitter.com/coheed
Rating:


Prog rock giants Coheed & Cambria are back in the UK and this time they have a brand spanking new album, 'The Afterman: Ascension', the first part of their new double record. Having already received many a positive review for it, they're eager to play it live. According to the fountain of knowledge, Wikipedia, CoCa frontman Claudio Sanchez is to turn his comic book series The Amory Wars into a full-length film, so this may be the last chance to see these guys for some time now.
Irish three piece Fighting with Wire (****) have the near impossible task of warming up the crowd, but they do a pretty good job. They're somewhat like a heavier version of Ash, with a bit of Seether thrown in there too. Either way, they have an excellent sound and a great collection of songs. Though there's little movement from the crowd, there's the odd headbang-of-acceptance here and there. Overall, a superb opening set from this promising young band.
It seems that Coheed & Cambria (*****) have a treat in store for us tonight, bring not one but two sets. The first was a short 4 song acoustic one that, quite frankly, was absolutely perfect. Standing alone on stage, Claudio serenades us with the beautiful 'Pearl Of The Stars'. Bar a few drunken morons, he stuns the crowd into silence with this tender ballad. His voice suits the acoustic ambiance so very well and highlights just how incredible his voice is. Shortly afterwards, the whole band accompany him for a wonderful rendition of 'A Favor House Atlantic', 'Mother Superior' and 'Wake Up'. Seeing this stripped down acoustic set really demonstrates just how bloody talented these guys are.
The big spectacular main electric set was also fucking amazing. From start to finish the band are on fire, not missing a single note or beat. As expected, the guitar solos are phenomenal, each smothered with more effects than a Michael Bay film. Claudio's live voice is just as strong as it is on record, not the he needs it, as most of the crowd are belting out each and every word. There are even a few isolated pits here and there. I was excepting Coheed & Cambria to be nothing short than brilliant and they blew my expectations right out of the water. If you haven't seen them yet, make them a priority on your 'to watch' list. You won't be disappointed.
Written by Andy Roberts