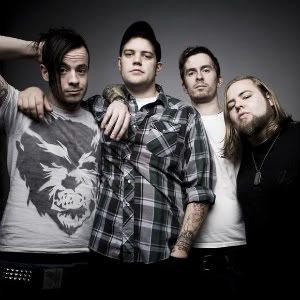 Date: March 21st, 2013
Venue: The Fleece, Bristol
Support: Empress / Brutality Will Prevail
Website: www.cancerbats.com
Facebook: www.facebook.com/cancerbats
Twitter: www.twitter.com/cancerbats
Rating:

Cancer Bats have to be one of the hardest working, hardest rocking and hardest partying bands in the industry today. They operate on an endless loop of touring, hitting festivals and dives alike with their acerbic brand of scuzzy punk. The audience at The Fleece tonight are cramped in, sweated up and ready to let loose and, with a line-up like this, things are set to go nuclear.
It falls to Empress (***) to open proceedings with their angular metal. The rhythms are tight and the performance passionate, but their efforts only garner polite applause from what is sadly a disinterested crowd.
Brutality Will Prevail (***) fair better and open up the first pit of the night for some enthusiastic 2-stepping. Their sound is muscular and blunt, but provides enough thrills to warm the room in preparation for the headliners who, backstage, are getting ready to slay tonight.
It has been four years since Cancer Bats (****) last paid a visit to Bristol, and from the heavy atmosphere of anticipation on the cramped dance floor of The Fleece, they've been sorely missed. The band waste no time, launching headlong into the raw classic 'Pneumonia Hawk' before rattling through new jams 'Bricks & Mortar' and 'Road Sick'. Through hard work and even harder touring, Cancer Bats have forged an enviable list of killer tunes. There's a great blend of new and old material tonight; fan favourite 'Shillelagh' has aged well and is as storming as ever, while any track from their breakthrough album 'Hail Destroyer' causes chaos in the pit, particularly an incendiary 'Sorceress' which gets the room spinning. 'Scared To Death', with its steady build from intense hardcore punk to all out madness, is the loudest singalong of the set and gets every head in the place banging.
But it's in the details that tonight really shines. In vocalist Liam Cormier, Cancer Bats have a likeable, hilarious frontman who works hard to include the crowd in their music, whether it's giving the mic to fans for the chorus of 'Deathsmarch', or throwing willing stagedivers from the stage, all with an infectious smile on his face.
Cancer Bats are nothing short of phenomenal tonight. The music is heavy, road-beaten and battle-worn, just like the band themselves. There is a workman-like feeling to the show, which dulls the edge on the magic somewhat, and though it's great that they're still happy to play in smaller venues, it's difficult not to imagine the damage they could do on a bigger stage. It's impossible to deny the power of Cancer Bat's sound, the likeability of the band and their ability to throw one hell of a party.
Written by Grant Bailey