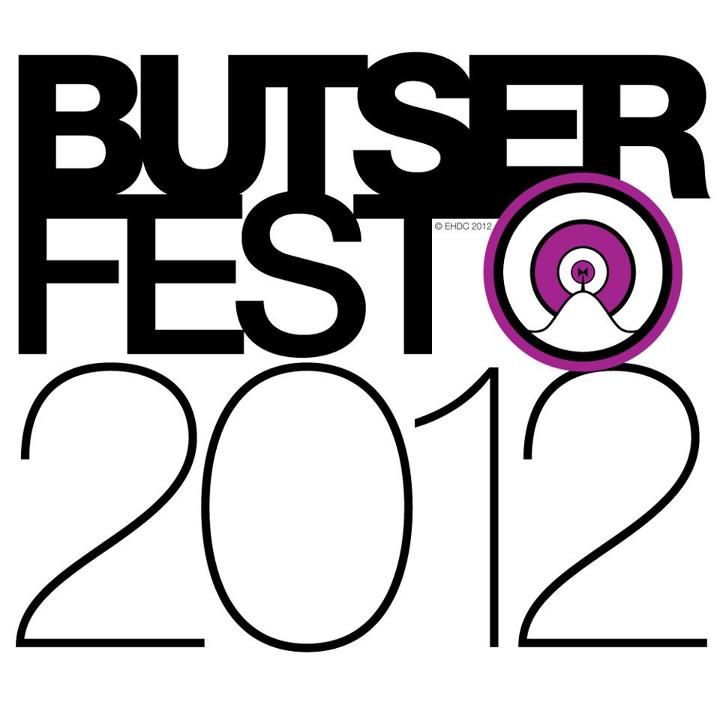 Date: September 15th, 2012
Venue: The Queen Elizabeth Park, Petersfield
Website: www.butserfest.co.uk
Facebook: www.facebook.com/butserfest
Twitter: www.twitter.com/butserfest
Rating:


Butserfest appears to be in the middle of nowhere: just off the motorway with very irregular public transport that ended a little before 9:00pm. On the basis of that and with advance tickets being only £20, you'd be forgiven for having low expectations about this festival. But, despite these factors Butserfest boasts one of the best festival line-ups of this summer. With a main stage full of up-and-coming newbies alongside steady favourites, coupled with a stage sponsored by Small Town Records hosting sets from a heavier bunch of bands, the line-up is intense.
The festival boasts a 'No Drink, No Drug' attitude and, therefore, to keep people occupied and not thinking about how much they'd love a pint, some activities are put in place. There are inflatable wracking ball games, a rodeo bull, bungee runs, inflatable table football and a bike you could ride in order to make your own smoothie. There isn't really a huge amount more you could ask for from a festival. In rare British tradition, even the sun was shining.
---
FLOODS (SMALL TOWN RECORDS STAGE) – 9/10
A recent addition to the Small Town Records family, Floods are here to prove that they belong. Frontman James Power does what he does at every show: jumps over the barrier and performs the entire show from within the crowd. If you've seen the band before then great, you know it's part of their set, but if not, you may be a little worried as most of the crowd seem. As James bounds through the crowd, screaming in the faces of many and sinking to the floor, the beautiful melody of Joe Page's voice and the fast and frantic instrumentals bring the band's sound together to create something truly spectacular. The band are raw, chaotic and a pleasure to watch. It won't be long before they'll be headlining stages just like this.
MALLORY KNOX (MAIN STAGE) – 8/10
For such a young band, their fan base is already pretty sizeable and from their set it's no wonder why. The crowd is hugely responsive and pits erupt out across the crowd from the moment front man Mikey Chapman opens his mouth. Mallory Knox are the sort of band to look up to; their performances are second to none and I'm sure after the release of their debut full-length next year, they'll be playing bills much higher than today's.
DON BROCO (MAIN STAGE) – 10/10
Already boasting a summer full of perfect festival performances, today is no different for Don Broco. The band saunter onstage to their famous 'walk' and blast straight into 'Priorities', immediately setting things to crazy. You can see from the smiles on the band's faces that they truly appreciate everything they get and put 110% in the set. An assortment of tracks come into play, including 'Fancy Dress', 'Actors' and 'Hold On', but it's the emergence of oldie 'Thug Workout' that truly shows the band off. Frontman Rob Damiani even gets in on the action, calling for the biggest circle of the day which he then stands in the middle of. The crowd engulf him, but he soon returns to the stage beaming and proud. It really has been Don Broco's year.
POLAR. (SMALL TOWN RECORDS STAGE) – 9/10
As POLAR. explode onto the stage with the energy levels of an excitable puppy on acid, it's a pleasure to see the tent at reasonable capacity for such an early hour. Frontman Adam Woodford commands the tent with such energy, bringing to mind Frank Carter during his Gallows days. Their demonstrates off just why their debut 'Iron Lungs' has received such positive write ups, bringing something very heavy to Butserfest but without a breakdown every twenty seconds.
CANTERBURY (MAIN STAGE) – 7/10
Canterbury are simply a four piece band, full of passion, drive and talent. Ever since the release of 'Heavy In The Day', the band have been blasting out their insanely catchy blend of pop-rock with a dash of indie at festivals and shows far and wide. Their music suits this warm summers day as a relaxed crowd dance around and sing-a-long. Admittedly, the crowd isn't the biggest of the day by far, but the band effortlessly command the crowd they do have and are a true pleasure to watch.
YASHIN (MAIN STAGE) – 9/10
With two full-length albums under their belts, a dedicated fan base and immensely catchy songs, a band like Yashin can truly take over. The joint vocals of Harry Radford and Kevin Miles is a musical treat which goes down with a flurry of energy and excitement. Today, Yashin mainly focus their tracks around their latest album, 'We Created A Monster', including singles 'New Year Or New York' and 'Make It Out Alive', both of which bring a mass crowd sing-a-long. Coupled with older songs like 'Stand Up', Yashin really do pull all the punches to be right at the top of their game.
LOWER THAN ATLANTIS (MAIN STAGE) – 8/10
Watford quartet Lower Than Atlantis are already Radio 1 favourites and have really come through this year as a band to watch. They're high up on the bill tonight, and rightfully so; their music is well crafted, catchy and fantastically performed. The only sad part of the performance is the slight awkwardness of front man Mike Duce's chatter between songs. At any other festival, when half the crowd members are staggering around after a few too many drinks, they'd get a lot more laughter and cheering, but, without that element, it all falls a bit flat. Fortunately, the music is great so that you can overlook the banter. They play their new single 'Love Someone Else' alongside a few firm stape favourites like 'Deadliest Catch', both of which get waves of fans singing back, ensuring them safety and a right to be here.
FEED THE RHINO (SMALL TOWN RECORDS STAGE) – 9/10
With a recent blinding album under their belts, Feed The Rhino certainly have a lot to live up to tonight. It's a pleasure when without pretense, a band come onstage and show off brutality at its finest. Frontman Lee Tobin fires up the crowd and the tent is a hot sweaty mess of moshers and head bangers. Their choppy heavy riffs, Lee's gravelling heavy vocals and their general chaotic and brutal nature is what makes a live performance successful and Feed The Rhino prove during every second of this set that this is where they belong. They are truly worthy second stage headliners, leaving everyone's ears ringing and hearts yearning for more.
KIDS IN GLASS HOUSES (MAIN STAGE) – 9/10
Festival headliners Kids In Glass Houses have three albums under their belts, boasting enough hits to blast their way through an hour's set easily. Tonight, each song is met by a wall of screams and manages to get everyone singing along. The band blast through tracks across their whole catalogue, such as 'Give Me What I Want', 'Fisticuffs', 'Matters At All' and 'Gold Blood'. However, the set highlight, as it always seems to be, is 'Saturday'. Everyone knows the song and everyone dances away the evening in the company of a fantastic band. KIGH certainly know how to create amazing tracks and leave everyone with smiles on their faces. What a great way to end an amazing day.
Written by Rhian Westbury