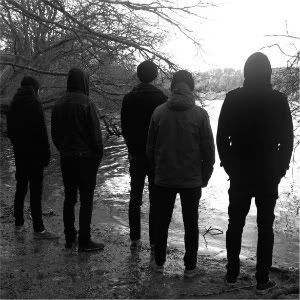 Date: March 12th, 2012
Venue: Retro Bar, Manchester
Support: Wolves, The Catharsis, Cowards, The Orchard
Website: www.brotherhoodofthelake.com
Facebook: www.facebook.com/brotherhoodofthelake
Twitter: www.twitter.com/botlaudiohate
Rating:


Deep in the dark underground room that is the Retro Bar, five highly pissed off bands are forced into a corner and made to play for our amusement. The results are somewhat spectacular as well as a tad disturbing. This was a night of hardcore/post-hardcore at its finest, with a group of the UK's up-and-coming bands pushing their limits and proving their worth.
Opening act Wolves (****) face the inevitable and difficult task of playing to an almost empty room. But, as soon as they launch into their chaotic and enticing sound, the crowd flocks in like children drawn to a Lego commercial. Similar in a way to Bastions, their set was more of a performance than your bog standard music show, with lead singer Ad Robinson throwing himself into every song, screaming his lungs out as if trying to banish his tormented lyrics from his very being. An incredible opening act for sure.
Brummie metalheads The Catharsis (****) kick things up a notch with their brand of hardcore, with a bit of punk mixed in there too. Dominating the venue, they tear through a brutal set with amazing results. Vocalist Morgan simply oozes aggression, pushing the crowd back as if he were a predator looming in for the kill.
Mixing things up a bit, Cowards (*****) bring a lighter sound to the evening with their cheeky lead singer Mike bouncing around the stage like a coked up rabbit. Sounding like a little more tamed version of Every Time I Die, they put on a thoroughly entertaining show. Also, it has to be said that their bassist looks virtually identical to actor Ryan Gosling.
Local lads The Orchard (****) throw their blend of southern hardcore into the mix. Lead vocalist Andy McQueen screams out his Cancer Bats-esque voice whilst climbing all over the set like a drunken angry monkey (I'm on fire with these animal analogies). Blasting out songs like 'Dead Town' and 'Haggard And Hanging', these guys pretty much owned the room.
Things haven't been working out for Brotherhood Of The Lake (****) lately, who unfortunately had their van broken into and their stuff stolen. As shitty as this is, they turn it around and convert all that anger into this phenomenal and passionate show. Even after they blew out one of the amp heads, they still manage to maintain their cool and perform to an incredible standard. Overall, it's an outstanding performance, in fact every band that played tonight were sublime. Each member of each band played outstandingly and there wasn't a dull moment throughout. It was a thoroughly memorable gig, one that will have my ears bleeding for days after.
Written by Andrew Roberts