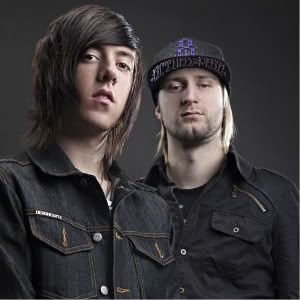 Date: January 22nd, 2010
Venue: The Roadhouse, Manchester
Support: Lights And Sounds, Me Vs. Hero
Website: www.breathecarolina.net
MySpace: www.myspace.com/breathecarolina
Rating:


With their roots and inception deriving from the idea of making music "just for fun" via GarageBand on their laptop, it seems weird to think that only three years later Breathe Carolina would be placed on the Warped Tour year after year, and now touring across the UK. Their emo take on the electro-pop scene is surely one that's kicked up a fuss, and undoubtedly causes a fun stir in the underground club.
UK support acts are the choice for this tour, and London's Lights And Sounds (**) are given the task of getting the crowd motivated first. Their generic and straight-forward take on pop-rock/pop-punk is predictable and fairly boring. The mainly pre-teen crowd get the feel of the band's vibe easily, and their cover of 'Heaven' gets a large amount of the crowd singing back to the chorus hook, but ultimately Lights And Sounds do a poor job at getting the party vibe needed for a Breathe Carolina show ignited.
It's a good thing that Me Vs. Hero (***) manage to pick up their pieces and get the crowd jumping about. Songs like 'Upbeat (Down)' and 'Star Raiders And Space Invaders' brings a fast and energetic blend of pop-punk and hardcore to a crowd who may otherwise not divulge into both genres. Frontman Sam Thompson constantly comes to the stage's edge reaching out to the crowd and sticking his microphone into the masses for sing-a-long moments, and helps bring extra hype to get the kids motivated and sweating a little bit before the main attraction.
However, the electro/emo duo Breathe Carolina (****) accompanied with their live band show the Blackpool 5-piece up, and get a proper party started. From start to finish the Colorado boys manage to get the crowd dancing from wall-to-wall, and despite them not yet achieving any element of mainstream success they also get a fair amount of people singing back lyric after lyric. Their setlist consisting of both the older material such as 'Gossip' and newer material like 'Hello Savannah', the duo keep a consistent fun and energetic presence, so much so that David Schmitt even manages to tear the leg of his jeans amidst the frenzy. The emo fist-up chant-a-long anthem of 'I.D.G.A.F.' gets a great deal of crowd participation, screaming the words "I don't give a fuck" whilst sticking their middle fingers into the air, and even gets Kyle Even crowd surfing into the middle of the action and partying with their fans.
Though they're not really breaking any new ground, Breathe Carolina may well be breaking onto your magazines and radio stations much sooner than you think.
Written by Zach Redrup