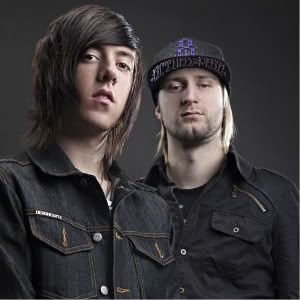 Date: September 24th, 2011
Venue: Camden Underworld, London
Support: Tyler Mae, Tek-One
Website: www.breathecarolina.net
MySpace: www.myspace.com/breathecarolina
Rating:


Shortly after their release of their third full-length album, 'Hell Is What You Make It', Breathe Carolina return to the UK with support from Tyler Mae and Tek-One to ravage London's Camden Underworld and attempt to broaden their UK fanbase. Despite the venue being slightly under full, it didn't make it any less of a good night for Breathe Carolina and their fans.
Opener Tyler Mae (****) were the first band to hit the Camden spotlight to get the night rolling, whom managed to pull off a fairly memorable performance. The band set up a great opening support; they all provided a strong set to get the crowd going, with some catchy beats, some tasty riffs and some decent drumming from both the drummers (yes, both). The band executed a decent instrumental performance as well as a good vocal performance, which was clear very clear in songs such as 'Rolling Wit' The Punches' and 'Battlecry'.
Tek-One (*****) were arguably the highlight of the night with a near-perfect performance. The band was very well received from the audience, probably due to a rise in their reputation from playing alongside bands like Bring Me The Horizon and at this year's Sonisphere Festival. Tek-One managed to perform an energetic performance as well as a very clear and well-constructed one. From their remix of BMTH's 'Sleep With One Eye Open' to Doctor P's 'Tetris Dubstep Remix' and work from well-known dubstep artists such as Skrillex and even a little teasing remix of Breathe Carolina's recent single 'Blackout', they definitely did justice as main support.
With probably one of the best openings they could of asked for, Breathe Carolina (****) took to the stage to their album intro 'Rebirth: An Introduction' leading straight into their heavier, full throttle track 'Wooly'. The power behind the vocals of Kyle Even's screams instantly get the crowd going. The band continue to play through a varied mixture of songs from old to present; from songs as old as 'Lovely' to their cover of 'Down' featured on last year's Pop Goes Punk 3. As well as a variation of age, they played a good mix of slow and faster songs numbers, featuring the likes of 'I.D.G.A.F.' and 'Hello Fascination' to more recent slower songs like 'The Edge Of Heaven'. The duo manage to keep up a highly energetic and instrumentally tight performance throughout the entire night, from diving into the crowd with the microphone to dancing onstage, continuing to influence
the crowd to keep with their pace. The only real let-down for the band was some off the off-key clean vocals from David Schmitt and Kyle Even in some of the songs, such as their recent single 'Blackout'. Nevertheless, Breathe Carolina delivered a tour date that will certainly be remembered.
Written by Matthew Collins