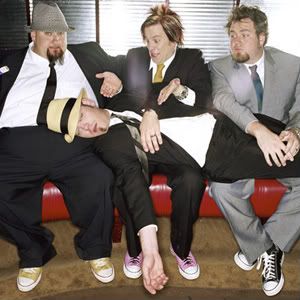 Date: April 11th, 2011
Venue: The Sugarmill, Stoke-on-Trent
Support: Erik Chandler, People On Vacation, Linus Of Hollywood
Website: www.bowlingforsoup.com
MySpace: www.myspace.com/bowlingforsoup
Rating:

Almost 17 years on from their inception, pop-punk funny guys Bowling For Soup are still going as strong as ever with studio album number 11, 'Fishin' For Woos', dropping in just a couple of weeks. Returning to the UK as a duo as opposed to the original quartet, Jaret Reddick and Erik Chandler go for an intimate and stripped down acoustic tour, during which they make a stop at Stoke, for their first ever gig in the West Midlands city.
Starting the night off with his solo offerings is Bowling For Soup bassist Erik Chandler (***), or if you want his full name for his solo work, Erik Chandler And The Mulberry St. Socialites. He sets the mood into the room just right, bringing a warm and close feeling throughout the venue with what expectations to have with the acts to follow.
People On Vacation (***), a duo side-project of Bowling For Soup frontman Jaret Reddick and completed by Smile Smile's Ryan Hamilton. The pair start injecting a little more comedy into the atmosphere, and bring the first few sing-a-long moments into play. Though their material is almost literally alien to the Stoke crowd, the two-piece have developed lethal hooks, with many people singing lines from songs after they take off from the stage.
Those who are fans of the odd metal and thrash classics would be more than amused with Linus Of Hollywood (****), who between some of his songs plays little acoustic sections from bands such as Slayer, Metallica, Iron Maiden and is even joined by Jaret for a short rendition of Skid Row's '18 And Life'. The best thing about Linus Of Hollywood's set is that he doesn't take himself too seriously, making it much easier to watch and enjoy.
But, of course, main act Bowling For Soup (*****) is the reason why The Sugarmill sold out completely, and rightfully so. The Texas-grown duo serve up one the best shows seen in the venue for a long time, intimate, humourous, and just down right fun. Acoustic renditions of 'Almost', 'Ohio (Come Back To Texas)', 'No Hablo Inglés' and 'High School Never Ends' are just a few of the almost limitless highlights of their set. There's nothing uptight or strained in their deliverence, stopping songs for some banter and to crack some jokes before kicking back into it again effortlessly.
Even if you're crazy enough to not enjoy the music, their comedy input is worth the ticket price alone. Combating the constant, and quickly annoying local chant of "Go on Stoke! Go on Stoke!" with the band's own chant about curling, "Curling is our favourite sport. Fuck you!", along with jokes about wiping bodily fluids from the chin, and not to mention the newly written song 'D.V.B.' hosting the chorus line "Don't put your D in the V when it's been in the B" are just a few of golden comedy moments.
Coming to a closing of 'The Bitch Song', 'Girl All The Bad Guys Want', '1985' and a rare acoustic version of 'A Really Cool Dance Song', Bowling For Soup are one of pop-punk's most supreme and enjoyable acts. Many new acts joining the genre have a short lifespan, but Bowling For Soup have stood the test of time, and won't be going anywhere for a long while yet.
Written by Zach Redrup