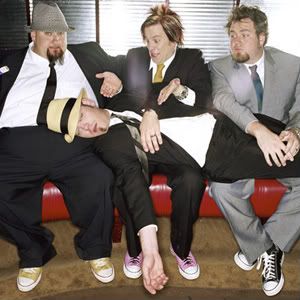 Date: March 28th, 2012
Venue: Club Academy, Manchester
Support: Erik Chandler / People On Vacation
Website: www.bowlingforsoup.com
Facebook: www.facebook.com/bowlingforsoup
Twitter: www.twitter.com/bfsrocks
Rating:

First on the bill is Erik Chandler (****), the bassist of Bowling For Soup. For those of you not in the know, Erik has been working on a solo project and has recently released an EP, 'Writing The Wrongs'. His songs are a breather from the pop-punk/rock vibe and follow a more country rock sound. His raspy cigarette-soaked voice provides the perfect tone to his reflective and sombre melodies, and he plays an excellent cover of The Lemonheads' 'Rudderless'. An excellent start to an already flourishing career.
Up next are People On Vacation (***), who sound just like people on vacation. Lead singer of BFS – Jaret Reddick – and singer of Smile Smile – Ryan Hamilton – sooth the crowd with their upbeat indie rock. It feels like POV is a romantic and mature outlet for Jaret, giving him a chance to sing about issues that aren't quite right for BFS. Although, perhaps not that mature, as he sings about "Getting a bottle of wine, drinking all night / Let's get fucked up and maybe get high". Still, I guess wine is a step up from beer. Never the less, I amongst many others enjoyed what they had to offer, and their cover of Quiet Riot's 'Come On Feel The Noise' went down a treat.
Having warmed up their voices, it's time for Jaret and Erik to return to the stage as the lovable acoustic set of Bowling For Soup (*****). The good thing about the acoustic tour is that the die-hard fans get a chance to hear some of the b-sides and rarities that get lost within BFS's massive discography. Of course, they play the classics like 'Girls All The Bad Guys Want' and '1985' (as well as an awesome cover of Fountains Of Wayne's 'Stacey's Mom'), but they also delve into some of the more hidden gems like 'Emily' and 'Running From Your Dad'.
Plus, there's just something about an acoustic gig that just makes everything so much more personal and intimate. It lets their personality ooze out into the songs (not a metaphor), and they can easily alter the set depending on the vibe of the night. Now, I know this sound naive of me, but Jaret and Erik have always said how much they love Manchester and I genuinely believe them. Looking around at the crowd, there's an age span of 6 to 66, and each and every person is singing along to every last song. Jaret even says that this gig was "the single greatest night of their career", and I happily agree.
Written by Andrew Roberts