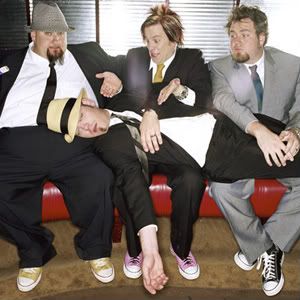 Date: October 25th, 2009
Venue: Academy 1, Manchester
Support: The Leftovers, MC Lars, Zebrahead
Website: www.bowlingforsoup.com
MySpace: www.myspace.com/bowlingforsoup
Rating:


Who doesn't enjoy a bit of comedy? It's refreshing every now and then to have a band that doesn't take themselves too seriously in what they sing and write about, and Bowling For Soup are one such band who've been doing that very trend for just over 15 years – surely a sign that they do it well. For their Party In Your Pants tour, they've brought along a few supporting acts who follow a similar fashion, and to do what they claim to do best: party!
Starting the four act party off are The Leftovers (**), who seem a bit too uneasy and unprepared for the level of performance put before them. Though they're confident in their stride, the 4-piece are very limited in stock of what to offer the Mancunian crowd. Constantly referring to people "having a party in their pants" gets old fast, especially when they decide to bring it up between almost every song on their set. Their attempts to get the crowd may be well in quantity, but with little assertion all attempts fall shortly after request.
MC Lars (***) offers something a little bit different and much more effective. Accompanied by the assistance of Preston based group Failsafe on the tour, the solo artist's ska/rap sound is given a source of life that would be impossible to recreate using backing tracks and synthesisers alone. With the aid of the backdrop for projecting video footage during his material too – which he syncs his lyrics and music perfectly in time with – makes the performance only more impressive and exciting. 'Where Ya Been Lars?' and 'Download This Song' offer an unexpected party element both musically and lyrically, and though doesn't show potential of MC Lars climbing to higher success levels, it does show an artist which is probably in their most comfortable and suited level of status regardless.
Returning to the usual band ensemble of things, Zebrahead (***) step on up to the pedestal. Crowd participation is the highlight for the 5-piece at any moment throughout their set; involving a wall of happiness as opposed to a wall of death, where the crowd would whoever they'd run into, and also getting most of the people in the venue room to crouch down before jumping up in unison. They even organise an arm signal which when used the crowd should follow, which they do just like sheep! Bassist Ben Osmundson's constant spraying of water from his mouth into the front rows is more than annoying, but is recovered and overlooked slightly thanks to the band's energetic stage presence through songs like 'Broadcast To The World' and the Avril Lavigne single cover of 'Girlfriend', warming the crowd up nicely for the night's headliners soon to follow.
It's clear to see that Bowling For Soup (*****) are definitely the main act of the evening, and rightly so with what they pull off. Setting things off with 'The Bitch Song' the room literally explodes with movement and smiling faces from front-to-back. As with all the singles they play, including '1985', 'Almost' and 'Girl All The Bad Guys Want', every single lyric is sung right back to them as if the fan's lives depended upon it otherwise. Their set is fun, humourous, and tight, with any irregular and spontaneous stops and starts pulled off flawlessly like the band know each other better than themselves. A short break mid-song where the group gather and pose on certain parts of the stage for a "musically enhanced personal band photo" bring a humourous highlight to the evening, and overshadows the slightly disappointing mid-takeover of 'Ohio (Come Back To Texas)' by The Leftovers. A hoarde of support act band members, band roadies and more flood the stage during closer 'A Really Cool Dance Song', mocking the dance music genre, and helps maintain an enjoyable set from start to finish.
Written by Zach Redrup