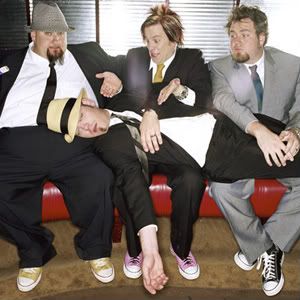 Date: October 20th, 2012
Venue: Academy 1, Manchester
Support: Patent Pending / The Dollyrots
Website: www.bowlingforsoup.com
Facebook: www.facebook.com/bowlingforsoup
Twitter: www.twitter.com/bfsrocks
Rating:


With the cold and windy weather of October taking control, there seems to be a fresh wave of pessimism across the land. I wake up most mornings wishing to just stay in my nice warm bed and do nothing for the rest of the day. Alas though, I cannot and I have to trudge into university, all shivering and cold. The only thing that seems the put a smile on my face is the summer sounds of pop-punk so I, along with many others, am really looking forward to the optimistic vibes of tonight's show.
First on tonight's bill are New York's Patent Pending (*****), who deliver a perfect opening set. They're just what you want from a support band; funny, playful, charismatic, engaging and with just a pinch of self-deprecation and plenty of immaturity. Frontman Joe Ragosta knows how to work a room and constantly keeps everyone moving by inducing circle pits and making everyone bounce around and wave their arms. It seems simple when I read it on paper, but it was a lot of fun to be a part of. Plus, throwing in a cover of 'I Want It That Way' by The Backstreet Boys was a stroke of genius as the crowd go nuts over it.
Pop-punk three piece The Dollyrots (****) are up next. I say pop-punk, but come to think of it, they're definitely more punk than pop. Though their sound may be a tad more aggressive than what I was expecting, the quirkiness of bassist and singer Kelly Odgen keeps things light. It takes a while for the crowd to warm up to them, but after a cover of 'Roller-Skates' (or, as us Brits know it, The Wurzels' 'Combine Harvester'), they win them over. Though their sound isn't perfect, I think it was in keeping with their influences. After all, this is punk motherfucker.
Everything about Bowling For Soup's (*****) set is incredible. Their choice of songs is perfect, but that's not what made tonight memorable, it's the other things. For example, BFS met someone during the day, I believe he was called Dan, who had a huge BFS tattoo. So, they get him up on stage to show everyone. As a treat to him, they ask him what his favourite BFS song is. He chose 'Suckerpunch', a song that they've not played for years. Like professionals, they suck it up and try and play it. When Jaret couldn't remember the lyrics (which is understandable, as they have a back catalogue of over 120 songs), he got Dan to sing it for him instead and it sounded awesome. It's these kind of things that make a good gig great.
There's so much more that happened at the show too, but there just isn't enough room to list it all. Their onstage antics are so natural and off the cuff, making each show special in a way. I can imagine every night of the tour being like this and that's what makes BFS such a good live band. As Jaret said, "You pay for the music, but the comedy is for free". If you're in a need of a cure for the winter blues, then look no further, nothing is as effective as a BFS gig. Hell, it's the morning after and I am still in such a good mood. Buy a ticket and go see them, it will be the soundest investment you'll make this year.
Written by Andy Roberts