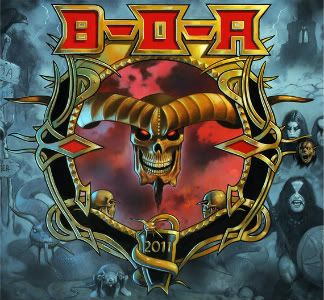 Date: August 11th, 2011
Venue: Catton Hall, Derby
Website: www.bloodstock.uk.com
Facebook: www.facebook.com/bloodstock
Twitter: www.twitter.com/bloodstockfest
Photo gallery: View it here
Note: As only two members of the site were able to review the festival weekend, we were sadly unable to cover every band performing throughout the festival.
Reaching the 10th anniversary of this festival, it has come a long way from its humble beginnings at the Derby Assembly Rooms as a one day event. Being the only underground metal festival in England, it has earned an infamy on par with the metal bands it has playing. With this being only a half day with many people yet to turn out, only the Sophie Lancaster Stage is open before the weekend truly begins.
---
SOPHIE LANCASTER STAGE:
ACHREN – 6/10
Metal To The Masses winners of 2010 Achren open today's preceedings. The death metal lads down from Scotland have some burden to carry being the first band to be playing this year's festival. Gathering a good crowd, especially for the first act on the first day, they promptly greeted the awaiting masses with a good stage presence and decent playing made for a great set.
XERATH – 6/10
Thankfully, Xerath are listenable tonight after 2008's appearance on a smaller Sophie stage where the sound guy was either drunk or just plain stupid. Playing songs from their new album 'II' and mixing in a few earlier tracks such as the groovy 'False History' they keep the atmosphere going pretty nicely.
REVOKER – 7/10
These guys have been making a name for themselves for the past few years, opening for some pretty legendary bands like Soulfly and Rob Zombie on their UK tours. These guys do their very best to get the crowd going and easily manage it. With some groovey thrashy metal tunes, they always manage to get the head banging and the fists pumping.
BEHOLDER – 9/10
This year's Thursday headliners is Beholder, the organisers of Bloodstock and a much loved band in the UK metal scene means they will always pull a big crowd. With the crowd instantly going wild for them with plenty of mosh breaking out from the very start, they always make for a wild show. With lead singer Simon Hall heading to the barrier to start a wall of death, the crowd instantly oblige. The new track off their forthcoming album goes down a storm, and with the remainder of their performance maintaing the same buzz it's a great way to end the first night.
---
Written by Jon Andrews and Martin "David Davidson" Savage
Photos taken by Jon Andrews