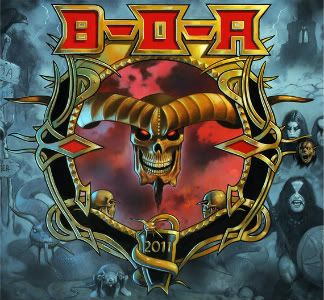 Date: August 13th, 2011
Venue: Catton Hall, Derby
Website: www.bloodstock.uk.com
Facebook: www.facebook.com/bloodstock
Twitter: www.twitter.com/bloodstockfest
Photo gallery: View it here
Note: As only two members of the site were able to review the festival weekend, we were sadly unable to cover every band performing throughout the festival.
Reaching the 10th anniversary of this festival, it has come a long way from its humble beginnings at the Derby Assembly Rooms as a one day event. Being the only underground metal festival in England, it has earned an infamy on par with the metal bands it has playing. Day two of this year's Bloodstock brings yet more metal to the people.
---
RONNIE JAMES DIO STAGE:
SKELETONWITCH – 8/10
Skeletonwitch draw a good crowd, although the frisking again means we miss the first couple of songs. They're a lot of fun though for this time of the morning, and they speed along with their blackened thrash pleasing the crowd immensely. Chance Garnette ends with an excellent quote: "Drink beer, smoke weed and eat pussy". Unfortunately they don't play 'Submit To The Suffering', but it shall be forgiven this once.
GRAVE DIGGER – 6/10
A German power metal band writing songs about Scottish things… yep, that's Grave Digger. If that wasn't unique enough for you, their keyboardist is dressed as the grim reaper whilst playing the bag pipes. With problems with their monitors until that was remedied, the band couldn't settle comfortably into their set. Once everything was rectified however, they started playing much better and the crowd responded by singing along to their songs with the usual headbanging and horn throwing.
FINNTROLL – 7/10
Finntroll are the resident party band of the weekend, and much like Ensiferum last year and Turisas the year before that, all the folk metal fans come out of the woodwork and everyone has a jolly good old time. They open with 'Solsagan' from new album 'Nifelvind', which goes down well, and also play fan favourite 'Trollhammaren'. Amusingly, there's a conga line through the crowd as well.
WINTERSUN – 8/10
Wintersun bring to the main stage some melodic and progressive infused death metal, and it's pretty much what this afternoon needs. It's heavy, yet has a melody foreign listeners can still hook onto. So, with some mosh breaking out and plenty of horns thrown during the set. With Wintersun playing brilliantly and having a great presence on stage, breaking up the songs by talking to the crowd, made for a great set from these guys.
THERION – 3/10
Therion were a band I was quite looking forward to seeing again, but they just don't live up to expectations today. Maybe it's the setting Saturday afternoon sun or the fact that I haven't eaten properly for two days, but they just seem a little bland. A few people in our camp comment on how they liked them, but I personally just couldn't see it. Maybe I missed something on this one.
RHAPSODY OF FIRE – 10/10
For the first time ever to appear in this country, Rhapsody Of Fire understandably had attracted a large crowd to watch them. Also for their first time appearance on these shores, they played their back catalogue of songs, ranging all the way back to their first album right up to the most recent songs, meant it kept all the waiting fans. This mixed with brilliant playing and brilliant presence on stage, the set went down a storm. Fabio also choosing to bait the crowd with a mixture of insults and general banter made from him made it one of the best sets for this weekend.
IMMORTAL – 4/10
I, for one, just don't get Immortal. By all means, I should love them seeing as I love Burzum and Mayhem, but there's just something about them that doesn't interest me. Maybe it's the fact that they haven't burnt any churches down or killed anyone. Many though, are here purely to see them, and there's definitely been a lot of positive feedback about their set. One thing bugged me though: how quiet they were. Seriously, I could have a normal conversation with my friend when they were playing. Maybe it's because of a noise curfew or something. Compared to Satyricon's performance on this stage a couple of years ago, it's much weaker.
---
SOPHIE LANCASTER STAGE:
DRIPBACK – 8/10
Opening the Sophie Lancaster stage today are Dripback, and this is pretty much the closest there is to deathcore all weekend. It's still definite death metal though and all good fun. With only one EP out (which I bought, thank you very much) they still have a lot ahead of them providing they last, and let's hope they do because they're very good live.
DEF-CON-ONE – 7/10
The guys in Def-Con-One attract a small crowd, but one who clearly enjoyed their music. With a groovy metalcore feel to the music made for a heavy sound for the set. This with a good stage presence with a lot of movement on stage made them fun to watch.
THE ROTTED – 6/10
Over to second stage for The Rotted, who after playing a truly terrifying set a couple of years ago have high expectations for this time round. They play well, but it's less fun this time round; maybe it's because they're on a bigger stage, but they just seem to be suited to smaller venues. A new song is played, described by lead singer Ben McCrow as "none of this polyrhythmic shit, and no breakdowns in sight" (read: rehashed death metal riffs). I also fail to see how they're "punk as fuck"; I suppose they have the attitude. Let's hope the new album is as good as 'Get Dead Or Die Trying'.
ANGELWITCH – 8/10
Whilst everyone is obviously here for that one song, the crowd is still more than interested in any other songs Angelwitch have to play. Despite the fact that they're on their ten millionth line-up, they still have the oomph that they had on their 1980 self-titled debut. Once 'Angelwitch' is played though, it's a very good set, and one that pleases many.
---
NEW BLOOD STAGE:
---
JAGERMEISTER STAGE:
---
Written by Jon Andrews and Martin "David Davidson" Savage
Photos taken by Jon Andrews