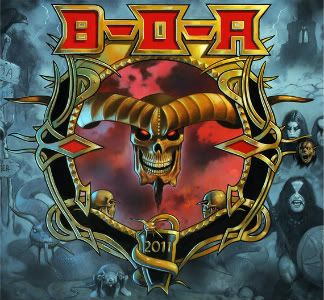 Date: August 12th, 2011
Venue: Catton Hall, Derby
Website: www.bloodstock.uk.com
Facebook: www.facebook.com/bloodstock
Twitter: www.twitter.com/bloodstockfest
Photo gallery: View it here
Note: As only two members of the site were able to review the festival weekend, we were sadly unable to cover every band performing throughout the festival.
Reaching the 10th anniversary of this festival, it has come a long way from its humble beginnings at the Derby Assembly Rooms as a one day event. Being the only underground metal festival in England, it has earned an infamy on par with the metal bands it has playing. Friday brings in the first full day of music to this year's Bloodstock, and if anything like its previous years it's going to be one hell of a weekend from start to finish.
---
RONNIE JAMES DIO STAGE:
THE DEFILED – 7/10
Opening main stage on Friday is the curveball act of the festival, The Defiled. Usually even a whisper of a breakdown at Bloodstock is greeted with boos and jeers, but by the time we arrive (thanks to overzealous arena security – annoying but necessary), they seem to have the crowd going nicely. The keyboard sounds a little loud, and maybe that's why The AvD decides to rip every key off it and throw it all into the crowd. Cue a rather proud looking fat dude striding back to the campsite with a battered old Casio.
WOLF – 7/10
Wolf are part of the emerging Swedish heavy metal scene, along with the likes of Enforcer and In Solitude, so that means plenty of energy on stage and galloping riffs. They play a new live song from 'Legions Of Bastards', 'K-141 Kursk' about the Russian submarine disaster of a few years back which sounds very good. The crowd seem to like it, but without staple song 'Speed On' it's not quite the same.
FORBIDDEN – 7/10
The first pure thrash band of the weekend is Forbidden, and they whip up the circle pit nicely with new song 'Forsaken At The Gates'. A varied set follows with songs from 'Twisted Into Form', 'Forbidden Evil' and new album 'Adapt Or Die'. They play both 'Through The Eyes Of Glass' and finish with 'Chalice Of Blood' with a crowd pleasing set. 'Off The Edge' isn't on there though, unfortunately.
TRIPTKYON – 10/10
As Triptykon walk on to the main stage, the weather almost knows it, with black clouds forming above and creating a grim atmosphere. Opening with 'Celtic Frost''s 'Procreation (Of The Wicked)' slowed down slightly, this is truly crushing stuff. I mean like, absolutely ridiculously heavy stuff. Moving on through to newer stuff with 10-minute 'Goetia', it never drags, and when 'Circle Of Tyrants' is played, the heavens open and the image is complete. There's only time for one more song at this point, and the crowd leaves thoroughly satisfied.
CORONER – 2/10
Coroner on the main stage totally lacks stage presence. As my friend remarked, "it sounds like they're just playing the CD on stage", and indeed the show sends many to sleep, including myself (hey, give me a break, I'd been up for ages okay). Portions of the crowd are entertained by it, but maybe they should have stayed split up if they're not gonna put more effort into their stage show.
KREATOR – 7/10
You can always rely on Kreator to put on a solid show, and they do just that. Playing a show that matches, if not betters their 2008 one, they blast through songs such as 'Hordes Of Chaos' (where I find it hard not to floorpunch to the breakdown in it), and more thrashy numbers like 'Extreme Aggressor'. One thing to make at this point is the lack of proper mosh pits: almost every pit is a circle pit, and it starts to get quite annoying for some people in it.
THE DEVIN TOWNSEND PROJECT – 10/10
Being asked back after last year's technically troubled set, let me say one thing to the Bloodstock organisers: THANK YOU! It's an absolutely fantastic show that he puts on, and this particular set is one of, if not the best set I've ever watched, period. Starting with 'By Your Command' from 'Ziltoid The Omniscient', the screen at the side of the stage follows the show with Ziltoid asking the Earth to provide its ultimate cup of coffee. By song two, I'm absolute love with Devin, and it's already too much to ask for anyone to top this set all weekend. 'Deep Peace' is just fantastic, bringing metalheads to sing along to a song that wouldn't be out of place in a Nickelback set. Ending with, in Devin's words, a risky track 'Vampira' has a hilarious little video to accompany it as well. Truly, this man is a fucking genius, and I've been converted into a lifelong fan. If you haven't listened to his 'Ziltoid The Omniscient' album yet, just do it, and you'll see what I mean.
W.A.S.P. – 8/10
I thought this might have been a bit of a risky choice putting W.A.S.P. on as headliners on the first night, and at the time of announcement it seemed like a bit of a copout, but once I listened to their stuff I was actually looking forward to them quite a lot. Unfortunately, they're getting on a bit now in age and with Blackie Lawless' consistent insisting on not playing certain songs or swearing on stage, it's a little irritating to say the least. It's a set similar in nature to Twisted Sister's last year, and they do the same thing that the latter did with 'I Wanna Rock' this year with 'I Wanna Be Somebody'. It drags on a bit, and they do the bit where they get one guy up on stage to sing the lyrics. Mike however isn't really up to the job. It's nonetheless not a bad set, and Friday draws to a close nicely.
---
SOPHIE LANCASTER STAGE:
CEREBRAL BORE – 8/10
Time for some excellent UK death metal next with Scotland's Cerebral Bore, fresh off a bizarre incident in New York where they were mistakenly arrested for robbing a pharmacy with a ridiculous bail. Luckily they're all here now though, and it's puzzling as to why the lead guy has such a girly voice. We later find out in the set that is in fact a female lead vocalist, and what a fucking voice she has. Right up there with the most ferocious of growlers, very impressive indeed. The biggest what-the-fuck moment comes where they suddenly break out into 80s cheese, leaving me asking "is this real life?", before they finish with some more brutal death metal.
ROMEO MUST DIE – 7/10
Romeo Must Die; a metalcore outfit featuring members from Stomping Ground. Playing to a fairly sparse crowd, they still gave all in their set. Not even Ben Frost could be stopped from stomping even having to play bass from a wheelchair. Even though only getting a small crowd out to watch them, they still played fantastically for those in attendence. For those who turned out they seemed to love the set. Breaking up tracks speaking to the crowd, and keeping current by speaking out against the riots and how no "metal types" were seen rioting made for a good set.
LAWNMOWER DETH – 8/10
Headliners of the Sophie Lancaster stage, Lawnmower Deth, are a band who originally formed as a parody on the thrash metal genre and, well, still are one. This drew a huge crowd and got them moshing and circle pitting to their set. With plenty of energy on stage and a great presence made for an amazing set to close up the bands for the Sophie Lancaster stage this Friday.
---
NEW BLOOD STAGE:
DECIMATION – 7/10
Decimation are over on the New Blood stage for the Southwestern battalions to be represented. Decimation play a set of aesthetically pleasing death metal, and there's no lack of support here either.
CRYOSTORM – 8/10
Cryostorm playing melodic death metal Children Of Bodom style however have an even better turnout, and when the miniature penguin catapult comes out, you know this shit is gonna be good. Finishing off with their self-titled song from their 'Vivify' EP, there's an excellent wall of death and no shortage of pits either. Expect this band to erupt if they get the right record deal.
---
JAGERMEISTER STAGE:
---
Written by Jon Andrews and Martin "David Davidson" Savage
Photos taken by Jon Andrews
Founder & Editor for DEAD PRESS!