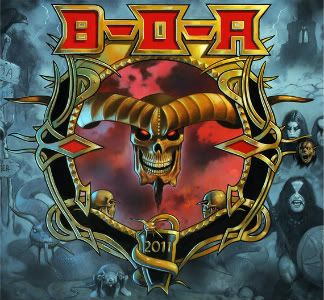 Date: August 14th, 2011
Venue: Catton Hall, Derby
Website: www.bloodstock.uk.com
Facebook: www.facebook.com/bloodstock
Twitter: www.twitter.com/bloodstockfest
Photo gallery: View it here
Note: As only two members of the site were able to review the festival weekend, we were sadly unable to cover every band performing throughout the festival.
Reaching the 10th anniversary of this festival, it has come a long way from its humble beginnings at the Derby Assembly Rooms as a one day event. Being the only underground metal festival in England, it has earned an infamy on par with the metal bands it has playing. With the weekend coming to an end, well-respected rock act Motorhead are the ones who are set to finish 2011's Bloodstock.
---
RONNIE JAMES DIO STAGE:
HELL – 7/10
To open the Sunday are Hell, an almost theatrical heavy metal band that well pretty play the set as if it was a Sermon at a Black Mass. With vocalist David Bower using a headset microphone instead of a hand held one allowed for his body language to speak as much as his singing, which added a lot to the performance. Whilst the songs were broken up by speaking to the crowd, it was done in the theme of the whole set and still talked as if it were a Sermon. With the crowd joining in on the songs becoming his "choir", so to speak, it made for a great opening Sunday set.
1349 – 4/10
Sadly, 1349 suffer from many of the same problems that Gorgoroth did a year before. Playing at this time of the day with the sun blaring down on hungover smelly metalheads isn't really that grim at all, and perhaps they're more suited to an indoor venue, or even the indoor stage here.
PRIMORDIAL – 9/10
Drawing a bizarrely sparse crowd, Primordial storm out with booming stage presence, and A.A. Nemtheanga with his corpse-painted head, genuinely looks pretty damn scary. The first couple of songs go really well before suddenly, his voice deserts him. He tries to continue on, but it's just impossible to do so without causing major damage to yourself, and it's left to the rest of the band to communicate with the crowd that he won't be able to continue with the rest of the set. It's a genuine shame as they were mine, and I know a few others', main band of the weekend, but these things just happen sometimes. The rest of the band play on a now instrumental set, which is still awfully good considering how much of a force A.A. is. He attempts to scream from time to time, but every time he has to stop short and look thoroughly dejected. He just has that 'I need a hug' feel about him as the band play main number 'Empire Falls'. He manages to squeeze out a small "for hallowed victory!" as the crowd applaud him for his efforts. Hopefully they will be invited back next year to try again.
NAPALM DEATH – 10/10
Napalm Death are a band that I considered skipping, but I'm so glad that I didn't. Their enthusiasm is still strong after all these years and the music is just as weighty. Mark "Barney" Greenway is a brilliant lead singer, although you wouldn't pick him out as the singer of a grindcore band. They are truly entertaining on stage, with such banter as "this one is above peace and love" as they power into a pummeling death metal number. Whilst there's no shying away from the fact that they're a political band, Barney is sure to not be overly preachy about the topics they're singing about.
HAMMERFALL – 7/10
Going from ridiculously fast to a little more normal paced with HammerFall, a bunch Swedish power metal guys. Playing with plenty of flair and ability made for a good set to watch and to listen to. Easily getting the crowd to respond with yells and with horns thrown made them lap up the set even more so. Overall, an enjoyable set from these lot.
EXODUS – 7/10
Playing a set of varied songs (with notably none from 'Exhibit A' to my disappointment), Exodus play a rip-roaring set full of yet more circle pits. It's basically a continuation of what Forbidden were doing earlier in the weekend, being from the same scene and all, and it's pretty much the same crowd of denim-clad rockers and long haired naked dudes. My friend makes it his mission to dance a waltz during 'The Toxic Waltz', which goes down well with onlookers.
AT THE GATES – 6/10
At The Gates draw a huge crowd to the main stage, and why not? One of the pioneers of melodic death metal, they play plenty from 'Slaughter Of The Soul' to delight the fans, many of whom have travelled just to see them (our Australian backpacker friends for example). It's a pretty standard set however, and anyone who has seen ATG before will have seen it all before.
MORBID ANGEL – 7/10
Morbid Angel were either going to be pretty good, or pretty shit. Saying that, they're just average today, with many people leaving throughout the set. Amusingly, I'm not the only one shouting "Radikult" in the crowd, although I think if they were to play it Bloodstock may just become a riot.
MOTORHEAD – 9/10
It wouldn't be a festival without Motorhead, and despite quite a few difficulties, the music is still very good. Lemmy sounds like he could drop any moment, but to be fair, he has done for some time now. Having two or three breaks, many of the crowd later complain about it, but it's really not that much of a big deal. They also end early, which they later attribute to poorliness. I suppose it can't be helped.
---
SOPHIE LANCASTER STAGE:
EVIL SCARECROW – 8/10
Over to something far less serious with Evil Scarecrow. As a band they're clearly going for stage persona and comedy over anything, but they still make a good sound along the lines of something death metal, but being a fairly serious genre it feels weird branding them that, or anything really. With the whole band (including the drummer) dancing around on and off stage made for an incredibly good set to watch. The crowd turned out in a large number to watch the set, and clearly enjoyed all the antics.
POWER QUEST – 7/10
Power Quest are a cheese overload on second stage. We were drawn to the fact that members of Dragonforce used to be in the band, and it sounds fairly similar without the over the top soloing. Disappointingly again, they don't play 'Cemetery Gates', making it a full 4 out of 4 songs that I personally wanted to see not living up to expectation. But that's just me.
AMARANTHE – 5/10
Amaranthe are playing their second set of the day on second stage, after a fairly boring acoustic set earlier in the day on the Jagermeister stage, and it's not that much more interesting here either. Boasting three vocalists (female, clean, and growled… I don't even…) they fail to make the impact of one really, although there are plenty of neckbeards here adoring lead singer Elize Ryd's perfectly moulded derrière.
---
NEW BLOOD STAGE:
---
JAGERMEISTER STAGE:
---
Written by Jon Andrews and Martin "David Davidson" Savage
Photos taken by Jon Andrews