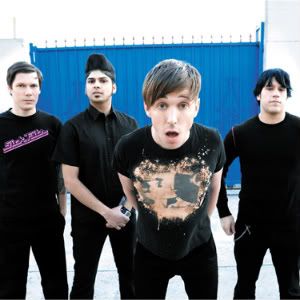 Date: November 6th, 2012
Venue: Academy 1, Manchester
Support: Don Broco / AWOLNATION
Website: www.billytalent.com
Facebook: www.facebook.com/billytalent
Twitter: www.twitter.com/billytalentband
Rating:


The Rock Sound Riot Tour is back in town, only this time Billy Talent are taking the reins. Last year, the infamous Every Time I Die headlined it and, by god, it a good show. But, there's no doubt that Billy Talent are up the challenge of delivering a spectacular show too. Fuelled by the release of their new album 'Dead Silence' and the fact they haven't been in the UK on a headline run for three long years, the crowd is simply buzzing and eager to see these Canadian rockers.
Opening for a well established band is always a difficult task, but if anyone is up for the task, it's Don Broco (****). Though the majority of the crowd are motionless for most of their set, Don Broco's charm wins them over, breaking out moves like 'the walk' and synchronised dancing during 'Hold On'. Though, it's the furious 'Thug Workout' that really gets shit going, with an almighty pit. From that point, on everyone's dancing and bouncing around. As always they're on true form and sound great, playing with a genuine smile on their face.
As far as I'm concerned, AWOLNATION (****) give a damn near perfect set. They sound phenomenal, with frontman Aaron Bruno effortlessly singing in falsetto and screaming like a beast. The only real issue is the crowd. Most people are stubborn as fuck and refuse to move, despite the incredibly dancey vibes being pumped into the room. It's not as if Aaron Bruno doesn't try to get people to dance, forever coaxing the crowd to get involved, but in spite of his best efforts to get folks up and moving, they're just not having it. By the end, people are getting involved and dancing a bit, but I can't help but feel it would be a lot more fun if people just lost it.
Men of the hour Billy Talent (*****) couldn't deliver a better set if they tried. The sound is absolutely perfect, like when they emerge onstage to 'Lonely Road To Absolution'; they sound so good, I thought it was the track from the album being blasted from the PA. Each and every member played perfectly, Ben Kowalewicz's clean and rough vocals are, as always, exceptional, Ian D'Sa doesn't miss a single note of his complicated riffs and solos, Jon Gallant's bass line is forever wandering and Aaron Solowoniuk's drumming keeps the crowd on their toes with his speedy beats and catchy rhythms.
Their choice of songs is just right also, with mainly old classic tracks such as 'Surrender' and 'Try Honesty', peppered with some new material like 'Runnin' Across The Tracks' and 'Viking Death March'. Ben has the room wrapped around his little finger and could whip up a vicious circle pit at the drop of the hat. Luckily for me, he uses his powers for good and has everyone screaming the lyrics at the top of their lungs.
Written by Andy Roberts