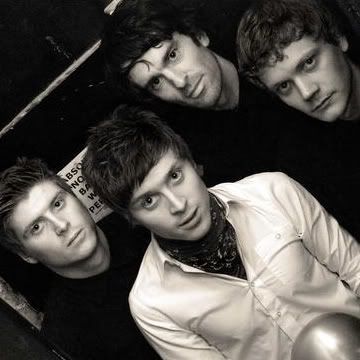 Date: June 4th, 2009
Venue: The Sugarmill, Stoke-on-Trent
Support: Heart Of The Sun, The Ritzz
Website: None available
MySpace: www.myspace.com/baddies
Rating:


It's always nice coming across bands that haven't really made it yet, but look like they're getting the support and attention where they could very well hit it. The thought of being one of few people to say "I saw them when they were in tiny venues and barely no one knew them". Baddies are one such hotly tipped band, and in The Sugarmill venue where there are about 30 to 40 people maximum, you may question just when the word about this lot is going to get around.
The folk/indie 4-piece Heart Of The Sun (*) aren't in a position to be playing to larger crowds yet, and with their onstage performance there's definitely room for improvement. In their defence, the boys are quite charismatic with the very few people present, though that doesn't quite cut it – even if they've only been on the whole 'band playing live' circuit for a short space of time. Bringing out the blackboard and practice can only do good things for them.
Other small time locals The Ritzz (***) are much more on the mark, producing a similar yet ultimately much tighter and more rounded off product of the whole indie rock musical craze hitting the scene as-of-late. Though talk is small and rare unlike the previous band, The Ritzz reveal potential of perhaps being an Arctic Monkeys in the early makings, and songs like 'False Apologies' show off capabilities beyond the band's years.
Despite their surprising performance quality, it all gets overlooked and maybe even below mediocre at best when NME and Q tipped Baddies (****) bring their guns out. Bringing all the pros from both support acts and more into their arsenal, songs like 'Holla For A Holiday', 'Tiffany I'm Sorry' and 'Battleships' come out all polished and shiny with hints of fun and choas on the side to kick life into the band's set. Frontman Michael Webster enters a frantic, energetic, and off-the-wall trance throughout the entirety of the show, jumping about on one leg and fixing eyes oddly at different spectators. It's acts like this that bring evidence that music doesn't always have to be serious for it to be worthwhile.
Baddies are hotly-tipped by many magazines, radio stations, and other promotion and press means across the country. Their almost empty show at The Sugarmill may well first come across as a band who are nowhere, but rest assured; Baddies are going to be going somewhere before you know it.
Written by Zach Redrup