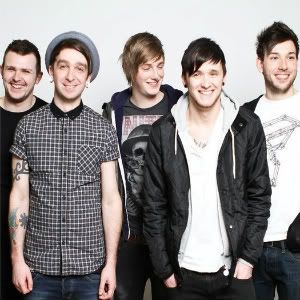 Date: February 4th, 2012
Venue: Classic Grand, Glasgow
Support: Draw The Line, Constellations, Paige
Website: None available
Facebook: www.facebook.com/autumnindisguise
Twitter: www.twitter.com/aidisguise
Rating:

Last year's Red Bull Bedroom Jam finalists Autumn In Disguise have a sold out venue laid out before them for tonight's event on their co-headline UK tour with Paige, but the Scottish boys are headlining their homeland Scotland dates, and tonight there's no doubt who the masses have flocked in to see.
This is an early one, and local support Draw The Line (***) manage to have a decent number of people in front of them, considering the fact that they are lining up alongside three pretty experienced bands in comparison tonight. But, not letting age and experience hinder them, vocalist Lauren McCafferty and her male comrades manage to get this crowd off their feet, playing a rousing cover of 'Moves Like Jagger' amongst a load of their own pop-rock material.
Constellations (***) make their way to the stage shortly after, and again get this packed crowd moving. Putting in a very musically emphatic performance into tonight, with powerful riffs, a great deal of rhythm and energy aplenty, these guys definitely know how to rile a crowd.
Next up, are critically acclaimed Paige (****), probably the most established band on the bill, having supported You Me At Six, Bring Me The Horizon, The Blackout, Andrew W.K. and many others to date. The guys take to the stage and immediately show us why they're here. Powerful pop-rock music, technically brilliant, and Lewis White's voice reverberates around the venue flawlessly. Paige look like a band on the up and up, and with punchy riffs and catchy hooks in abundance. They put in an ever consistent performance tonight and warm this crowd up perfectly.
Tonight's main act Autumn In Disguise (****) draw in the masses who surround the stage as the Aberdonian quintet take to it. They waste no time as Stephen Napier, David Gonnella and Scott Low command the string section with aplomb, initiating flawless melodic riffs time and time again, while James Forbes keeps the rhythm and Mike Hendo distributes his endearingly soft vocals directly into the soul of every single person in this venue. Autumn In Disguise are a band who can shift the dynamics of a single set if and when they please, delivering upbeat tunes with all of their hearts behind it. These guys put 100% in and show that they deserve to top this bill, and it's clear to see the crowd agrees too, hanging on Hendo's every word.
Written by Gary Cassidy
Founder & Editor for DEAD PRESS!