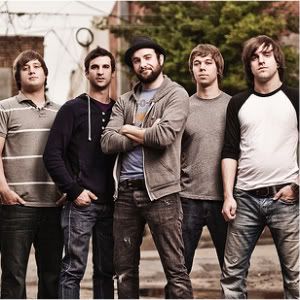 Date: October 22nd, 2012
Venue: O2 Academy, Bristol
Support: Veil Of Maya / The Devil Wears Prada
Website: www.augustburnsred.com
Facebook: www.facebook.com/augustburnsred
Twitter: www.twitter.com/abrband
Rating:

For your alternative sermon tonight, August Burns Red and The Devil Wears Prada will be preaching the word of our lord Jesus Christ. Don't mention Veil Of Maya though, or He'll smite you down. Crucifixes at the ready and let's see those hands.
Despite being devil worshippers, Veil Of Maya (**) must be the loveliest metal band you've ever seen. You just want to give lead growler Brandon Butler a big hug. Maybe that's why they suffer from a diminutive stage presence then. Another problem may be that as a four piece, they only have one guitarist and one bassist. On record, they're heavy as fuck, they're the perfect band to workout to, but in a live setting on a stage as big as the Academy's, songs like 'Unbreakable' just don't pack the same punch. Breakdowns are supposed to provide a brutal break in the song, like being hit in the face by a train, but when they come at every single chorus and verse, they don't mean nearly the same. Dayum shame.
The young crowd immediately picks up for The Devil Wears Prada (****). Vocalist Mike Hranica is an absolute animal, jumping all over the place. Despite looking like the nerdiest band ever, they hold their weight in the ring, even throwing in a couple of obscurer tracks; 'Escape' and 'Outnumbered' from their 'Zombie' EP. It's a set reminiscent of As I Lay Dying's a few days ago, with harmonic vocals backing up meaty chugging. 'Born To Lose' is a perfect example of such a track, with its amicable chorus and jarring surroundings.
August Burns Red (*****) were arguably one of the best bands at Download Festival this year, and the general consensus from talking to the crowd was that they'd garnered a lot of fans from it – many had come off the back of that performance. Obviously they weren't gonna be as good as they were in June; the massive stages of Donington Park had bass that could make you give birth, but in a smaller setting, they still form an impressive spectacle. The set is perfectly crafted: starting with some mid-pace songs like 'Internal Cannon' (featuring salsa dancing) and 'Cutting The Ties', they deal with the mid-set energy lull by playing a slower song 'Carpe Diem' (lighters and cellphones at the ready) before finishing with 'Back Burner'. We are even treated to the superb 'Salt & Light'.
3 star set so far. Now comes the drum solo. A smaller drum kit is wheeled out, which is picked up by bassist Dustin Davidson and he plays along in perfect timing with regular drummer, Matt Greiner. Just when you think it was impressive enough, they switch places with no real disturbance. So, not only is Dustin dashingly handsome, but he can also sing, play bass and smash through a drum kit. Most talented guy in modern metal? Maybe. That bumps the set up to 4 stars. Now comes the encore of 'Empire' and 'White Washed'. Fuck are ABR gonna go away without playing these two beauties, and they don't disappoint one bit. 5 star set. Bam!
Written by MG Savage