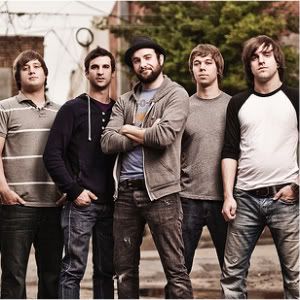 Date: October 21st, 2012
Venue: HMV Ritz, Manchester
Support: Veil Of Maya / The Devil Wears Prada
Website: www.augustburnsred.com
Facebook: www.facebook.com/augustburnsred
Twitter: www.twitter.com/abrband
Rating:


Thesaurus.com has over 100 synonyms for the word 'brutal', therefore, I have no excuse to use that word other than in this sentence. August Burns Red are one of the best metalcore bands around. Fact. Guitarist JB Brubaker stated that the genre "has almost become very formulaic, and metal to me was never a formulaic genre" and it's safe to say that ABR are far from formulaic. They merely use hardcore as a foundation to build and then add flawless solos from all aspects of the band. The two support bands here tonight aren't you standard hardcore bands either. So, with three destructive bands on the bill, you can expect there to be more breakdowns than a weekend in a mental hospital.
Illinois deathcore act Veil Of Maya (***) are first on tonight's bill. They all excel in their respective fields and their performance ticks all the right boxes, but the crowd just aren't having it and hardly budge to being with. Eventually, the odd pit breaks out, but for the majority of the set everyone seems quite subdued. Their down-tuned Meshuggah-esque riffs sound amazing and Brandon Butler's vocals are downright terrifying, but perhaps he could have coaxed the crowd to get involved a bit more. Either way, the band deliver an entreating set and hopefully recruit some new fans in the process.
As soon as The Devil Wears Prada (****) take to the stage, the room simply erupts. Vocalist Mike Hranica instantly launches himself into the role of frontman, delivering powerful screams and causing absolute chaos in the pit. The sound is incredible and the whole band performs superbly from the chunky riffs to the clean vocals. As their set goes on, the crowd grow somewhat weary and tired, but as soon as TDWP unleash 'Mammoth' the room musters what little energy it has and goes berserk.
Men of the hour August Burns Red (*****) are simply phenomenal. Every member played perfectly and the music flows so well. Frontman Jake Luhrs effortlessly works the room, creating circle pits, walls of death and all round carnage. But, it's not all death and destruction. Oh, no. The thing I love about ABR is the variety amongst their songs, like during 'Internal Cannon' there's this wonderful Latin-type interlude where, when played live, Jake forces everyone to dance along. It's shit like this that makes a show fun and memorable.
Overall, it's a damn good night. Three great bands and a lively audience is enough to make anyone's night. Plus, I managed to get through this entire review without using the word 'brutal'. Oh, god damn it.
Written by Andy Roberts