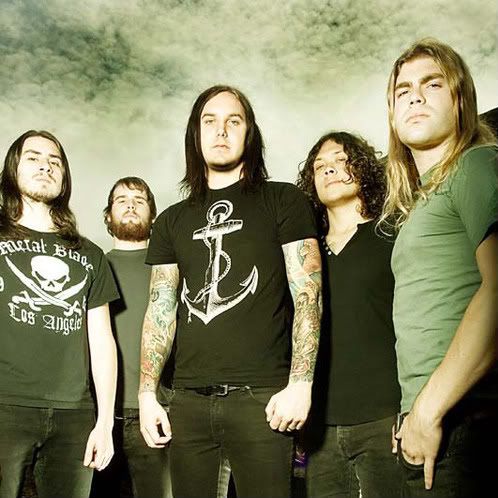 Date: November 28th, 2010
Venue: Academy 2, Manchester
Support: Sylosis, Heaven Shall Burn, Suicide Silence
Website: www.asilaydying.com
MySpace: www.myspace.com/asilaydying
Rating:


After releasing their latest album 'The Powerless Rise' earlier in the year, which has been claimed by some as their "best release to date", As I Lay Dying's November 2010 tour could also be their craziest and most successful thus far. For their UK part of the tour, original openers Rise To Remain left due to other touring commitments, but with Sylosis available to fill their spot the 4-act bill resumes forwards.
It's respectable that Reading's Sylosis (**) stepped-up to fill in the opening gap upon such short notice, ensuring people got their money's worth, and though their execution was sharp and tight from start to finish it missed that flare of energy and excitement to really kick things off properly. All engines are set and ready to go, but Sylosis aren't turning the key to begin the ignition.
Imported from Germany, Heaven Shall Burn (***) make more of a worthwhile and entertaining performance. Marcus Bischoff's screams are impending, and their appearance in Manchester is definitely more than welcomed, with most of the front few rows screaming along song after song. They don't walk away as heralded champions however, the 5-piece's sound is mushy throughout and at times certain members are hard to hear properly, with each member constantly overpowering one other.
Suicide Silence (****) however bring the true level of brutality and carnage expected from such a heavily-driven tour line-up. Mitch Lucker's stage presence is undeniably dominating, ordering the crowd commands throughout their set with them conforming to his every whim and demand. His deliverence of his shrieks and growls are barely human, and more something that's crawled its way out from the underworld. Set closer 'No Pity For A Coward' is the most significant highlight of their impression on the UK fanbase, bellowing the repeated "Pull the trigger bitch" several times from at least half of the Mancunian crowd right back into the 5-piece's delighted faces.
Headliners As I Lay Dying (***) come onstage to a parade of screams and yells, it's more than obvious that this is the band that most people are here to see. Though their performance is obviously whipped into fine shape, the Californian quintet for the most part of their set suffer from the same downfall as Heaven Shall Burn: poor sound. Tim Labesis' brute grunts and barks bleed and drown under the waves of distorted guitars and come across less than half as forceful as intended, leaving what could have been potentially a great performance to something that's nothing more than average at best, and it's all out of their hands.
Written by Zach Redrup