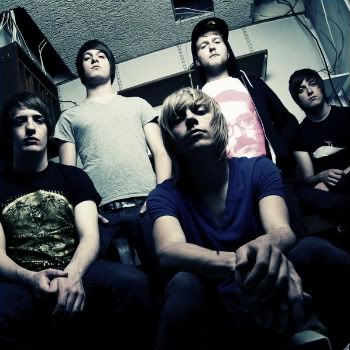 Date: January 24th, 2009
Venue: The Sugarmill, Stoke-on-Trent
Support: A Textbook Tragedy, Misery Signals
Website: None available
MySpace: www.myspace.com/architectsuk
Rating:

Metal has many different subgenres, crossovers, genre blends, etc. which has grown over the years, offering something new and refreshing whilst providing variety at the same time. But at the end of the day as with any other type of genre, if it's good then what does it matter? Architects provide a hardcore and technical approach to the metal market, which generally makes for a good live show.
Canadian openers A Textbook Tragedy (***) are first-timers to the UK, and set a good first impression to make their mark on the country. Their breakdowns and slaughtering riffs and drum beats combined the frenzy harsh vocal work backed by extra screaming sets off the first few mosh pits of the evening, consisting of people who probably haven't even heard of the band before the show.
Misery Signals (**) are more than familiar to the British shores, but despite this advantage their performance lacks the extra oomph factor that even their earlier novice support acts held themselves. Sure, Misery Signals pulled out a great reaction from their fans and other members of the audience, but something just made them come across as they weren't giving them as much as they potentially could. The band's stage movements were very few and basic across the whole board, despite lead vocalist Karl Schubach being almost pulled off the stage from the fans at one point.
But everything is regained and recuperated by the time the show headliners Architects (*****) bring their guns out. Sam Carter works up the crowd and paces across the stage in an aggressive manner like he's been doing this job for many years, showing a possible legendary frontman in working progress. Though upcoming album 'Hollow Crown' still isn't legally available for a few more days, the crowd know most of the words from the record. Evidence of how the music industry is effected by the capabilities of the Internet, but in this case it seems to be working for the Architects' advantage. Aswell as newer material like 'Early Grave', 'Follow The Water', and 'Numbers Count For Nothing' watering up the official release of the band's album, older and more well-known songs like 'Buried At Sea' and 'We're All Alone' keep up the high frequency of mosh pits and kids jumping on and off the stage for the remainder of the evening. Members of the audience even put their arms around the band, and at times attempt singing down the microphone with Sam Carter, before jumping back into the crowd.
Nights like this should surely do nothing but put into the hearts of Architects where they've gotten to since the beginning, and where they could possibly be in a just short space of time.
Written by Zach Redrup