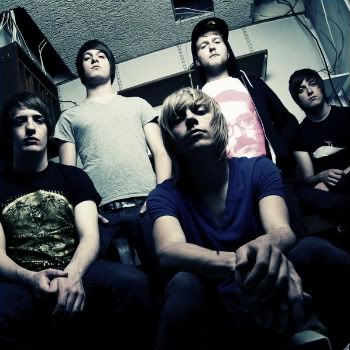 Date: April 9th, 2012
Venue: O2 Academy 2, Liverpool
Support: Stray From The Path / Rolo Tomassi
Website: www.architectsofficial.com
Facebook: www.facebook.com/architectsuk
Twitter: www.twitter.com/architectsuk
Rating:

Despite the unquestionable success that their last full-length 'The Here And Now' brought to Brighton metalcore outfit Architects, the more mainstream and radio friendly nature of the record polarised a lot of opinions within their fanbase. Now, with a new album with a lot more "balls" on the way, the band are set on a headline UK tour, revisiting some of the less acknowledged cities at more intimate venues. Tonight, it's Liverpool's rather small O2 Academy 2.
Amercian openers Stray From The Path (***) inject the aggression into the room from the second a single note is played. Their somewhat technical but fully in-your-face hardcore has some melodicies within its basic mainframe, giving a platform for new fans to get involved whilst those already familiar with the quintet encite the first few circle pits of the evening.
Still remaining as one of those few bands whose sound 'really-shouldn't-work-this-fucking-well' two albums into their career, Sheffield's Rolo Tomassi (***) are captivating to watch onstage, most notably frontwoman Eva Spence. At times roaring like a grizzly bear out for murder whilst jumping from side-to-side and twisting her spine like a Slinky, then at other times maintaining her lady like grace in dance, it's hard to believe she holds that demonic voice in her small dainty stature. New offerings like 'Old Mystics' show sure signs that these guys will hold their spark strong for a while yet, but a few technical problems here and there cripple them from performing to their full potential.
It's clear however that Architects (****) are by far the main attraction tonight. Cue the array of teen girl screams as soon as frontman Sam Carter is in full view to the whole room, and as soon as they burst into set opener 'Devil's Island' his screeches belt out any audiable teen lust. 'Follow The Water' and 'Hollow Crown' shine strong as the biggest crowd engagers, with almost every available voice in the venue singing back in a huge chorus to the Brighton outfit.
Depsite steering clear of any technical glitches unlike Rolo Tomassi shortly before them, Sam brings a few bloopers himself, falling over on one of the stage speakers not once, but twice. 'In Elegance' and 'Early Grave' are true moments for axe-men Tim Hillier-Brook and Tom Searle to shine, and 'The Blues' and 'These Colours Don't Run' balances out the band's bite and sleek hooks with even distribution.
It's unlikely that the band will be playing shows this small again in the foreseeable future, especially given the two tracks lifted from the soon-to-be-release record 'Daybreaker'. Mark these words, Architects are going to explode this year.
Written by Zach Redrup
Founder & Editor for DEAD PRESS!