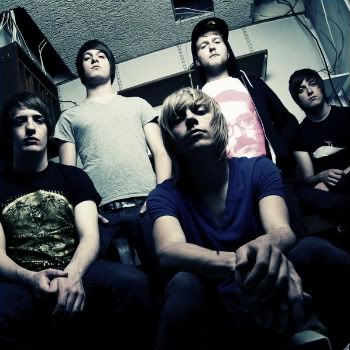 Date: October 2nd, 2010
Venue: Club Academy, Manchester
Support: Lower Than Atlantis, Devil Sold His Soul, Norma Jean
Website: None available
MySpace: www.myspace.com/architectsuk
Rating:

Before the release of third album 'Hollow Crown' back in the beginning of 2009, Brighton's Architects were a very underground tech metal/metalcore band who'd tried and tried to get their name out there but to very little avail. Over a year later from the release of that record and the rowdy 5-piece are on an almost completely sold out UK headlining tour, all before the release of their follow-up record, 'The Here And Now'. If that record increases their popularity just as much as the one preceeding it did then this could be their last few shows in such small venues.
Recent eye (or ear if you'd prefer) catchers Lower Than Atlantis (***) get things moving at a steady pace, with their accessible take on hardcore punk making them easily the most ear-friendly act that'll be on the stage tonight. Though it's not all screaming bellows as hoped from most of the crowd there are clearly old and newly converted fans in the first few front lines, clapping along and chanting to tracks like 'B.O.R.E.D.' and 'I'm Not Bulimic (I Just Wanted To See How Far I Could Stick My Fingers Down My Throat'.
Things get more atmospheric and ambient whilst moving the volume levels up a few notches when Devil Sold His Soul (****) make their appearance. Stacking their set mainly with tracks off their recent record 'Blessed & Cursed', it's obvious the band are a hit. From 'Tides' straight onto 'Drowning/Sinking', DSHS have never been a band that you can really pit or mosh to, more a band that you nod your head whilst digesting every ounce of audio goodness leaving the speakers. This still doesn't seem to stop some people though.
It's clear though just how rarely Norma Jean (****) come to British shores, and how much us Brits appreciate it when they eventually get around to it. The 3 year wait has clearly been on the minds of many of the crowd, who right from the start are going, for lack of any better way of saying it, fucking mental! Streams of sweat sit upon the majority of people's foreheads, and they're not even getting involved in the carnage in the huge mosh pit generated. Vocalist Cory Putman's taunts pick things up a little bit more, but not even a fraction as to how much set closer 'Memphis Will Be Laid To Waste' manages to produce.
Brighton's Architects (****) don't quite get the already sweaty and tired crowd up to the level of intensity Norma Jean managed, but the crowd are still more than pumped for the night's headliners. Recent single 'Day In Day Out' detonates what could well be one of their last headlining slots in the Club Academy venue, and the explosions keep on coming with songs like 'We're All Alone', 'Early Grave' and 'To The Death'. Sadly the sound for the band keeps acting odd with one speaker cutting out every now and then for a few short seconds, but this doesn't discourage the group. Unexpected choice 'Hollow Crown' shows a more calm and melodic side from the band and fans alike, before following with closer 'Follow The Water' which helps display in a live setting the best of their heavy and the best of the harmony in one.
It took time but Architects are climbing the metalcore appreciate ladder more and more lately. 'The Here And Now' could well propel them further towards the top than you may think.
Written by Zach Redrup