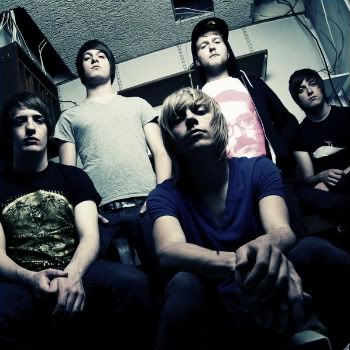 Date: November 12th, 2012
Venue: Academy 2, Manchester
Support: The Acacia Strain / Bury Tomorrow / Deez Nuts
Website: www.architectsofficial.com
Facebook: www.facebook.com/architectsuk
Twitter: www.twitter.com/architectsuk
Rating:

The more socio-political driven messages behind Architects' latest full-length 'Daybreaker' has undoubtedly managed to turn a few heads both within and outside of their immediate fanbase. The less personal and more mass concerning lyrics and issues tackled have worked well in the Brighton outfit's favour and a UK run supporting the release is going to see them in live effect.
Starting things off in a crushingly heavy and deprecating fashion are The Acacia Strain (***), delivering what will be the heaviest offerings throughout the entirety of the evening's bill. Frontman Vincent Bennett is as morbidly depressing as ever, citing between songs how happiness is overrated. His screams and growls depict pure hatred and resentment for the world too, setting proceedings off nicely.
Metalcore powerhouse Bury Tomorrow (****) keep the energy levels high, inciting a pit right from the first notes of set opener, 'Lionheart'. Vocalist Dani-Winter Bates is a rather formidable and commanding frontman, who knows just how to get the crowd amped up and pull out all the energy within them. A guest appearance from someone dressed as a chicken brings in a few chuckles, but ultimately it's the brutish hits like 'Royal Blood' which shine from the British outfit.
Things sadly take a bit of a U-turn once Deez Nuts (**) take to the stage. Though their hardcore/brocore and messages to "stay true" certainley bring out the 2-step in everyone and the whole unity of the scene, but ultimately, as a band Deez Nuts need to tighten things up and deliver something a bit more substantial than a message of being true to your friends and family. Maybe album number three will do just that.
It goes without saying that headliners Architects (*****) pick things back up where Bury Tomorrow left off and run a few lengths of fields and smash through a few walls too. Sticking strongly to work from their 'Hollow Crown' and 'Daybreaker' records, it's clear to see the albums and material the Brighton lads are most interested in and proud of. 'Early Grave' sends everyone insane and 'Alpha Omega' sees the room singing back louder than they have done all night. Bassist Ali Dean even manages to crowd surf, before everyone underneath him carries him all the way to the bar at the back of the room.
A gig of fun yet intense metal from start to finish. Right now, it looks like things can only go up for Architects, make sure you catch them before they go sky high.
Written by Zach Redrup
Founder & Editor for DEAD PRESS!