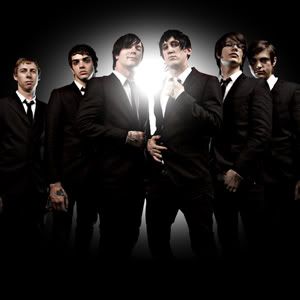 Date: April 18th, 2010
Venue: Club Academy, Manchester
Support: Bury Tomorrow, A Skylit Drive
Website: www.alesanamusic.net
MySpace: www.myspace.com/alesana
Rating:


The last time Alesana came over to the UK was back in 2008, and that was for the Download Festival along with a few dates beforehand with The Devil Wears Prada and A Day To Remember. Fast forward two years and the band have another album out entitled 'The Emptiness' and a headline UK tour to help promote it on these shores, and tonight will show if the wait was worth it for both the band and the fans.
Homegrown metalheads Bury Tomorrow (****) set things off to a blinding start, with an exciting and fast-paced set of metalcore madness. The crowd are going absolutely bonkers, maintaining a fairly impressive sized most pit throughout, and not to mention the countless fans crowdsurfing for a chance to get closer to the UK 5-piece. Guitarist Davyd Bates' occassional banter of nipples and "the show's own Hugh Hefner" brings a light of comedy between songs, and slightly more melodic 'You & I' brings a few second breather for those drenched amidst the sweat and carnage.
A Skylit Drive (**) however are dampened greatly from a collection of problems from the moment they begin. The sound levels for frontman Michael Jagman's microphone are completely off and occassionally creating feedback, which isn't a great addition to an already ill vocalist who asks for help from the audience to sing-along with their songs. Popular tracks like 'I'm Not A Theif, I'm A Treasure Hunter' and 'Wires… And The Concept Of Breathing' ignite some reaction from the fans, but generally they stand their with little to no movement. The energy is there with the band, namely drummer Cory La Quay and bassist Brian White with their assisting harsh vocals and erratic playing, but ultimately A Skylit Drive just aren't in there as much as they could be.
Things shift from your run of the mill rock 'n' roll show to something much more theatrical for headliners Alesana (****). With the 6-piece sporting smart funeral-like suits and formal wear, they play into the tale that recent album 'The Emptiness' brings to life. With minimal inbetween song banter throughout the set aside from encore 'Apology', their set follows a song/narration/song/narration etc formula, which daringly consists mainly of new album material. 'A Lunatic's Lament', 'Annabel' and 'The Thespian' are all in there, and in their story leading style bring something a little new to the norm of a show today. Vocalists Shawn Milke and Dennis Lee act a little differently to most too. Shawn being little more dramatic, caressing his microphone stand and letting the narration control him, and Dennis more spontaneous by jamming the microphone into his mouth, hanging it down from the roof pipe and placing it in his blazer inner-pocket and screaming into it to name but a few.
In short Alesana have definitely earned and definitely don't waste the oppurtunity to carry out a headline tour in the UK, and with what Manchester were treated to they'll surely be welcomed back with arms open wide.
Written by Zach Redrup