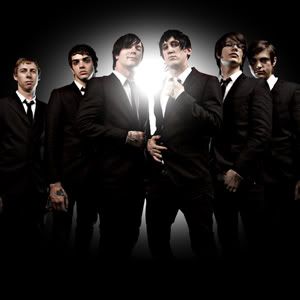 Date: February 9th, 2012
Venue: Club Academy, Manchester
Support: Glamour Of The Kill, iwrestledabearonce, We Came As Romans
Website: www.alesanaofficial.com
Facebook: www.facebook.com/alesana
Twitter: www.twitter.com/alesana
Rating:

With new full-length albums both bunked out within the space of a few weeks, rising American post-hardcore acts Alesana and We Came As Romans have embarked on a co-headline tour across the UK, and on the Manchester date of this run, it's Alesana's turn to close things off.
However, the only British band on the line-up Glamour Of The Kill (**) don't get things going to a good start, and in doing so don't bring a great name for our nation against the three other American acts on the bill. Their hard rock comes across bland and generally uninteresting, something done by many bands before them much better. To be fair, a few technical problems don't really help their cause, but these aren't to blame for Davey Richmond's irritating vocals in songs like 'A Hope In Hell'.
Thankfully, Louisiana's iwrestledabearonce (****) manage to kick things up a few fucking gears, and it's now when the concert really begins. Basically a much more beefed up, American, chaotic and LSD driven version of Rolo Tomassi, songs like 'Karate Nipples' and 'You Ain't No Family' display that though that you don't have to be the most serious and stuck up band to know how to deliver anvil heavy "avant-garde" metal. Krysta Cameron's vocals are even more beastily live than they are on record, the only setting where you can truly witness this band at their full potential.
We Came As Romans (***), the first of the two co-headliners of this tour, come onstage to a barrage of screams from the crowd, and bassist Andrew Glass is even sporting a chicken costume throughout their set. Yes, it confused me a little too. New album offerings 'Mis//Understanding' and 'What I Wished I Never Had' honestly sound too similar paired together, but it's debut album hits like 'To Plant A Seed' and 'Broken Statues' that truly bring the band out to their full form.
With some dialogue playing out whilst post-hardcore sextet Alesana (**) emerge from the darkness before the lights drench the room. It'd be a lie to say that frontman Dennis Lee is anything but energetic onstage, constantly throwing out his somewhat trademark thumbs up accompanied with a cheeky wink whilst screaming and growling with fresh songs like 'Circle VII: Sins Of The Lion'. But, after about 15 minutes into their set, it seems like what you're watching is being rehashed again and again. This general repetition throughout is what's going to hold Alesana from breaking through to the next stage of ascension in their career. Still, their efforts must be credited, and 'The Murderer' and 'The Thespian' from 2010's 'The Emptiness' were clear highlights through their hour long set.
Written by Zach Redrup
Founder & Editor for DEAD PRESS!