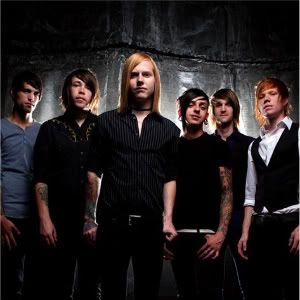 Date: September 28th, 2011
Venue: Club Academy, Manchester
Support: Sleeping With Sirens, Woe, Is Me, I Set My Friends On Fire
Website: www.askylitdrive.net
MySpace: www.myspace.com/askylitdrive
Rating:


Now with three full-length albums to their name, A Skylit Drive are finally in a position to go on their own headline tour across the UK, and with them they've brought along three American support acts who will be making their first ever live appearance on British shores. Though it isn't quite sold out, a huge queue files up outside the Academy venue in Manchester, all hyped up to catch the US legion that compose the evening's line-up.
First act making their Manchester debut, Sleeping With Sirens (****), are majorly hyped within the Mancunian crowd, and rightfully so. Deliver a set which intersperses between material from their two albums, such as 'If I'm James Dean, You're Audrey Hepburn' and latest single 'If You Can't Hang…', the young post-hardcore boys are definitely ones more catered to the female portion of the audience. Frontman Kellin Quinn is equipped with a voice that can switch between high angelics and formidable screams, making for a melodic yet surprisingly crushing set.
With a recent change in vocalists in the past few months, Woe, Is Me (****) have got a lot to prove, and fresh frontman Hance Alligood appears more than confident in his new role. The trade off vocals between himself and screamer Michael Bohn through number[s] (see what I did there?) like 'Fame > Demise' and set closer '[&] Delinquents' brings their co-vocal role come across like it's been going for much longer than a few short weeks. It's their cover of Katy Perry's 'Hot N Cold' however that gets the crowd truly reeled in, bringing in the first huge sing-a-long of the evening.
Main support act I Set My Friends On Fire (***) are easily the most erratic and unsettling act in terms of their music style and crossover of several genres, making the crowd a little unsure and reserved for the majority of their time on stage. Banter about lactation are a hit-or-miss subject matter, but it's undeniable that Matt Mehena's bowel quaking lows and near demonic screams through the likes of 'Brief Interviews With Hideous Men' are to envy. 'Things That Rhyme With Orange' and finale 'Ravenous, Ravenous Rhinos' receive the greatest crowd reaction, and though ISMFOF may not be everyone's cup of tea, their efforts should definitely be appreciated.
It's a shame that tour headliners A Skylit Drive (***) however don't manage to pull the biggest crowd of the evening, with half of the room either leaving or going elsewhere during the most part of their set. The band don't seem phased by this though, and jaunter through a set composed of some of their greatest songs, including 'I'm Not A Theif, I'm A Treasure', with great swagger and everything locked down tight. Though vocalist Jag's range isn't as impressive as it is on record, he still manages to hold his own against nearly every other vocalist in the genre, and depsite the band possibly pulling the smallest crowd of the night but also being the headliner, ASD brought a fitting end to an evening filled of American branded, approved and sealed post-hardcore.
Written by Zach Redrup
Founder & Editor for DEAD PRESS!