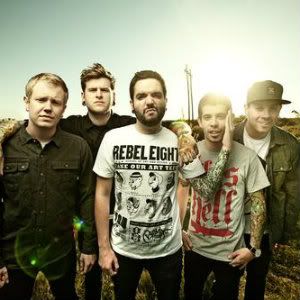 Date: February 5th, 2011
Venue: O2 Brixton Academy, London
Support: Pierce The Veil, Bayside
Website: www.adtrofficial.com
MySpace: www.myspace.com/adaytoremember
Rating:

This is a landmark occasion for A Day To Remember; this date on their latest expedition to the UK is their largest headlining show to date and their impressive performance tonight marks the occasion fittingly. The band hit the stage full of power, prowess and enthusiasm as they set the room alight.
First up however, are the Mexicans Pierce The Veil (***), and although their jittery post-hardcore suffers early on, the band manage to more than pick it up towards the end of their short set. A dramatic run through of 'Yeah Boy And Doll Face' gives a first glimpse of what the band has to offer. As Jeremy McKinnon joins the band on stage for crowd pleasing closer 'Caraphernelia', the crowd whip themselves into somewhat of a frenzy before the band depart.
Following are US punks Bayside (***), who despite a subdued crowd manage to deliver their one dimensional punk pop with a certain ease. Their appeal is somewhat lost on the crowd, with only a few onlookers trying to incite some sort of crowd reaction. Their cover of Weezer's 'My Name Is Jonas' is their most well received song of the set, and after a hurried run through of 'Devotion And Desire', the band depart hastily to no disappointment of the crowd. Full marks to the band for effort though.
There is little question of who everyone is here to see tonight. From the second the lights drop and the music builds, the crowd move less like individuals and more like a collective mass, and it's quite a sight to behold. As A Day To Remember (*****) pummel through a ferocious opening of '2nd Sucks', 'The Danger In Starting A Fire' and 'A Shot In The Dark' bodies are thrown around the floor and over the barrier at an alarming rate. Though it's their latest release, only 4 songs from 'What Separates Me From You' make it onto the set list tonight, but 'This Is The House That Doubt Built' and 'All I Want' sound impossibly huge.
Playing a 'Homesick' heavy set was always going to be hit or miss, but tonight is definitely a hit as the band power their way through 'Mr. Highway's Thinking About The End'. There is a marked improvement on the band's live performance since they last hit British shores, with McKinnon hitting all the right notes throughout an impressive take of 'Monument'. As the band return to a haunting rendition of the acoustic 'If It Means A Lot To You', and a crowd pleasing run through of 'The Downfall Of Us All' and 'The Plot To Bomb The Panhandle', there's a definite sense of occasion about the way they bring the show to a close. Definitely a night to remember in South East London.
Written by Oliver Thompson