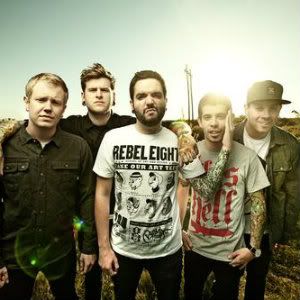 Date: January 30th, 2011
Venue: O2 Apollo, Manchester
Support: Pierce The Veil, Bayside
Website: www.adtrofficial.com
MySpace: www.myspace.com/adaytoremember
Rating:


Even with a good few albums to their name, it wasn't until the great success of 2010's 'What Separates Me From You' that pushed A Day To Remember into much wider mainstream acclaim. Just 3 years ago the Floridian quintet were only just filling small venues like Manchester's Academy 3, and now they're almost selling out venues more than 5 times that capacity like the O2 Apollo. Things can only get bigger for them from here.
It's been a four year gap since openers Pierce The Veil (***) came to our British shores, and back then they were in support of The Blackout at a considerably smaller sized venue. However, they don't come across as unsettled, and deliver a strong set including tracks from their new album like 'Besitos', and more aged material such as 'Yeah Boy And Doll Face'. A few sound complications hold the band back and keep at restraint what could've been a more impressive show, but still their breakdown-esque take of 'Like A G6' and closer 'Caraphernelia'.
Bayside (**) go for a more radio-friendly pop-punk sound than their predecessors, or the band they're in support of during this tour. Though thankfully they manage to go through the entirety of their set without any sound complications, they don't deliver half the energy or passion that has already been placed. Their cover of 'Beautiful Girls' gets plenty of people singing along, and the simplistic nature of their music encourages plenty of dancing, but ultimately they come across as a bit one-dimensional.
The stage set-up that A Day To Remember (****) brought along for the tour is impressive enough to receive some mention; a two-tier platform stage, adorning two customised punching bags either side of Alex Shelnutt's and his drum set. With over an hour set, ADTR have plenty of time and freedom to play a range of material from their entire catalogue, and with songs like 'The Danger In Starting A Fire', 'All I Want' and 'You Should've Killed Me When You Had The Chance' making an appearance they're taking advantage of this opportunity. A notivceable difference and improvement with the band's live performance is with Jeremy McKinnon's vocals. Previously he couldn't quite hit certain notes and had the odd lazy scream, but now comes across almost perfect at every moment, showing his commitment to improve as a vocalist, and ultimately making for a more profound and enjoyable performance overall.
Written by Zach Redrup