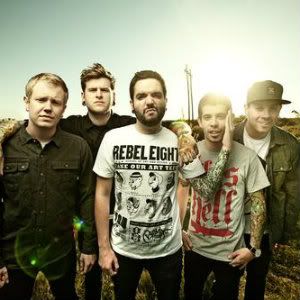 Date: November 15th, 2011
Venue: Academy 1, Manchester
Support: Living With Lions, The Ghost Inside, August Burns Red
Website: www.adtr.com
Facebook: www.facebook.com/adtr
Rating:


That's right folks, it's that time of year again; the time where the almighty Eastpak Antidote Tour comes rolling into town. Having hosted some pretty epic names in the past (such as Alexisonfire and Sum 41), this year they have gone all out. This is quite possible the best line-up since the The Big 4 came about to Sonisphere in July.
Up first are the lesser known, and somewhat out of place, Living With Lions (***). Unfortunately, their heavy Californian punk-rock is lost on most of the hardcore kids, and they would have been more suited to last years punk-heavy line-up. Never the less, they throw themselves into it and give an energetic performance full of bouncy riffs and catchy choruses. From time to time, there are some hefty pits breaking out, like during 'In Your Light', but for the majority of the set there's very little movement, and people are just awkwardly waiting for the next band.
A sizeable crowd starts to form for the more established The Ghost Inside (****), and so begins the carnage. I think it's safe to say that the majority of people are here for one thing: breakdowns, and by god do TGI do it well. From the off, they have no trouble getting the crowd to move and wave after wave of bass resonates throughout the venue. It was like nothing I have experienced before, I could feel my teeth vibrating during the likes of 'Unspoken And Chrono'. Returning in April, I urge you to go see these guys, they're pretty damn epic.
…and the award for best breakdown of the night goes to August Burns Red (*****). Given a decent 45 minutes to play, they waste no time in unleashing sheer hell in the pit by opening with the phenomenal 'Composure'. Holy hell these guys are good, so good in fact they actually made me almost forget all about A Day To Remember. Entertainers through and through, they enforced a no-moshing rule, and made everyone dance during the Spanish guitar styling's of 'Internal Cannon'. But, it's moments like the breakdown of 'Poor Millionaire' when the whole crowd scream out "COWARD!" before going mental that really push this performance into higher ranks. It looks like something from WWI. By far one of the best support acts I have ever seen, for the love of God, check them out.
If the star (*) rating is anything to go by, then all the other bands should be on one star, because A Day To Remember (*****) deliver a set that is just that fucking good. If I could give them 10 stars, then I would. Not only was their over all sound spot-on, but their showmanship was simply sublime. But, ADTR have always been pioneers in that field. There was an alien shooting free t-shirts into the crowd, a man dressed as Yoda throwing toilet paper from the stage and so much confetti, balloons and beach balls. Oh, and lead singer Jeremy McKinnon got in a Zorb ball (if you don't know what it is, consult your good friend Google) and ran around on top of the sweat drenched crowd.
That's just the extra stuff they did. Their songs are good enough to be played without all this fancy stuff, but where's the fun in that? Playing a good chunk of their last two albums, they had a satisfying range of softer ('Have Faith In Me' and 'It's Complicated') and the heavy-as-fuck songs ('Downfall Of Us All' and 'Mr. Highway's Thinking About The End'). This is easily one of the best gigs I have ever been too, and I think a vast majority of those attending would strongly agree with me too.
Written by Andy Roberts
Founder & Editor for DEAD PRESS!