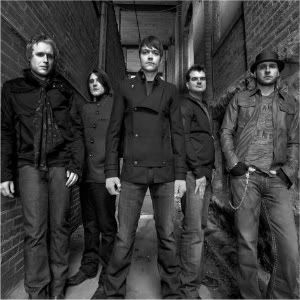 Date: June 16th, 2011
Venue: Academy, Manchester
Support: The Crave
Website: www.3doorsdown.com
MySpace: www.myspace.com/3doorsdown
Rating:

3 Doors Down are back in town to promote the release of their latest record, 'Time Of Your Life'. The Mississippi quintet has been together for nearly 15 years now, and have an impressive back catalogue of hits. Tonight, they're playing the popular Academy venue in Manchester, a venue that is admittedly a little smaller than they are used to performing at in recent years.
Up first however are The Crave (****), who sound like Brighton's answer to Theory Of A Dead Man. Though they give a solid and energetic performance, the crowd seems reluctant to get involved at first. They are the perfect choice for support, with Ryan Burnett's Americanised voice serenading the crowd with rock anthems such as 'Break The Silence' and 'Spinning Wheel'. They are granted a decent 40 minute set, and although it dragged at bit in places, they certainly stirred up the crowd with their signature song, 'Cooking In The Kitchen'.
As cliché as it sounds, tonight is all about good old fashioned rock 'n' roll. Swaggering onstage to the sound of a thunderstorm, 3 Doors Down (****) instantly have the whole audience screaming and howling as loud as their lungs will let them. Opening with 'Time Of Your Life', the title track of their latest album, the crowd bop along but ultimately fail to embrace the music. As time goes on and the set becomes heavier, people start to get more and more involved. This could be due to the fact that the crowd is a somewhat older crowd, with an average age of about 25ish.
Lead singer, Brad Arnold, (even his name screams American), simply owns the mic tonight. With his deep and gruff American voice, he caresses the mic-stand like it was an 18-year-old supermodel. To quote my friend, "his voice is enough to turn a gay woman straight". The whole band played exceptionally too, not a beat out of place and the guitar solos were awe-inspiring.
Their set is tailored to perfection too. With slow numbers like 'Behind Those Eyes' and 'Here Without You' bringing out a sea of wafting lighters, then they flip things completely, 'turning it up to 11' with their new song punk-rock-esque 'Believer'. They end the night on a three song encore of 'Kryptonite', 'Every Time You Go' and 'When I'm Gone', and you would have to have a heart of stone (or some kind of emo) not to get involved. The atmosphere was simply electric and overall a very memorable gig. Kudos to 3 Doors Down.
Written by Andy Roberts