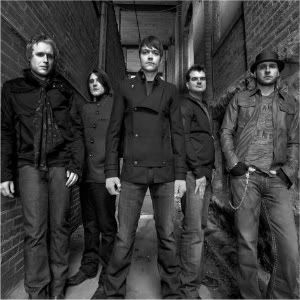 Date: March 11th, 2012
Venue: Academy 1, Manchester
Support: Takida, Seether
Website: www.3doorsdown.com
Facebook: www.facebook.com/3doorsdown
Twitter: www.twitter.com/3doorsdown
Rating:


It's been about 9 months since 3 Doors Down last graced the UK shores with their presence, but they are back now and with a much bigger following. Still promoting their latest album 'Time Of Your Life' (released July 19th), so hopefully more people will be familiar with what it has to offer this time around.
First support of the night are Swedish rockers Takida (****), who do an excellent job of warming up the crowd. Their successful blend of Seether and Shinedown-esque songs are well received and thoroughly entertain everyone. Lead singer Robert Pettersson has an outstanding live rock voice, a voice almost too good to be true if I'm being honest. As far as their songs go, they're pretty standard stuff, well written riffs accompanied with catchy choruses, never the less they give a commendable performance and win over a decent portion of the audience in the process.
For some inexplicable reason, Seether (****) are one of the supporting bands tonight, but quite frankly they should be headlining. Oh well, c'est la vie. It's been years since they last toured the UK, so a sizeable chunk of the crowd is here just to see them. Greeted with a huge cheer, they launch into 'Gasoline' and from there on continue to work through their 9 song set of Seether classics, including 'Country Song' and 'Tonight' from their new album. As amazing as it was to experience their live show, admittedly they tended to drag out the songs a fair bit. It's great to do a bit of show boating now and then, but that kind of stuff is best left for a headline show, bearing in mind they could have squeezed in an extra song or two if they stuck to the original songs. Having said that, when they played some of their incredible backcatalogue like 'Broken' and 'Remedy', you could feel a shiver running up the spines of every person in the venue.
Running a little late, 3 Doors Down (****) emerge onstage to a sea of raised arms, metal hands and camera-phones. After years of touring, they know how to create the perfect tempo for a gig, slipping in a couple of slow emotive songs ('Away From The Sun') before throwing in a fast paced rock anthem ('Round And Round').
About 20 minutes into the set, a lonesome Brad Arnold stands alone and explains that they were late onstage because his dad suddenly had to go to hospital. All is okay with Brad's father, but the news has understandably shook him up a bit. He went on to explain that we take a lot of granted these days (which I completely agree with, I for one am very guilty of this) before leading the audience in singing Phil Collins' 'Another Day In Paradise'. This is quite possibly one of the most touching things I have ever experienced at a live concert.
Getting things back on track, they blitz through their set, packing in as many songs as possible before the curfew. Looking around, you could see every screaming their lungs out to the likes of 'Here Without You' and 'It's Not My Time'. Due to a strict 11:00PM curfew, they unfortunately don't have time to play 'Kryptonite', but to be honest they didn't really need to. They played such a good show that people left feeling satisfied and happy. Overall, it was a thoroughly enjoyable night; great music, nice people and plenty of whisky always makes a winning combination in anyone's book.
Written by Andrew Roberts