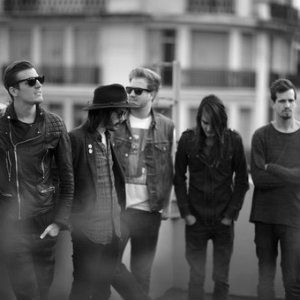 Date: September 24th, 2012
Venue: Garage, Glasgow
Interviewer: Caitlyn Dewar
Format: Written
Website: www.wearethemaine.net
Facebook: www.facebook.com/themaine
Twitter: www.twitter.com/themaine
2012 has been a massive year for Arizona five-piece, The Maine. They have achieved an incredible amount and have no plans to slow it down. We caught up with drummer Pat Kirch and guitarist Garrett Nickelsen on the Scottish leg of the 'Pioneer' world tour at the end of September to chat about the tour, the challenges they've faced and why they'll be going into hiding at the end of the year:
DP!: First off, how are you doing today?
Pat: Not doing too bad.
Garrett: Yeah, we're doing good.
DP!: After your success with 'Pioneer', you've obviously embarked on your world tour. How has it been so far for you guys?
G: It's been really awesome.
P: It's been long. I mean, going looking back it's kind of crazy. Like, we started out in the Phillipines and that was the start of this long home run running. We've been all around the world.
It seems like it's something really quite special.
P: Yeah! Absolutely.
G: Yeah, it's pretty bizarre for us. It's completely mind blowing.
DP!: Where has been your favourite date so far?
G: That's so hard.
P: It's really hard to choose one, because we really, we're always constantly excited, especially these past couple of months. We've been to a lot of new places, places we've never been before so it's really just a shock every time.
G: I just really think that this whole world tour has been one of the best runs that we've ever, ever done. I think i''s good to just be good to go, it's a giant, giant world and it's kind of nice to get out and see it all.
DP!: Out of the places you haven't been before, where has been your favourite?
G: I really liked Spain.
P: Yeah, we went to Italy and to Spain on this trip and we'd never been to either of those places before. It was really awesome to see that we had fans in somewhere we've never really been able to think about yet. It's been awesome. We've been really shedding light on a lot of Europe, which I think is really cool.
DP!: You also released 'Pioneer And The Good Love'. Why did you choose to release all the 'Pioneer' songs again as well as the others?
P: The reason we kept the album with the EP over here is because we never put the album out in stores here. So this was a good opportunity to put it out there.
G: All those songs were recorded at the same time and it just felt necessary to put it all together.
DP!: Were there any specific inspirations for the songs that weren't on 'Pioneer'?
G: It was all kind of in one thought. At that time, we were just going off in all of these different directions and kind of what happened was. We recorded an original nine songs that was going to be an album and then a bunch of stuff happened and we went back and recorded eighteen more. So those other eighteen which are a lot of the ones which were on the EP. Basically, we already knew we had an album done, so it was okay to just kind of go insane.
DP!: How come they didn't make it onto 'Pioneer' the first time round?
G: I just think they didn't fit.
P: As we recorded a bunch of more songs, we picked the ones that fitted the rest.
DP!: When 'Pioneer' was released, what evoked the decision to release it independently rather than with your label?
P: It was kind of at a necessity, I guess. Basically, it was either go record a new album and we couldn't let anybody hear the album that we had created or do it on our own.
DP!: Do you feel like you got a lot more creative freedom?
P: Oh yeah, absolutely. The whole album was made with absolutely no outside input.
DP!: In what way do you feel your newest album sets you apart from other bands at the moment?
G: I don't know, as far as songs go we just kind of made a record that was pretty honest and not too overthought and overproduced. I think it was very natural. We just wanted to put some great music out there, maybe the willingness to not back down.
P: And to try something new. To go out of your comfort zone and what's happening right now. I guess it kind of makes the album a lot more special.
DP!: You released 'In Darkness And In Light' a while back and you're just getting ready to release 'Anthem For Our Dying Breed'. Why did you decide to bring out another DVD?
G: This is a totally different thing really; Pat likes to say that there are two DVDs in one. We have a full live set in one as well as some background to the album and to answer some of these questions and our words at the time and the struggles to get this album out.
P: And the process of making it.
G: Yeah, I think that, y'know, we have a story to tell with this album and this was a good opportunity to let that story be told. After this run, we're kind of going away for a bit to work on the next record. People can watch the concert at home and be back there I guess.
DP!: How difficult was it to collect all the footage for the DVD?
P: I mean, it was a bit of a task to get it all organized.
G: There's a lot of different sources. I spent a lot of time going through it and organising it into a load of different chapters, 'cause we know how it happened but it's hard to have whoever's putting the video together.
P: They weren't exactly there the whole time. It kind of took a while, but it was cool to look back and see all the things that we actually did.
DP!: Are you writing anything currently?
P: There's little tid bits of things, but we're going to sit down in a room after our tour in the states, so come maybe, the 1st of December, all the rest of what we do is going to be completely done. We're not going to play any shows or anything, it's just going to be about the next record.
DP!: With all that has happened with the band in the last few years, with releasing music independently and taking that risk, you've come out way more successful with a lot more fans and opportunities. Five years ago, did you ever see The Maine being where they are today?
P: I think when we first started, I didn't even know you could come over to the UK and play shows.
G: I think we were inexperienced at the time.
P: As for expectations, I think in retrospect they were pretty small in comparison to what we are in now. It's kind of been a while now.
DP!: What's been the reaction at shows from newer fans that don't know the older stuff as well? Have you been mixing songs in sets?
P: We play all kinds of stuff off of all the different records. I think the cool thing about our fanbase is they know all the records from right back. We can play songs that didn't really get any outside exposure and they go crazy for it. I think that's a really exciting thing for us.
DP!: How has it been touring with This Century again after playing with them a while back in the States?
P: It's been awesome! We really enjoy these guys, they're good friends from home so it's great to be with them.
DP!: Where is your most recent inspiration coming from?
P: I think it comes from…
G: All over the place.
P: Yeah, a really wide variety of things. I think a lot of what we're doing when we went to go write the last record, being on the road so much really helped make the songs become exactly what they are.
G: I think we've been really trying to draw a lot from bands that have been able to sustain for a long period of time, and taken hints from what they do live and how they approach records during their own time. I think bands like The Rolling Stones we've been really into lately, and really I guess taken pointers on how they've done it for so long.
DP!: Do you have a process as to how you write songs, or is it just pretty free?
P: Yeah, the way 'Black And White' was written and the way this one was written were two completely different things. Each album has been a completely different experience as far as both writing and recording goes. I think the next one is going to continue to be that way, it's just kind of what's in the moment.
DP!: What's your favourite song to play live?
G: This one's hard, because there's so many. It always changes. We have a song called 'Ice Cave' that we've never ever recorded. I always like to play that one. It's one of the ones we only play once in a while.
P: Yeah, it's more a strictly live song. It's really fun.
G: Off of 'Pioneer', I really like playing 'When I'm At Home'. That's a fun one live.
DP!: It's been a huge year for you. What has been the best experience as a band in the past year?
G: I think just the past year as a whole. It's been a rush.
P: I think, being a band still. It's insane how much we've done. We've experienced a lot.
DP!: What can we expect from The Maine in the rest of 2012?
G: This tour, the DVD comes out, we go on tour in the States, then we're putting out a song on 'Punk Goes Pop 5'. Then, we're hopefully going to work on bringing out another book and that's it. Then we're going to go hide away in our hole for a while.
You can also read our review of the band's performance that night by clicking here.
Written by Caitlyn Dewar
Interview by Caitlyn Dewar