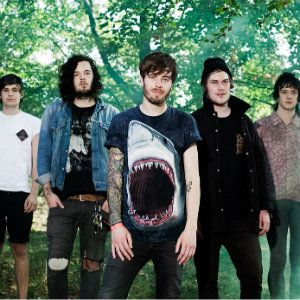 Date: August 4th, 2012
Venue: Hevy Festival, Kent
Interviewer: Jack Bastard
Format: Written
Website: www.tjcq.co.uk
Facebook: www.facebook.com/thejcq
Twitter: www.twitter.com/thejcq
With an astonishing reaction to their debut album, 'That Was Then, This Is Now', we catch up with the genre warping The James Cleaver Quintet to talk about their success, cock-farting (yep, really) their eclectic sound, how they felt their Hevy Festival set went the day before and where that's all derived from:
DP!: You've got a pretty unique sound. How would you describe your sound to people?
Maud: Just awesome.
Martin: All of your favourite things you could ever think of in both ears all at the same time.
Maud: A soundtrack to a movie about seahorses.
Martin: Like dancing to the Swan Lake.
DP!: How did you find your set yesterday? How were the crowd?
Maud: The crowd we amazing, but the sound was just abysmal. I don't know what the fuck was going on there.
Martin: We had a good time playing, definitely.
Maud: Almost every band I saw yesterday that didn't have their own sound guy sounded absolutely terrible. But, I think we pulled it back and had a really good time. The crowd were really good.
DP!: What are the plans after Hevy? What have you got lined up?
Martin: Writing for our next album.
DP!: Is there a release date set?
Maud: Hopefully, sort of, Spring next year.
Paul: We have got Merthyr Rock coming up too.
Maud: With Saves The Day and Skindred.
Paul: And, in October, we're going out to Europe with We Are The Ocean.
DP!: How long's that?
Paul: It's about 2 weeks.
Maud: We're going out to places that we've never been before, like Poland.
DP!: Is that the kind of places you'd rather branch out to?
Martin: Just going anywhere really. Meeting different people.
Maud: It's cliché, but being able to travel the world and see things we'd never see. It really is. And to get back to do it is awesome.
DP!: Who would you ideally tour with?
Maud: Pantera, the original line up.
DP!: That might be tricky to organise.
Paul: And The Mars Volta.
Martin: Destiny's Child, original line up.
DP!: I'm sure that could be arranged.
Maud: Keenan from Keenan & Kel. He's been doing a spoken word project supporting Henry Rollins.
DP!: Rollins is out man. He's not doing any music.
Maud: No, he's spoken word too. Keenan supporting.
DP!: What are your plans for the rest of the festival? Who are you looking forward to seeing?
Maud: We're looking forward to Andrew W.K. We were hanging out with his guitarist today. He's fucking mental awesome.
Paul: I saw Balance & Composure yesterday and Pianos Become The Teeth. I'm really looking forward to Meshuggah.
Maud: Obviously Converge, Glassjaw.
Paul: Norma Jean.
Maud: The Chariot. Although, apparently their bassist has left.
DP!: You have a pretty eclectic sound. Where does that come from?
Maud: A lot of bands will tell you they have a lot of influences, but our influences are pretty broad.
Martin: Each individual one of us listens to completely different music.
DP!: How about not just music. Do you draw influence from anything else?
Maud: Skateboarding.
Martin: Life experience in general. With hardcore these days, it's so stale. We're just trying to bring something different.
DP!: Bring a bit of colour to it.
Maud: Yeah, absolutely.
Martin: It just seems like there have been these barriers set in stone and no one's really stepping outside.
DP!: I find the word 'hardcore' gets thrown around a lot where it isn't really appropriate.
Maud: We're not a hardcore by any means. But, we play heavy music with all the other things we like to play, and that's what we like to do. We play music that we would like to listen to.
DP!: On your band interests you've listed 'queefing' and 'cock-farting'. Could you explain?
Maud: I actually performed the world's first cock-fart. It was on the number 12 bus from Brighton to Eastbourne and Jimmy or bass player was witness to it. What it was, was, I was pissing into an empty cider bottle and the pressure must have built up inside and I had properly jammed my cock in and the pressure built up and it just went 'poof'. So, that's the world's first recorded cock-fart. And queefing is just great in general.
Martin: You never know when you need a good queef.
Maud: Apparently it's not at the Olympics this year.
DP!: Maybe you should go to the committee with cock-farting.
Maud: I should do, man. CFC. Cock-farting championship.
DP!: Anything else to say guys?
Maud: Wherever you go, there you are.
You can also read our review of the band's festival performance that day by clicking here.
Written by Jack Bastard
Interview by Jack Bastard
Founder & Editor for DEAD PRESS!