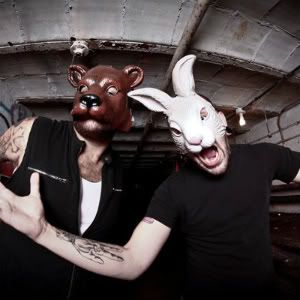 Date: October 28th, 2011
Venue: Academy 1, Manchester
Interviewer: Zach Redrup
Stream: YouTube
Website: www.thebunnythebear.com
Facebook: www.facebook.com/thebunnythebear
Twitter: www.twitter.com/thebunnythebear
Animal masked duo The Bunny The Bear may be ones to polarise themselves and really drag in the haters from the dark, but those not so stubborn to give them a chance will realise they deserve their place. On their first visit to the UK supporting Funeral For A Friend, we had a little talk with Matt Tybor (The Bunny) about their latest album 'If You Don't Have Anything Nice To Say…', his views on the haters, the concept from their recent video shoot for 'C'est Pas Si Loin', plans for a new album in 2012 and more.
YOU CAN LISTEN TO THIS INTERVIEW HERE:
You can read our review of the band's performance that night by clicking here.
Written by Zach Redrup