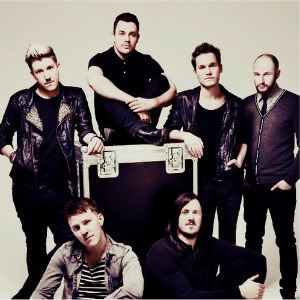 Date: October 7th, 2007
Venue: Academy 3, Manchester
Interviewer: Zach Redrup
Download: None available
Stream: MySpace
Website: www.theblackout.co.uk
MySpace: www.myspace.com/theblackout
It has just reached 5:00PM and DEAD PRESS!'s Zach and Ruth are outside of the Manchester Academy building waiting to begin their interview with rather new Welsh post-hardcore upstarts, The Blackout. After going the wrong way two or three times and finally being accompanied with the band's tour manager they finally get into the building. On their way up the backstage staircase they come across vocalist Sean Smith and guitarist James Davies, and are then directed into the band's dressing room to begin their interview. In the room are various other members of The Blackout, and their support acts Flood Of Red and Pierce The Veil. After sitting down and Sean Smith "bullying" the band's other vocalist Gavin Butler to not answer any questions during the interview, the barrage of questions began:
YOU CAN LISTEN TO THIS INTERVIEW HERE WHILST READING THE TRANSCRIPT BELOW:
Note: Volume levels of this interview may be low due to problems with the recording equipment used.



Zach: So you released 'We Are The Dynamite' your new album about a week ago, how was time in the studio while recording that?
Sean: It was fun. We had about two months to write the record, and erm… about a month? A month and a half recording it?
James: It was more than that.
Sean: Was it?
James: Yeah, it was like 3 months. We did everything. Pre-production, we did it all in like 3 and a half weeks, it was really cool. We've never had the chance to do an album like that before. When we used to write songs beforehand it'd be you write a song, and a few months later you write another song and whatever. But then the fact that we had to write like, however many songs we had to do in such a short space of time, it was really fun but stressful aswell. So, yeah, it was a cool.
Zach: How's the crowd's reaction been so far on the tour with your new songs?
James: Awesome.
Sean: Yesterday in London, we played the best show we've ever played. It was fucking – it was amazing. You'd just look out at a sea of people and like, about half of them knew the new stuff, but apparently everyone knew the old stuff. And it's been awesome. It's been really, really good. The new stuff's gone down quite well, even though the album only came out Monday?
James: Monday.
Sean: We've had a really, really good reaction. So, hopefully we can just give that a nod I guess, it's already doing well.
Ruth: How would you compare 'We Are The Dynamite' with the mini-album 'The Blackout! The Blackout! The Blackout!'?
Sean: It's… better. It's longer.
[laughter]
Sean: No, I think it gives progression.
James: Yeah, yeah, yeah. I think we feel better at like, putting songs together than we were before. I think that…
Sean: There were songs on 'The Blackout! The Blackout! The Blackout! The Blackout! The Blackout!' from like the beginning of the band. You know, they were the only songs we had and set out to try and record, like 'Fashion Conscious Suicide' is like 4 years old. So, it was nice to write some new stuff and see what we could do, and I think we had the confidence when we went to the recording studio. We know what we want, and we know how we're gonna go about doing it and getting it. I think we were all really, really happy with our work. Apart from Gavin, he's not doing anything about 'cause he knows he can't anyway. [laughter] Erm, yeah, I'd kick him out.
James: Yeah, I would aswell.
[laughter]
Sean: It's less money.
[laughter]
[drums start playing in the background]
James: It kinda gives a impression of the erm…
Sean: Sorry, drums. Drums in the background. Get the door.
James: The mini-album was written up and took like a couple of years to put together, and it was a bit disjointed and the songs didn't really fit together so well. Then when the album was put together it was a lot better as a whole than the mini-album was.
Ruth: What exactly is a 'Beijing Cocktail'? We're quite confused.
Sean: [points towards his arse] It's when you put your bum… oh, oh no it's not.
[laughter]
James: It's a synthetic chemical compound apparantly, that cuts off your renal glands.
Sean: Have you seen the film 'Crank'?
Zach: I've never seen it.
Sean: It's the best movie of 2006. It's the only film I've ever seen that has the song 'New Noise' by Refused.
James: And a man smashes a TV set.
Sean: So yeah, it's what they use to poison Jason Statham in the film, and we all just love the film. It did used to be called 'Tell Your Mother I Want My Pants Back', but then we decided to go with 'The Beijing Cocktail' instead. It was a bit too daft.
Zach: Did you know that you have a spelling error on the spine of 'The Blackout! The Blackout! The Blackout!'?
Sean & James: Yep!
[Gavin walks away] [laughter]
Sean: Walk away.
Gavin: It's alright, I'm walking away.
[laughter]
Sean: Yeah, Gavin did the artwork for 'The Blackout! The Blackout! The Blackout!', and then he did all of the reading, and pretty much the spelling. And erm…
Zach: The whole thing was just his fault?
Sean: Yeah, pretty much.
Ruth: All the blame for everything goes to him?
Sean: Pretty much. [laughter] No, we're not picking on him, it's just because everything he does is wrong.
Ruth: Fair enough.
Sean: Gav, what are you doing?
Gav: Charging my battery.
Sean: Is it working?
Gav: Yeah.
Sean: Bitch.
James: He never charges my battery. [laughter]
Zach: If you could play alongside any other band, dead or alive…
Sean: GlassJaw.
James: Faith No More.
Ruth: That would so be your's Zach as well.
Zach: Yeah, one of my favourite bands is GlassJaw.
Sean: Yeah. GlassJaw, Faith No More, definitely not Flood Of Red or Pierce The Veil.
James: No, fucking who'd want to play with them like?
Sean: What two big piles of shit. [laughter] Oh, fucking hell. They're all here. Erm, Pierce The Veil and Flood Of Red would be on our list, but they'd be on before the doors open so nobody gets to see them.
James: Just for our amusement.
Sean: Yeah.
James: Play, play for me.
Sean: Play for me boys.
[laughter]
Zach: If you were to become a porn star, what would your names be?
Sean: Erm… Sean very small willy, but very fast bum, good with his tongue.
[laughter]
Sean: How long is this name? Erm, yeah.
James: Da Dick.
[laughter]
Sean: That's a good one. Let me think of one, I think I'd have a rubbish one.
Gavin: Terry.
Sean: Yeah, my porn star name would be Terry… 'My Concho'. [laughter] 'My Concho'. I've got to go with 'My Concho'.
Zach: Nice name. You recorded a cover of 'My Generation' by Limp Bizkit?
Sean & James: Yes we did.
Zach: Did that go as planned?
James: Yeah, we planned to record it. It wasn't like something that just happened.
[laughter]
Sean: Oh, I've fallen over and seemed to have recorded a song by one of the greatest nu-metal bands of all time. Yeah, I think we're one of the few bands left that openly admit to loving nu-metal, 'cause apparently it's not cool to like nu-metal anymore. Even though it was biggest musical genre in the world, everyone denies ever liking it. So, we'll openly admit that we love nu-metal.
Ruth: What jobs did you want to do when you were a kid?
Sean: I wanted to live past my 18th birthday and I did that.
James: It's not a job, is it?
Sean: You wouldn't believe how much hard work it was.
[laughter]
Sean: I dunno. A football player I think I wanted to be for a bit?
James: Like, I wanted to do that until I realised I was shit at football.
Sean: I still haven't realised it. I dunno. Yeah, a footballer player?
James: This?
Ruth: See, I thought I would've been a great princess. That was my dream.
Sean: It's a good job a princess is.
[laughter]
Sean: I think I wanted to be a princess. I wanted to be in Queen. I don't mean Elizabeth, I mean the band.
[laughter]
Ruth: I was gonna say, she's like a ball.
Sean: I'd – I'd do her.
[laughter]
James: She was alright in the '50s.
Sean: She in her 50's now?
James: She started in the 1950's.
Zach: You've been confirmed to play the International Shows at Taste Of Chaos this year?
Sean: This is true.
Zach: Are you looking forward to it?
Sean: Not at all.
James: Not really.
Sean: Really, it's going to be a total hassle. I want to sleep about for six weeks, and then do all of my Christmas shopping on the 21st of December. Now…
James: Now, we're all like urgh.
Sean: Well, we get to play with a bunch of bands we've already met and are friends with and stuff. Like, we love the guys – us and Aiden are buds, there's obviously gonna be some messy goth love. We're friends with Gallows…
James: The Used.
Sean: The Used, we're friends with The Used. Yeah, I think it's gonna be a fucking riot!
James: [sarcastic laugh]
Zach: What can fans expect from The Blackout after this tour is over?
Sean: I'm gonna be asleep. I'm gonna be asleep probably. And sitting down, plenty of sitting down, sitting and lying down. Between the two, slouching…
James: Book a tour.
Sean: Touring, hopefully. We wanna tour ;til… we die. That's why we recorded the album.
Zach: Tour 'til death.
James: Yeah, ooh.
Sean: Tour 'til death, that is a fucking – that's an idea for a tour title. Tour 'til death, that's a good new tour title, new title.
Zach: I've copyrighted it, you can't.
[laughter]
Ruth: Well, you have now that you've realised it's a good idea.
Zach: If you could be any animal in the world, what would you be and why?
Sean: Superman… no, that's not an animal is it? Erm… the American werewolf from 'An American Werewolf In London', because when you're fed up of eating people you can turn back into a man. Then nobody's gonna know, you just fight in the night.
James: I wouldn't mind being a dragon, 'cause then you just spend your entire life proving people wrong. People just go "There's no such thing as dragons.", "Oh yeah? What's this? Roar! Take it in sunshine! Roar!"
[laughter]
James: Either that or like… I dunno. I guess I could be like…
Sean: What could you be James?
James: I guess I could be a spider, 'cause then I won't have to look at myself then.
Sean: Yeah, but what about other spiders you walk into?
James: Just what is the point in those evil, evil monsters?
Ruth: I had one in my hair earlier, I went berserk.
James: You got it out now?
Ruth: It's gone now. It's gone now.
James: That's alright.
Sean: What was it doing in your hair?
Ruth: I dunno, it just jumped in.
Sean: Just hanging about?
Ruth: Yeah.
[laughter]
Sean: I'll just sit in this blondie's hair for a bit. Da da-da, ey, eating a bag of crisps. I'm a spider, I'm a spider.
James: I found a spider on my bunk the other day, and I woke up and I panicked.
Zach: How is your tour bus?
James: Crap.
Sean: It's brilliant.
James: No crapping in the toilet.
Sean: No shower. No I lie, there is a shower.
Zach: No heat in the seat?
Sean: Ahh it's good.
Zach: Cool.
Sean: Pierce The Veil and Flood Of Red are on our bus, and we've got an X-Box 360, so we just jam on Guitar Hero non-stop.
James: Well, we would play on it but the disc is scratched.
Sean: [laughter] Bye-bye to your £30.
Ruth: What's been the weirdest fan experience for you?
Sean: When James joined the band.
James: …funny guy.
[laughter]
Sean: Yeah, I am. I know a girl has got my name and my signature tattooed on her foot.
Ruth: That was sorta weird.
Sean: Yeah, that was kinda weird for me. Some girl brought me a pair of pants to sign for her the other day… even though they were her 11-year-old sister's pants. They didn't taste very nice.
Ruth: That's so dirty.
Sean: Yeah, it tasted weird. I dunno, what else?
James: I got screamed at the other night. Was it yesterday or the day before? Something like that. I went out the door and everyone went "Ahh!", I went "What's the matter? Have you all stood on the same nail?"
[laughter]
Ruth: There was a gaggle of them stood outside going "Ooh, are you queuing for The Blackout?"
Sean: I mean, some of those idiots need to stop shouting.
Zach: What's been the best band experience so far?
Sean: Yesterday, you know, the show-up. No, yesterday when we played at the Mean Fiddler. Like having our songs sung back to us. Like some of the dates with Lostprophets were pretty big like, at Give It A Name we did play to like 15,000 people. But yesterday was – to sound like a dick – was all about us. Like, you know, everyone was there…
Zach: The attention was on you.
Sean: Yeah, totally. They sang it back and it was fucking amazing. It was so good that I got cold onstage and I couldn't move. Like, when they were singing back one of our songs. Yeah, yesterday was fucking amazing.
Zach: If you could choose to be any other member of the band for a day, who would you be?
Sean: I would be… I'd say Rhys, just because I'd like to know what the fuck was on his head. He's strange, and weird. I'd like to be James too, 'cause James has really weird stories and always flips.
Zach: Anger management needed?
James: Fuck you!
[laughter]
James: I dunno, I think I'd be Sean and then I could just piss off all the people he's been nice to over the years. They're like "Oh, Sean's such a nice little lad." and I'd just wander around saying "Fuck you!"
[laughter]
Sean: I do that though.
James: Do you?
Sean: You know with the release of the new album?
James: Yeah.
Sean: I've got a shtick – a shtick for this album. I'll piss outside, "Urgh!"
Ruth: That'd be quite funny actually, 'cause they'd probably bottle it and sell it on eBay.
Sean: "Here you go. Oli did it to one of you, now what're you gonna fucking do to me?"
James: "There you go bitch!"
Sean: Yeah, dirty Oli.
[laughter]
Zach: Talking of Oli Sykes, how did you feel losing to Bring Me The Horizon for 'Best British Newcomers' at the Kerrang! Awards 2006?
James: It's a fucking joke, isn't it?
Sean: Well, yeah, he said it.
[laughter]
Sean: No, I guess they fucking – they deserved it. They had more fucking hype, they had…
Ruth: Lots of little girls after them.
Sean: Yeah, which isn't a bad thing. I'd like lots of little girls after me.
[laughter]
James: Are they anything like Boyzone?
Sean: Yeah, they're alright like. Like, if we didn't like them then we'd be pissed, but we didn't expect to win anything.
James: We were just like blown out of our minds we were even there.
Sean: I say well done, touché.
James: We'll fight them for it.
Sean: "We'll see you… in a fight in the street." We'll fight them to death. I think we'd take them. 'Cause Oli, even though he says all of his tattoos are real, he draws them on every day.
James: They're on a t-shirt.
Sean: Yeah, I reckon we could take 'em in a fight. Mainly 'cause we've got Gareth who's a brute.
James: But we just need to get him angry first, but that's always possible.
Sean: We should definitely – we'll just fight Bring Me The Horizon. Who ever wins is the actual chap. That'd be the one.
James: We've gotta get it on DVD or something.
Ruth: Put it on YouTube.
Sean: Yeah, just a video of The Blackout fighting Bring Me The Horizon to their death.
Zach: That could be your Tour 'til Death finale.
Sean: Yeah, but I can't fight them though, 'cause I can't erm – I'm allergic to urine. So I'll just, I'll just wash my face in it, and like, then I'll throw a bottle of Jack Daniel's or whatever apparently happened. I think I better start booking myself into some sort of a lawsuit.
[laughter]
Ruth: What do you want Santa Clause to bring you for Christmas?
Sean: Erm…
Ruth: Sleep?
Sean: Yeah. What can Santa bring me?
James: A big sack of money.
Sean: Yeah, a big sack 'o money.
James: 'O money?
Sean: Sack 'o money.
James: I dunno what I want.
Sean: Some money would be good, but that's all I need really. I mean I've got everything else I want.
James: Not loads of money, but like…
Sean: Just so I can live, so I can eat now and again. I've got everything else I want; I've got friends, I've got the band, yeah, and a platinum album 'cause we've sold 300,000 copies of our album would be nice. I'd like one of them.
James: Yeah, but that won't happen.
Sean: Oh, no, I'd like a moustache. So you can tell Santa that I'll have a moustache.
Ruth: Me and Zach think you should grow a moustache, and get fans to sponsor you.
Sean: I'm trying to grow a moustache, but I can't grow a moustache.
Zach: You can look like Mario and Luigi.
Sean: No, I want a big '70's porn star moustache.
[laughter]
Sean: I don't want one of them handlebar moustaches, 'cause then you know, everyone's had them. I want a seriously original moustache.
Zach: Like Hitler?
Sean: Good man. It'll show you don't have to be a great big dickhead to erm…
Ruth: …have a brilliant moustache.
Sean: …have an awesome moustache. I'll chav it around my neighbourhood.
James: Yeah, everyone would be thinking, God, not only are you referred to as a comic genius, I'd also definitely, definitely get in the history books as the inventor of a great moustache.
Zach: If you could describe your sound in just one word, what would it be?
James: Agghh!!
[laughter]
Sean: …yeah lad.
[laughter]
Sean: Erm, one word? Think of another word.
Zach: Dynamite?
James: Ugh, you had to say that didn't you?
Sean: One word like? That's fucking ridiculous like. Erm, good. Rooom! Try spelling that one out.
James: I dunno, I dunno.
Sean: Bestest, bestest. There you go, use that.
[laughter]
Sean:Bestest.
After the 19 minute interview session was up Sean and James said their goodbyes, and Zach and Ruth head off until the band's concert begins. A laugh shared by all, and a few things explained for fans – The Blackout are a fun band to meet and interview. Surely anyone who's seen this band play in the past or plan to in the future sure are lucky.
Written by Zach Redrup
Founder & Editor for DEAD PRESS!