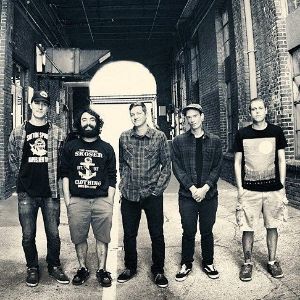 Date: February 16th, 2013
Venue: NQ Live, Manchester
Interviewer: Jack Bastard
Format: Written
Website: None available
Facebook: www.facebook.com/suchgold
Twitter: www.twitter.com/suchgold
Coming out of Rochester, New York, Such Gold have quickly carved themselves a name in the pop-punk and hardcore scene and now find themselves touring across the UK with Welsh post-hardcore legends, Funeral For A Friend. We caught up with the band in Manchester to talk about where they fit into everything, their recent album 'Misadventures', how they're finding the tour so far and more.
DP!: Hey guys, how's the tour been so far?
Ben Kotin: Good, so far so good.
DP!: How are you finding the UK?
B: It's cool, yeah.
DP!: I saw that some of you guys got tattooed in Leeds.
B: Yeah. I didn't personally, but some of the guys did. They look fucking rad.
DP!: So, your album came out last year. How has it been received and how would you say it compares musically with the previous split and the EP?
B: Yeah, we did two EPs and two splits. I think generally our sound just naturally moved into what 'Misadventures' is.
DP!: Is it more towards the pop-punk or the hardcore side of things these days?
B: I wouldn't really say either. I mean, the goal wasn't to make it more hardcore or more pop-punk.
Skylar Sarkis: We were trying to get away from both of those things actively. I mean, not that there won't still be elements of whatever, but I don't think any of us want to be trying to be something.
DP!: Who is it that gets attracted to your music? Is it more the pop-punk kids?
B: There's a mix.
S: There's a lot of pop-punk kids.
B: A lot of pop-punk kids, some random older people.
DP!: So, did your attitudes towards song writing have to change to suit a full-length?
S: No, not really.
B: Our EP was like six tracks, so that was quite long anyway.
S: Yeah, we just kind of did more of the same.
DP!: So, has the music scene changed at all and how do you think you fit in?
B: There ares certain bands that have gotten bigger and changed.
S: The bands that we came up with we play with less and less, because they're doing their support tours and so are we. We also see a lot of newer bands.
DP!: Who are those bands that you played with when you first started out?
Ben: Transit, A Loss For Words, The Wonder Years; those are the bands we toured with, you know. There's a lot of bands that we became friends with.
DP!: So, what's the plan for the rest of this year?
B: After this we go to Soundwave in Australia, then Japan for a week, then we go home and do the Senses Fail tour.
DP!: Are there any particular bands that you're excited about playing with?
B: Slayer are headlining Soundwave.
DP!: And what about Funeral For A Friend? They're veterans in the scene now.
S: Yeah, it's cool man. They're great dudes too. The shows have been really fun.
DP!: How have the crowds been?
S: Pretty good. A lot of times dead stares, but that's cool. But, equally, the amount of times people have been into it.
DP!: Cool, guys. Do you want to say anything to finish off?
B: Just thanks to everyone that supports us.
You can also read our review of the band's festival performance that day by clicking here.
Written by Jack Bastard
Interview by Jack Bastard