Since their beginnings back in Newport, Wales a couple of decades ago, not only do Skindred remain the pioneers and forerunners of the "ragga metal" sound (a genre that blends and meshes the sounds of metal, reggae, and rock music into its own life form), but no band has even dared to follow in their footsteps to mimic and replicate it.
Now, a fresh seventh record in 'Big Tings' now at their disposal, it seems like that's all that's going to be in front of the band for the foreseeable: big tings. Continuing to not only keep their private and exclusive style in tact, the record has also seen the band reach out and explore new territories, particularly the hard rock driven and dance floor built singles 'Machine' and 'That's My Jam' respectively.
Whilst stopping off to perform in Manchester as part of their headline UK tour, we sat down and spoke with bassist and founding member Dan Pugsley about all big tings, such as the new album, how Brian Johnson of AC/DC almost featured on the record, inciting the biggest bar take in the history at the Nottingham venue Rock City, his absolute disdain on social media witch hunting and current age liberals, and more.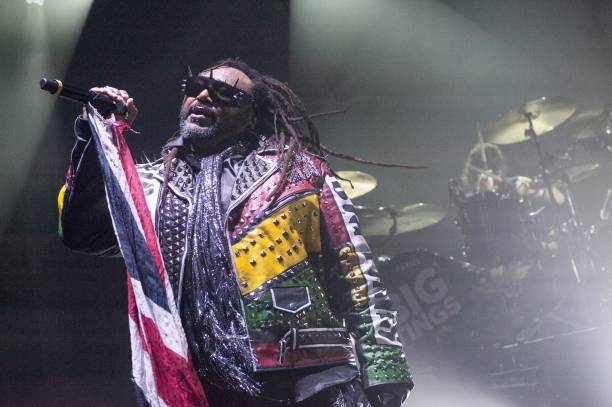 DP!: Here we are at the Manchester date of your UK tour. How does it feel to be back here?
D: Really good, and it's another sunny day… not, haha. I'm really excited to play here again. I've got such good memories of playing at this venue, but I'm always really anxious, like "Do people here still like us?". But, yeah, it's looking really good.
DP!: When was the last time that you played here?
D: The last time we were here must've been during the 'Volumes' tour, so probably about two years ago in 2016. We're back now with a brand new record and bigger production, so the live show is bulked up a little. We're seven albums in now, and so it's hard to decide what songs we're going to play because we've got like 70+ songs to choose from now. What do we even play? What do we want to play? Do we just take out a couple of songs and put in some new ones? Some people might want to hear some stuff that they haven't heard for the last three album cycles or something.
I feel like we've done something really cool this time around. People should come away going "Wow, that's a really fucking good show." It's around ten years since we released 'Roots Rock Riot' now too – don't even speak to me about 'Babylon' and how long that's been out. The thing is it's a weird thing with 'Roots Rock Riot', because we've had trouble with getting it onto Spotify and all that kind of stuff. I believe it'll be on there soon which is really exciting, because from what I understand that's the fan favourite album.
DP!: Ooh, sounds interesting. How've the other dates been so far and taking this surprise?
D: Great. We've done three so far; Norwich, Southampton, and Nottingham at Rock City last night. Everyone is walking around with dark clouds over their heads today because after the shows it turns into a night club, so everyone was partying. We always have a good time at Rock City.
Somebody told me – and I don't know if this is an urban myth or whatever – that the last time we played there, not this time or the time before, but the time before that the venue had the biggest bar take in Rock City's history, like they sold the most alcohol they ever have. That shows you where Skindred fans are at. They just want to have a good time. That's a big part of what Skindred's all about, just living your life. You don't know how long you've got. We get to do all of these amazing things and get to see all of these amazing bands. I know that I love it. I go and watch bands all of the time, and we're just so lucky to do it. You've just got to be in the moment and not be following your phone. More and more you should just find yourself with your phone in your pocket and be in that moment.
DP!: You've got your new and seventh album 'Big Tings' out now. How does it feel to finally put it out there?
D: Yeah, it feels good. It was quite a rapid process getting the album done. I mean, we've had the ideas for a while, but actually making it was actually really fast. I think it's the fastest that we've ever put together a record and put it out. I'm excited for people to hear the songs as we've tried a few new things on the record. We always try and do new stuff. Sometimes we get criticism for doing new things because people just want to hear 'Rat Race' twelve times, and we all love doing that kind of stuff, but you have to evolve, don't you?
I watch peoples' reactions, and I feel like sometimes that our albums are a reaction to the last album that we put out before it. We did this record and there's lots of stuff, and it's a very broad spectrum. The last album ('Volumes') was like a riff rock record, and we wanted to do a 90s riff thing, because the record before that ('Kill The Power') was kind of like this new one but I think heavier and more electronic. 'Big Tings' is less electronic and more rock rather than metal, but there are a few face-melting riffs on it. Then there's 'Union Black' which was a really conceptual record, starting with ideas of songs that developed into fully fledged songs, but a lot of them came from electronic ideas first. You've got to do things different every time, and that's for both ourselves and the fans.
You can listen to a lot of bands' records, and with some bands you just listen to the record and one song on there could be any other song of theirs, especially in the metal genre. I mean, I love Metallica, but the first four records are just "yeah, yeah, yeah, yeah" all of the way through, and just all of the same riffs. I feel like as a band we tend to make sure that every song has its own personality. They all sound like us, but they have their own entity.
DP!: What was the idea behind the title 'Big Tings' and why you landed on that?
D: Originally, Arya (Goggin, drummer) came up with the idea of 'Big Tings' for a best of thing that we were going to do. We were talking about doing a sort of collection, and we were going to call it 'Big Tings' as a sort of play on the title of Aerosmith's collection that they called 'Big Ones'. Then it started becoming more and more relevant to actually doing a new record, and so the title came well before the album, and even the song. But, overall, I do think that it paints a good picture of what the idea of the album is, with some big accessible rock songs. It's not a conceptual thing, but just an overarching idea of what to expect and what the album holds. It's a vibe and it encompasses that vibe.
DP!: You were saying before that the recording process was quite quick. Can you give us an idea of what the recording process was like for 'Big Tings'?
D: I think that the most interesting thing about the recording of it was when we started putting it together, and when we got to the studio we did it in two phases, and in two different studios.
The first half we did it in Real World Studios, which is Peter Gabriel's studio. That was mad. I love Peter Gabriel. We were in this place that was built in the 80s, but was quite a futuristic studio. You're in the middle of the country and there's a big window surrounding you, and because it's an old mill there's water that comes up to the window. So, you're in this place, and the vibe was incredible, and because it's an old mill there was stone rooms and we kind of used that as a palette to record things.
The second half was at Rockfield Studios which is quite historic, and 'Bohemian Rhapsody' by Queen was recorded there, Black Sabbath recorded there, and Oasis recorded there. It has all of these classic records and it's a classic studio. The place should have a blue plaque really, and be a place of national heritage. You name it, everything was done there.
That was to me a really exciting aspect to it, going into these historic studios and trying to suck up a bit of that vibe. When we went to Peter Gabriel's studio, and it was probably on the first night there too, what we did was set up an iPhone on the speakers and played 'Sledgehammer', just to hear what it sounded like through those speakers. It was quite a moment.
DP!: You've got Gary Stringer of Reef featured on the album's lead single, 'Machine'. How did his involvement on the record and in that song come about?
D: We originally wrote the song for someone else who was on a similar spec. The idea was that we wrote that part for Brian Johnson from AC/DC, but with all of the stuff that was happening with him and AC/DC at the time we had some mutual friends in the business, and it was his idea. He was into the idea, he wanted to do the song, so originally if you can imagine Brian Johnson singing Gary's bits that was the original plan, but with everything happening for him and AC/DC at the time it never came to be, but he used it on his TV show. He has like a car show on TV.
We were then thinking who we could get, and we tossed names around and landed on Gary Stringer. He's amazing, and we're very lucky to get him on it. I mean, since I was 12 I've been into Reef, so it's very cool. He's a very cool guy, and though we wrote like 90% of the song he definitely put his own stamp on it, and it'd definitely be a different song if someone else had been on it.
DP!: So, there were definitely no talks of Axl Rose being a part of it in Brian's place then?
D: Haha, no, not at all. But, we did have Phil Campbell from Motörhead play the guitar solo on it. It's a very rock song.
DP!: As a band, as you mentioned yourself earlier, you're very much about positivity, but in a lot of songs you also touch on social issues and sometimes borderline political matters too. Obviously, in the past few years since your last album 'Volumes', with political unrest and things like Brexit and Trump coming to the forefront, did any of these things going off in the background have an impact and presence on the album to any degree?
D: A little bit. We spoke about it, and we spoke about a few things like that as we were getting into stuff. If there is anything when you listen to the record… there kind of is stuff about it, but it's subtle. When you're jamming there is stuff, and Benji (Webbe, vocalist) tends to take these big phrases, and he'll chant and shout them along initially when he's getting into a vibe with stuff. He'd be shouting things like "Break your wall down," and all this kind of stuff, but we were like, "We can't be that literal, mate."
We want to write songs on a level where it can kind of almost mean what you want it to mean in the song. It's kind of got more legs then in a way. There is some cheeky stuff in there if you listen to it, but there's not anything literal in there. It's just subtle hints, because we never have and we don't want to become a political band, but obviously because you live in this climate there's no way of avoiding politics currently. There's no way. We're in such a strange time of social change, and social unrest, and this whole thing where we're living these lives, and we're dealing with technology as well and how it has changed us.
DP!: There's a lot of social media witch hunting issues too…
D: Oh, it just makes me wanna- you have to live in a world where you have to dabble with it. You do have to dabble with it, especially if you're doing something creative 'cause it's such an amazing tool. Even inspirationally it's an amazing tool, and I'm not just talking about promoting stuff, but in this society there's this thing where you see someone say something shit or unthoughtful, but then loads of people pile on them, but what they're saying back to them is vile.
I'm ostensibly and straight down the line a liberal person. I respect everyone and all of my belief systems are liberal, but I want liberal people to shut the fuck up sometimes because you're ruining it. I remember growing up where it was always the conservatives saying "You can't say this" and "You can't do this", and now we live in a time where it's the liberal people saying those same things. I feel like they're almost missing the point with these issues. I back what you're saying, I back your sentiment, and I back all of it, but box clever, man. Just shut the fuck up.
We do need to live in a time where you can have a dialogue about stuff that you don't agree with and not lose your mind. You have to listen to stuff that you don't agree with. You have to, because otherwise you don't know. They might have a point. Ninety nine times out of a hundred they don't, in my opinion, but you have to listen. It's just such a strange time that you can't avoid it. You just cannot avoid it.
DP!: We know you've got the new album coming out, but what other big tings are in store for Skindred this year?
D: Eyyyy! We've set ourselves up for that one, haven't we? Well, we've got this tour, and straight after that we go on over to Mexico for a festival. That's pretty cool, as we've never been to Mexico before. It'll be Cinco de Mayo whilst we're over there too, so it's going to be a crazy party. My plan is to eat lots of tacos.
Then in the summer we've got a tonne of festivals in Europe, a couple of UK ones – not Download, as that what people keep asking us, at least to my knowledge we're not playing at Download. Then looking towards September, October, and the end of the year, we'll probably head back to Europe again, and maybe somewhere else whilst we're at it too.
DP: That's a very busy 2018 ahead for you then. Any final words?
D: Be nice to each other. Don't be a dick. It's that easy.
The band's seventh full-length album, 'Big Tings', is out now through Napalm Records.
You can purchase it online from the band's webstore (here), iTunes (here), Amazon (here), and Google Play (here).
You can keep up to date with the band online by following them on Facebook (here), Twitter (here), and Instagram (here).
Interview by Zach Redrup (@zachredrup)