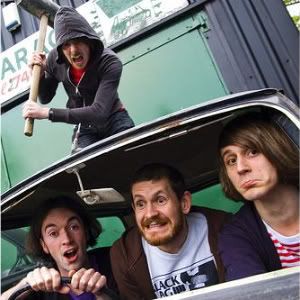 Date: November 26th, 2010
Venue: The Sugarmill, Stoke-on-Trent
Interviewer: Zach Redrup
Download: None available
Stream: YouTube
Website: www.pulledapartbyhorses.com
MySpace: www.myspace.com/pulledapartbyhorses
Following what's been a pretty great year for Leeds 4-piece Pulled Apart By Horses, the band are closing it all off with one last headline stint across the UK. We at DEAD PRESS! thought we'd catch up with the boys at their first ever show in Stoke at The Sugarmill, and talked about their debut album, their favourite music video they've shot so far, what it was like for them to support the likes of Glassjaw and Muse, and their working towards a new concept album about water:
YOU CAN LISTEN TO THIS INTERVIEW HERE:
A full review of their show that evening at the The Sugarmill venue in Stoke-on-Trent can be read here!
Written by Zach Redrup