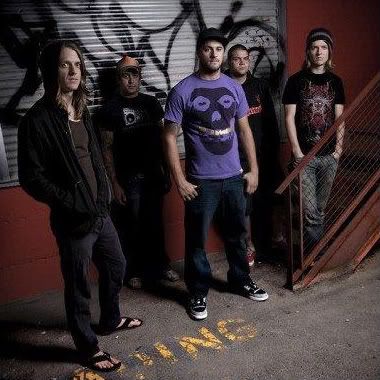 Date: January 24th, 2009
Venue: The Sugarmill, Stoke-on-Trent
Interviewer: Zach Redrup
Download: None available
Stream: Video
Website: www.miserysignals.net
MySpace: www.myspace.com/miserysignals
Brought along on the Europe headlining tour with Architects, Misery Signals are here to support the Brighton band in delivering brutal hardcore metal to the UK fans. DEAD PRESS! were invited into The Sugarmill rock club venue to have a chat with guitarist Stuart Ross in the main room:
YOU CAN LISTEN TO THIS INTERVIEW HERE WHILST READING THE TRANSCRIPT BELOW:
Zach: So, how's the tour been going so far?
Stuart: It's been really good. It's been awesome actually. I mean, erm, it's only been like – actually it's been like two weeks. It's been fun.
Zach: Are you pleased with how your latest album 'Controller' turned out?
Stuart: Oh yeah, absolutely. I mean as far as like just the songwriting and the overall production of it, I really like it.
Zach: Do you prefer it to your other albums?
Stuart: Oh yeah, definitely.
Zach: What's your favourite song to play live?
Stuart: Erm… I don't know man. I like playing 'A Certain Death', which was like the song we did a video for, for the record. Erm, basically anything off the new record I like playing right now. It's exciting to just play some new material.
Zach: What's your least favourite song to play live?
Stuart: Er, good question right there [laughs]. Erm, like in our whole entire – out of all our songs?
Zach: Yeah, yeah.
Stuart: Erm, probably – there's this song called 'Something Was Always Missing', and it was never – I don't like playing that song live. It's kind of boring.
Zach: How would you compare touring in the UK with touring back in the US?
Stuart: Erm, it's definitely got its similarities. I think the US is like kind of a little easier, just 'cause – well, a lot of the US we do in a van, so it's a lot easier to like go places and not kind of be stuck near the club all day. But 'cause we don't do a bus in the States like we do over here – it's just easier for everybody to just travel together. But erm, people definitely have their positives. The kids here are a lot more like appreciative of the bands I find, erm, so yeah.
Zach: What have been the best and worst live experiences so far?
Stuart: On the tour?
Zach: On any tour.
Stuart: Yesterday sucked shit. Erm, just like; I broke a string, the mics were shitting out, some kid climbed onstage and knocked some shit over. Yesterday was a mess, but er, the best shows on this tour so far have probably been actually some of the smaller ones, like Exeter and er… what else was really good? Fuck, sorry I can't remember what it was, I can't remember for the life of me. Exeter was really good, and Colchester was cool, and Glasgow was awesome – Glasgow is always awesome, and er, Edinburgh was good too, but yeah.
Zach: Where does the band name come from?
Stuart: I wasn't actually in the band when they named the band, but from what I understand it was just like a matter of when they named the band they wanted to start it – they wanted to add the word 'misery' in it somewhere, whatever. And then I guess 'signals' is sort of like a representation of the music I guess, if that makes any sense [laughs].
Zach: How do you think things are going to go tonight?
Stuart: It should be good. I mean this is like the fifth time we've played this club, erm, pretty much know what to expect. I mean the shows have been good, and then the kids will go ballistic for Architects, so I'm sure it'll be the same as every other night. It should be good.
Zach: Finally, what other plans do Misery Signals have for 2009?
Stuart: Tonnes man, we er – the day after this tour we go to Australia, and then from there we go to New Zealand. Then we have a few weeks off, and then we're doing some dates in like South East Asia, like er, Singapore, Bangkok, Hong Kong. Then we play Tokyo for this festival, then we come back over to mainland Europe with er, Comeback Kid, and Bane, and Architects again for like two weeks. Then we go back and do a US tour with Architects, and er, I think Protest The Hero. And then after that we go into Canada, and we're taking Architects with us into Canada. We're doing like a headliner in Canada. Busy, that's all the way up until like… I guess June. So, the next two months are busy, yeah.
As soon as it was done Stuart went back to preparing for the show that evening, whilst DEAD PRESS! headed back out the way they came to queue up for the intense show that was surely ahead of them.
Written by Zach Redrup