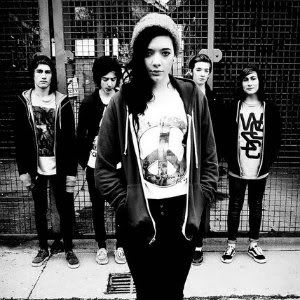 Date: April 25th, 2012
Venue: HMV Ritz, Manchester
Interviewer: Zach Redrup
Stream: YouTube
Website: www.marmozets.co.uk
Facebook: www.facebook.com/marmozets
Twitter: www.twitter.com/marmozets
The surging rise of Marmozets' popularity since the free re-release of their 'Passive Aggressive' EP in November has been rather incredible. Releasing a much more technical and heavier EP titled 'Vexed' and managing to score support slots with Hyro Da Hero, Four Year Strong and now The Used since then, we spoke to the band about the surreal rush of things as of late, their two recent EPs, work on their forthcoming debut album, how they feel about playing this year's Slam Dunk and Hevy festivals and more:
YOU CAN LISTEN TO THIS INTERVIEW HERE:
You can read our review of the band's performance that night by clicking here.
Written by Zach Redrup
Founder & Editor for DEAD PRESS! | Atheist and antitheist. | Judge of the quick & the dead since 1989.