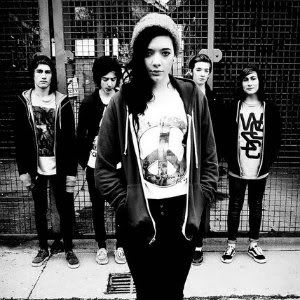 Date: August 3rd, 2012
Venue: Hevy Festival, Kent
Interviewer: Zach Redrup
Format: Written / Audio
Website: www.marmozets.co.uk
Facebook: www.facebook.com/marmozets
Twitter: www.twitter.com/marmozets
With this rise onto the rock scene to masses of new fans beginning at Hevy Festival just 12 months prior, Leeds outfit Marmozets have a lot to owe to the festival for kick starting what has been an exciting and busy year for the band. With a new EP under their belt since last yearand performing on an open air stage at the festival just a few hours prior, we spoke with vocalist Becca Macintyre and guitarist Jack Bottomley to talk about festivals, hanging out with animals, progress on their upcoming debut album and more:
YOU CAN LISTEN TO THE INTERVIEW HERE:
DP!: So guys, you performed at Hevy last year and you're back again for the second year running. How does it feel to return here once more?
Becca: Awesome.
Jack: Awesome.
Becca: We're on a bigger stage, there was more people. It was so much fun. There was more smoke, more lights.
DP!: Gotta love the smoke, gotta love the lights.
Becca: Yeah. I like nearly stopped breathing at one point. I was about to go for a scream and was like *strangled inhale*.
Jack: I'm sure the guy that was controlling the smoke was doing it on purpose, because whenever I was going to my pedal board to press something, he'd turn it on so I was like *startled face*.
DP!: Just attacked with a big old cloud of smoke in your face.
Becca: Yeah. I even almost like fell over on myself if that's possible when the smoke came. I couldn't see shit.
DP!: Well, there must've been a lot of smoke if you're gonna manage something like that.
Becca: Exactly. That's how much you know there was. There was a lot of smoke.
DP!: You guys have got to go bigger scale next year. Get yourself some fire, fireworks, go all KISS style and fly around the stage.
Jack: Yeah. I was going to say Metallica style, but KISS is probably more accurate.
Becca: I'd do a Peter Pan.
DP!: Peter Pan?
Becca: Yeah, be like flying and singing down to the crowd. It'd be sick.
DP!: How do you guys think it went in comparison to last year's set?
Becca: Last year, it was our first ever festival and kind of like a step up the ladder for us as a band. We've done so much building up to this Hevy festival, so we're very thankful for being here again. It's a priviledge to be here playing at Hevy because from last year we've come such a long way as a band. It's exciting for any band really.
Jack: We were a bit sort of nervous in a different way I think. Like, last time was like the first proper festival where there was actually press there and stuff like that to see our band. At first we were a bit like "woah". This year it's been a bit weird because we hadn't rehearsed for 3 weeks. We played a gig 3 weeks ago and that's the last time that we played with each other or saw each other pretty much. We were a bit worried about that, but we didn't make any mistakes so we got away with it I think. I snapped a string, the first time I've ever done it live which sucked.
Becca: So did Sam.
Jack: Yeah, Sam did it on the exact same note.
Becca: I turned to Sam, his string had gone. Then I turned to Jack and his string had gone as well. I was like, "No way".
Jack: We've never done that live either, so I was a bit upset about that to be honest.
DP!: At least it didn't happen right at the start of your set though.
Jack: Yeah, that would've really sucked.
DP!: So, at a festival, do either of you have a 'drink of choice'?
Becca: Just Red Bull normally. I think I had a bit too many though because on stage I was shaking and my heart was going. I went into my first line, I was like "arrghhrhrhrhh".
Jack: Yeah, generally Red Bull before the show and for afterwards our good friend Tony gives us Atticus beer. We just drink that all night.
DP!: Well, you can't really go wrong with free beer.
Jack: No, you can't. Atticus beer is great by the way. We sort of have a sponsorship, so everyone buy it because it's ace.
DP!: Since last year, you released your 'Vexed' EP. Have you noticed since you released that that your fanbase has been swelling?
Becca: Yeah, definitely. Pretty much ever since last year's Hevy fest we've just got a much bigger fanbase.
Jack: Thinking about things from last year's Hevy to this Hevy, it's been a pretty mad year for us I guess. It's sort of forced us to go up a level I guess and it's been really exciting for us as well because obviously it's all so new to us. We've all been in bands before and done it all before, so it's just a whole new deal to us.
DP!: So I guess you've got quite a lot to owe to this festival really as it's helped push you a bit more into the limelight.
Jack: Exactly, yeah. Again, I was quite nervous for playing this year for that reason, you feel like "oh, okay, we've got to make sure we beat last year". I think it was a pretty good gig last year. I don't know how it turned out this year.
DP!: Recently, you had a Kerrang! Magazine photoshoot where you were with some real life marmosets. What was that like?
Becca: Yeah, his name was Wretch the monkey.
Jack: Yeah, there was only one.
DP!: There was only one?
Jack: He kept trying to get away.
Becca: He's dead now.
DP!: Really?
Jack: Yeah, we were all really sad about that.
Becca: Kerrang! made like another issue saying that he'd passed away.
Jack: It was absolutely mad. Like, we turned up to this house that I think was in Wakefield. It was on the way down to a gig I think.
Becca: It was really cool. This rock 'n' roll couple let us into the house and they've got all these crazy animals everywhere.
Jack: They had like this rabbit that was almost bigger than me.
Becca: It was so scary. We looked outside and saw it and it was like massive.
DP!: Like a dog?
Jack: Yeah, it was huge.
Becca: We thought it was a dog at first.
Jack: We had this marmoset running around anyway that was bouncing off walls everywhere and stuff. It was pretty mad and we didn't really know what to do. It just jumped on your head and bounced off of the walls. It was really weird. Each picture that we got was like 1 of 50 for each person. It just kept moving and kept hiding and stuff.
DP!: It's not something that you do every day though.
Jack: No, it was pretty weird.
Becca: We're very lucky to say that we've worked with an actual marmoset.
DP!: You've also played a couple of other festivals this year, such as Slam Dunk. How do you think they compare to Hevy?
Jack: They're all a bit different really. Like, Hevy's a bit different to last year from what I can remember. There's like no Jagermeister stage this year, but we were expecting bad weather because they put all of the stages under a tent. It's been really nice so far though.
Becca: Very lucky with the weather.
Jack: I think it works better in a tent either way anyway. The whole thing with the two stages next to one another alternating is a good idea. We enjoy the festivals that we do and we treat each one of them differently, but at the same time you have to obviously play your best. You have to remember which one you're at, the last thing you wanna do is go "hey Download" and realise "oh shit, we're at Hevy".
DP!: You got confirmed for Reading and Leeds the other day too, how did that feel to find out you were playing one of the biggest festival weekends of the UK?
Becca: Yeah, that's exciting. It's going to be awesome.
Jack: It was a bit surreal. We got an email through saying "there's an opportunity for you to play" and we were like "woah, okay". It was like the quickest confirmed gig we ever did. We like, got the offer and confirmed it in like 10 minutes. We've been twice before as fans and we all think it's a really good festival. We're so excited to play it.
DP!: You played some new songs during your set earlier today. How is work coming along to your follow up to the 'Vexed' EP?
Becca: We're releasing a new single soon that we played today, which not many people have heard. We've recorded another side A.
Jack: Yeah, we opened with the new single today and another song we did is going to be the B-side. There's like a sneak preview on YouTube which is like the last minute, so that's that. So, we're sort of just writing at the moment. We're trying to get our first album out at the beginning of next year really.
DP!: What else can we see from Marmozets for the rest of the year? I know you have the Vans tour coming up.
Becca: Yeah, the Vans tour. We're all so excited about that. Every single band on the bill we've been bumping into each other through the festival season and everyone's so hyped about the tour.
Jack: We're all like pretty good mates with them already.
Becca: We're expecting some really good things from that tour.
Jack: We haven't met We Are The In Crowd yet but we've heard they're really lovely people. Your Demise are dead cool and Young Guns will be as cool as ever. It's going to be like a tour full of mates basically.
DP!: Like a party tour.
Becca: Lads on tour… and two girls.
Jack: Yeah, it's going to be nice for Becca too. We've never been on tour with another girl before, so it's going to be great.
DP!: Is there anything else that you'd like to add and share with our readers?
Jack: Make sure you keep listening to us and checking us out at shows and stuff.
Becca: Thank you for interviewing us.
You can also read our review of the band's festival performance that day by clicking here.
Written by Zach Redrup
Interview by Zach Redrup