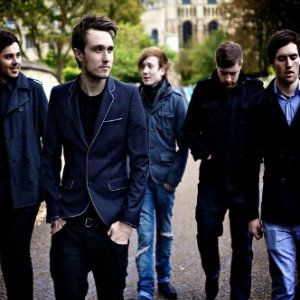 Date: August 5th, 2012
Venue: Hevy Festival, Kent
Interviewer: Zach Redrup
Format: Written / Audio
Website: None available
Facebook: www.facebook.com/malloryknoxuk
Twitter: www.twitter.com/malloryknoxband
Emerging British rockers Mallory Knox have put the popularity growth of their fanbase on a huge rise since the release of last year's debut EP, 'Pilot'. With their debut full-length record to come at the beginning of next year, it seems like this is only going to multiply tenfold in a few months time. Following a set at this year's Hevy, we spoke with Mikey Chapman and Sam Douglas about the record, the acoustic re-release of 'Pilot', festival stories and more:
YOU CAN LISTEN TO THE INTERVIEW HERE:
DP!: How have has the Hevy weekend been so far for you guys?
Mikey: Yeah, it's amazing. It's been really good. The weather has manage to hold out, which for festivals this year is amazing.
DP!: It's quite a rarity.
Mikey: I'm not wearing my wellies which is a first. The music is good, the kids seem keen, and even on Sunday when we're all suffering and hanging, people still seem to be enjoying it. So, all around it's been pretty good.
DP!: You guys played your Hevy set earlier on today, how do you think that it went?
Sam: I think we were pleasantly surprised. We thought like "god, we're playing at 11:30am. How is this going to go?", but as we started the set the tent had a really nice load of people in there. We couldn't have had a better start to the day really. I mean, what better way to start your day than playing at Hevy festival?
DP!: Exactly.
Sam: Yeah man, it was really fun. Really good.
Mikey: It's better than we expected.
Sam: It's better than the Olympics. That's a lie, it's not better than the Olympics.
DP!: It's a lot cheaper than the Olympics.
Mikey: That's true.
Sam: Yeah, there you go.
DP!: When you guys are at a festival like this, do you have a particular drink of choice?
Sam: We started off on Strongbow and black yesterday and poor old Dave (Rawling, drums) bought himself 29p worth of blackcurrant juice and within an hour and a half it was all gone.
DP!: Really?
Sam: And I don't think he had one bit. It's normally just whatever you can get your hands on. I've drank some rare things that people have almost literally thrown in my face, like "try this". I don't know what it is. For all I know that could have been urine.
Mikey: That's not to say that Sam has actually drank urine.
Sam: I definitely did not drink wee. Just for the record, it's not a festival drinking choice.
DP!: Well, speaking of drinking wee, my mates are in standard camping and apparently after I had left there was a man there last night. There was a jug of piss, shit, spit and snot, and his mates were just like "I dare you drink that". They offered no incentives like money, but he was like "okay" and started. I think he had like two gulps before he started throwing up everywhere, obviously.
Sam: That is fucking disgusting.
Mikey: That's all sorts of wrong.
DP!: As long as you don't drink anything like that, you're winning.
Sam: That is also not a festival drink of choice.
Mikey: That's another festival story there.
DP!: Do you guys have any?
Sam: I made a new one today. I was extremely hungover like 10 minutes before we were going on stage to play. I went to go to the toilet to do the whole wee thing, and when I flushed the toilet it was already blocked. I came running out and it just went everywhere, dripping out of the door. Everyone was looking at me like I was the devil. It made a girl cry.
DP!: Well, if you made a girl cry then you are as bad as the devil.
Sam: Yep, I made a girl cry.
DP!: Recently you guys released an acoustic adaptation of your 'Pilot' EP. How did that idea come about?
Mikey: When we write and when we practice, a lot of it is based around the acoustics. We sort of start our writing process on the acoustics, so it's quite a sort of natural format for us to play in and perform in I suppose. We've had quite a lot of time off of the radar this year and last year, musically anyway. So it was a real good for us to sort of go back to the fans and go "we're still here and we're still doing things", and it gives a different angle on the songs that they've already listened to for quite some time. I think acoustically, the lyrics and the vibe and the meaning of the songs often comes out better or at least in a different way than to the electric recordings. It was something that we've wanted to do for a while.
DP!: Personally, do you prefer some of the songs electrically or acoustically?
Sam: Obviously I prefer the whole full band kind of thing because that's what we do, but it was a really nice change for us to be able to do that. Within this band you have people that like metal and you have people that like rock music, but then we do have a side of us where we love like folk music and stuff. I mean, I love the acoustic version of 'Resuscitate', but I would still pick the electric version. Every day that's what we are, but it's a nice change for us to be able to play it like that as well.
DP!: Your 'Pilot' EP definitely got you guys a lot of attention and recognition, along with great feedback from your fans and critics. Since that release, have you noticed a notable change in the swelling of your fanbase?
Mikey: It shows at shows like today. I mean, Hevy at an 11:30am start after a mad night, we were really thinking that it wasn't really going to go anywhere. It's quite a hardcore festival and there's a lot of heavier music and we're sort of in the minority with our genre. There's a lot against us this weekend, and for us to go out there and play to a lot of people… whether or not they enjoyed it, you'd have to ask them. But they were there, they had a listen and hopefully they enjoyed it. It's moments like that which really show us how far we have come along. Starting our shows in Cambridge to around five or six people who were usually our friends or our family or our girlfriends or whatever. To come from that, even at our scale, to play to a few hundred people is phenomenal. That's the way that we sort of gauge it. Obviously online too we get a load of brilliant feedback from all over the world. There's a lot of ways to gauge how it's all sort of going.
DP!: How is work coming along on the follow-up to the 'Pilot' EP?
Sam: The album is recorded. It's done. It's just the whole sitting on it for a while until everything comes together. The first single 'Death Rattle' is released on iTunes tomorrow, which has also got a b-side which isn't going to be on the album. As in the album, that is done. The name is done. We haven't said any of it yet but it's just keeping it all there and figuring out what's the best way to go about getting it out there. It's a little while until that's going to be coming out, I know that, but there's going to be singles coming out from it over the next four or five months.
DP!: Is the album coming out this year or towards the beginning of next year?
Sam: I think it'll be very early next year, and I mean like January or February. I think that's the plan. But then, it was meant to come out this summer and that changed, so expect it out in 2028.
Mikey: We'll all be like 42 by then.
DP!: It'll be like the new 'Chinese Democracy' I guess.
Mikey: That's it, exactly.
DP!: What else have you guys got planned for the rest of 2012?
Sam: It's pretty much the plan to do all of these festivals over the summer and then tour towards the end of the year. There's going to be a few things happening. I don't think we can say what yet though, so I'm going to have to be that guy I'm afraid. It'll be released soon. Then I know we'll be touring so we'll have to see what happens. But we will be back on the road come September, October, November, December time. It's kind of like we're getting back into the swing of it, which is nice.
Mikey: It's all starting up again now. We're really going to take it all into the public eye as much as possible. Plenty of singles and videos to keep everyone occupied.
DP!: Keeping all eyes on you I guess.
Mikey: Exactly.
Sam: It's exciting. I've been looking forward to getting this album out there and having the first single come out is the start of that.
DP!: What was the writing and recording like for the album? Have you been working on it since the release of 'Pilot'?
Sam: The writing phase I think it really did take us over a year to write this album. With 'Pilot' we just said "fuck it, we'll write what we want to hear and what we want to listen to as a music fan". For the first couple of months we didn't really do that with the album, we were trying to re-create 'Pilot'. I'm not saying that it doesn't sound like 'Pilot' because it does, but we've just got better at it. We've been with each other for like three years and we know how it works, so we've just become better songwriters and hopefully that's how it's going to come out.
Mikey: Like Sam said, we just realised that with 'Pilot' we wrote what we wanted to hear. We sort of forgot that at the very start of writing the new album.
Sam: We wrote some rubbish.
Mikey: It was just about getting back into the realisation that we want to write and we want to write, but that might be a little different to what 'Pilot' initially was.
Sam: The massive thing is that it's come out like we're always going to sound, but it's definitely – you have to wait and see. I can't describe it.
Mikey: We look forward to you hearing it.
DP!: Do you have any final words to share with the readers?
Mikey: Just thank you. I say it every time, we can't thank you enough for all of the support and the continuous following that people seem to give us. It really means the world to us
Sam: Make sure that you buy 'Death Rattle'.
Mikey: Yeah, and let us know what you think.
You can also read our review of the band's festival performance that day by clicking here.
Written by Zach Redrup
Interview by Zach Redrup