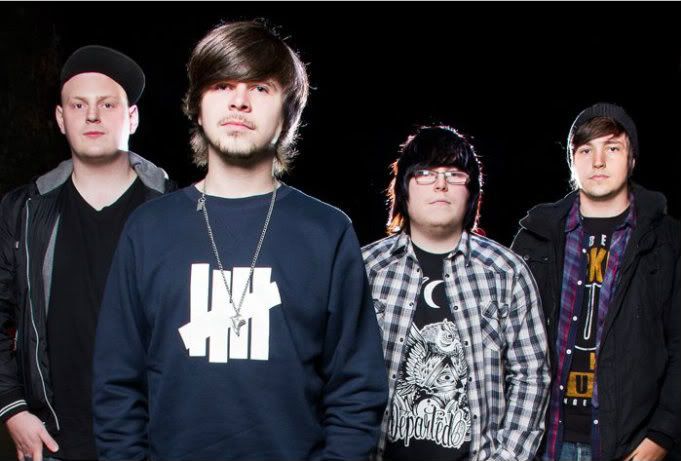 Melodic hardcore lads Empires Fade have had a more eventful year than usual in 2011, which has seen them recruit a new vocalist, release brilliant new material, embark on a few tours outside of their comfy home in Manchester and even feature in Kerrang! Magazine as one of the Top 10 Unsigned Bands in the UK today. A music video has been shot as well, and their new EP is nearing completion, so we had a quick chat with frontman Callum Galbraith on their last tour of the UK and before they inevitably soar off come 2012:
Zach: So, you guys are heading out on your final tour of the UK for 2011, are you looking forward to getting back on the road?
Callum: Definitely. This will be the third tour of the year, which isn't enough by far, but with jobs and everything it's difficult to balance the two. Hopefully next year will be more heavily balanced towards the tour side. That said, we've had some amazing times so far and made some great friends in Martyr Defiled, The Elijah, SHOWYOURTEETH, Noyalty (RIP) and Liferuiner. Getting to play shows across Europe was a real highlight, having people move to the songs in a completely different country is a great feeling and hopefully there will be plenty more in the future.
Zach: For those who haven't managed to catch you perform live yet, what can they expect from the standard Empires Fade show?
Callum: We give it our all with every show. The three weeks in Europe really helped us to find our feet live and now we try to have a sick time while still being as tight as possible. We like people to get involved because it makes you feel like you're really connecting with a crowd which in turn makes you play harder, so expect mosh, awful humour on my behalf and basically a good show!
Zach: You're the most recent addition to the band, filling in previous vocalist Alex Kelly's shoes after he decided to pursue other things. Did you meld into the line-up naturally or did it take a little while for things to sync into place?
Callum: Well, I've been in a couple of bands with our guitarist Mike Bennett in the past before, and I've been good mates with the rest of the guys for a few years through being in bands playing in Manchester. I went to Belgium with them last November for three dates and it seemed like Alex wasn't feeling it as much as the rest of the guys, and then when we got home he said that he was leaving. The band tried out a few vocalists and ended up liking my audition the best so chose me, and Alex was happy about that as well. The guys are all funny as fuck and we have a great time hanging out, so I'm really glad I've been given the opportunity to be in a band with them.
Zach: This year has been a pretty busy one for you guys, playing several shows both in and outside of the UK as well as being featured in Kerrang! magazine. Do any personal highlights come to mind more than others?
Callum: Seeing ourselves in Kerrang! was a definite highlight. Being in a magazine that you've been reading since you were 13/14 is awesome, and to be called one of the top 10 unsigned bands in the UK was a real honour. Touring Europe was unreal as well. The March tour was the first tour I've actually ever been on so that in itself was a highlight, and from then it's made me realise that I would love to do it all day, every day for as long as we can.
Zach: You've released two new tracks so far, 'Virtue' and 'Volition', both of which are taken from the forthcoming new EP. How's that coming along so far?
Callum: We're just releasing a five-track EP for now, but we are constantly writing new material so with any luck there will be an album out in the first half of next year. We just finished doing the vocals the other day and I'm really proud of how it's sounding. Mike records and produces bands as well, so he's done it all and he's done a bloody good job. All the songs will be available for free download really soon, so if people keep checking out our Facebook/Twitter the details will be up on there. Also, there will be song titles that don't begin with the letter V – promise!
Zach: Are those two songs a good insight into what can be expected from the remainder of the record?
Callum: I reckon so yeah. It's really heavy, but it's definitely accessible at the same time; there are a lot of tech parts and breakdowns that I still can't get the rhythm of which sound insane, but there's also some really catchy parts as well. Hopefully the mix will make us stand out a bit and get people to notice us and spread the word. The songs sound massive so I can't wait for people to hear them.
Zach: You also had the track 'Virtue' featured on our free compilation album 'Building Blocks Volume 1' which was released at the end of the summer. How did it feel to be a part of that?
Callum: Awesome dude, it's great to see that there are so many good bands around and it's a cool way to let people hear them. This website is sick, so to be part of the year anniversary and having over 600 people download the compilation is brilliant, so thanks to you for putting us on it!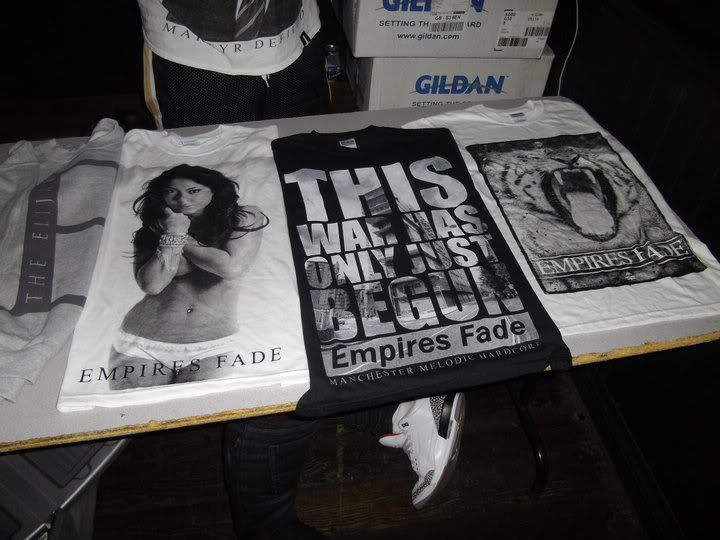 Zach: Word is you've recently shot a music video too, can you tell us a little more about that?
Callum: Yeah, we recorded it with Tom Cronin who is also a guitarist in This Is Colour in a really dingy unused paintball arena in Winnington, Northwich. It's just band footage, but we did a few different set ups and got some really cool looking shots so I think it's gonna turn out really well. 'Virtue' is pretty nasty musically and lyrically, so it was good to have somewhere that looked dirty and run down to fit with the vibe of the song. I couldn't move for about four days after it because we went a bit mental on each take, so hopefully when we see the finished thing it will have been worth it!
Zach: Why should people come and catch you on this UK tour?
Callum: People should check out this tour because it doesn't matter if there's 4 people watching or 400, we're going to put 100% into every show. It's such a great thing to be able to travel around playing to people all over the country so we're definitely going to make the most of it. We like to have a laugh and hang out, so people should come down to hear some sick songs from The Handshake Affair, us and Buried In Verona plus local supports and then dick around with us after we've played. It's gonna be awesome.
Zach: What can we expect from Empires Fade throughout 2012?
Callum: With any luck plenty more touring, more releases, more everything. We want to get our name out there as much as possible because people need to hear the songs. Playing a festival and touring outside of Europe would be absolutely amazing, but there's nothing set in stone just yet. We're really proud of what we've done already and can't wait to write more songs and play more shows, so expect to see us around a lot giving it our all!
Empires Fade will be releasing their new EP in Spring 2012. You can follow the band online on Facebook, MySpace and Twitter, and can also buy their merch from their BigCartel webstore.