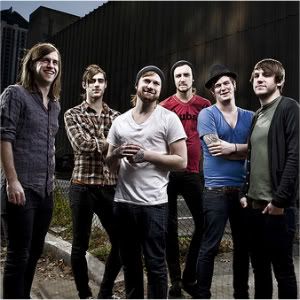 Date: December 8th, 2010
Venue: Club Academy, Manchester
Interviewer: Zach Redrup
Download: None available
Stream: YouTube
Website: None available
MySpace: www.myspace.com/emarosa
Moving from a more progressive and ambient style of their debut 'Relativity' to something much simpler and straight to the point with their eponymous album this year, Kentucky's Emarosa are quickly growing to be one of the most respected and appreciated post-hardcore/alternative rock acts around today. With 2010 bringing the 6-piece such great attention and a mass increase in fans, DEAD PRESS! decided to catch up with the group and talked about their current December UK tour, updates on forthcoming b-sides and guest appearances, and whether or not they're going to be releasing a music video in the near future…
YOU CAN LISTEN TO THIS INTERVIEW HERE:
A full review of their show that evening at the Club Academy venue in Manchester can be read here!
Written by Zach Redrup
Founder & Editor for DEAD PRESS! | Atheist and antitheist. | Judge of the quick & the dead since 1989.