With less than a couple of months until the 2018 edition of Download Festival, the UK's second biggest single site festival after Glastonbury held at the hallowed ground of rock 'n' roll at Donington Park, the final preparations are pretty much all done and dusted, ready to welcome another annual wave of rock, metal, punk… and indeed general music fans.
Boasting a trio of festival headliners in Avenged Sevenfold, the much sought after nearly complete original line-up of Guns N' Roses, and one of the final ever performances from Ozzy Osbourne, expectations are soaring pretty high.
For this year's festivities of thousands of devil horns in the air, and mosh pits aplenty across the Donington Park fields just a few mere yards away from its world famous race track, alongside head honcho Andy Copping, the Live Nation team have recruited some new blood in their booking department in the form of Kamran Haq, Sean Ryman, and Steph Van Spronsen to head up building this year's line-up. Needless to say, they've done a pretty good job.
We headed on over to Donington Park and had a natter with the bookers (aside from Steph, who was busy running about elsewhere on-site) to talk about finally securing Guns N' Roses on the bill, what it's like booking festivals now compared to a few years ago, future headliner material, how this year's line-up came together, gender balance on festival bills, and more.
DP!: How does it feel to finally have the original Guns N' Roses at Download?
A: Well, I mean we had Guns N' Roses in 2006 – a version of – and, I've got to be honest, I was excited when we had them booked. But, something that I've been talking about for a number of years was if there was a reformed Guns N' Roses that I'd be super keen to have them playing at the festival, and then they got back together a couple of years ago we got talking about them playing. We were looking at having them on last year in 2017, but they decided that they wanted to do their own thing, and so we did two shows at the Olympic Stadium, but when I booked that I did book them for Download this year, so super excited about getting them.
It's great that they're going to do a full set. I think that's important for the fans out there. They've got a massive catalogue of songs, so two and half hours is going to go in a heart beat. It did at the Olympic Stadium. Slash, Duff, and Axl will all be onstage together playing those songs, so it's a big deal. You've also got to remember that it's 30 years since the release of 'Appetite For Destruction', so it's an exciting time.
DP!: Did you catch them on the 'Appetite For Destruction' tour back in 1987?
A: Actually, I didn't see them in 1987, it was a number of years after when I saw them. I would've liked to have seen them then. It's incredible to think that album is just over 30 years old now, but still relevant. There's a lot of songs on there that are still super relevant to music, rock music, and influenced a lot of bands. There's a huge amount of bands out there, and bands that we've got playing at the festival that have been inspired by Guns N' Roses and 'Appetite For Destruction'.
DP!: You said that you've tied in this booking with them playing in London last year. Do you find that, particularly with the bigger acts, that you have to plan and try and book them two or three years ahead?
A: Definitely. It's really important to be ahead of the game. Back in the old days of booking Download we would finish in June and we wouldn't start looking at booking for the following year until the end of September and start of October. We can't do that now. We've got to be in the band schedules, make sure that we're letting them know that we're interested in booking them in the years ahead.
I'm already out with three offers for three different headliners for Download next year, and I've also got an offer out for a band to headline in 2020, so that's how far ahead we are year-on-year. Bands are putting their touring schedules together much earlier nowadays, and for a longer period of time. They want to know what they're going to be doing 18 months, 2 years, 3 years time, and we have to be a part of that. It actually in some respects does help us, as long as we can lock some of these bands in early which is important, and we've been lucky to do that.
DP!: With other European festivals, are you finding it more difficult to book bands when there's increasing competition overseas?
A: It's interesting, actually, because there are a lot of European festivals that are very similar to Download. A lot of those are owned by the same company, as Live Nation own a number of festivals across Europe. I guess the difficulty that we have is that those festivals have a tendency to be cheaper. If you do the Euro exchange rage, the cost to go to the festival there is cheaper than coming to Download, and that's because they're not paying anywhere near the kind of level of fees that I'm paying for bands at Download UK, so they're trying to encourage UK fans to go to Europe and see them, and I get that, and some fans may want to do it. They may want to go and see a similar level of festival say in Spain where the weather might be more guaranteed.
But, one thing that you mustn't forget is Donington Park is an incredible, incredible place to go and see a festival, particularly all of the history that we've had from Monsters of Rock right through until today. You know, we're sixteen festivals in with Download now, and there's something about this place when you come here. I've said it many, many times before, but it's like a living breathing entity. It's like it has got its own heartbeat. This is the home of rock, there's no question about it. You talk to the bands, you talk to the fans; if you want to go and see any band in the rock genre, Donington Park is where it's at, and we're very, very lucky that Download is a big part of that.
Even when the weather has been bad here, the fans are like, "We don't care. You can throw anything at us. We're at Donington, we're at Download. We want to see those bands." That's something that other festivals, not only in the UK but across Europe, they don't have that. If you look at the dedication of fans, what other festival in the world has fans putting the Download dog and the Download logo tattooed on their body? There isn't. Are you seeing people walking around with a Coachella tattoo? With a Glastonbury tattoo? No, you don't. You see that for Download, and that's purely the dedication. That's what the festival means to the people, and that's something that will set us apart from the competition.
DP!: For you, in terms of future headliners, what's the criteria that there needs to be and that they need to meet for you to even consider putting them as a headliner?
A: There's various things. It's their albums sales, it's their ticket sales at their own shows, seeing the band growing over a period of years. Are you headline worthy? There's a number of bands that actually haven't headlined Download yet that could.
I was actually going through a list earlier on today: Foo Fighters, Blink-182, Fall Out Boy, Bring Me The Horizon, Bon Jovi, Pearl Jam, Van Halen, Green Day, and I could come up with a number of others. There's bands out there which I can see becoming headliners in the next three or four years, whether that's Parkway Drive, Architects, Alter Bridge, Volbeat – you know, there's a number of acts that I can see coming through being a bonafide headliner for Download.
The list that I gave you a few moments ago, you know, some of those bands have been around for a long time, but they haven't headlined Download yet. It's like they're on the shopping list. I think that as long as there's new bands coming through – who would've thought that five years ago that I'd be talking about a band like Architects or Parkway Drive potentially being a headliner at Download. There's bands that probably haven't even been formed yet that could potentially become a Download headliner if their growth comes through reasonably quickly, and that they maintain a level of stability. We look at everybody. Everybody has got a chance. There's a number of bands that we haven't booked yet that hopefully we will in future years, so we've got a lot to go at.
With regards to criteria, it's are you popular enough? Can you deliver? That's another thing. When you look at say a band like Muse that I booked, Biffy Clyro, Slipknot when I first booked them in 2009, Avenged Sevenfold – are you a capable headliner? Every single one of those bands properly stepped up to the plate as I think that they see it as an honour to tread the boards and be a headliner at a festival like Download. They have to put on a great performance. All of those things are super important, and we're watching literally every band out there that could potentially be a headliner.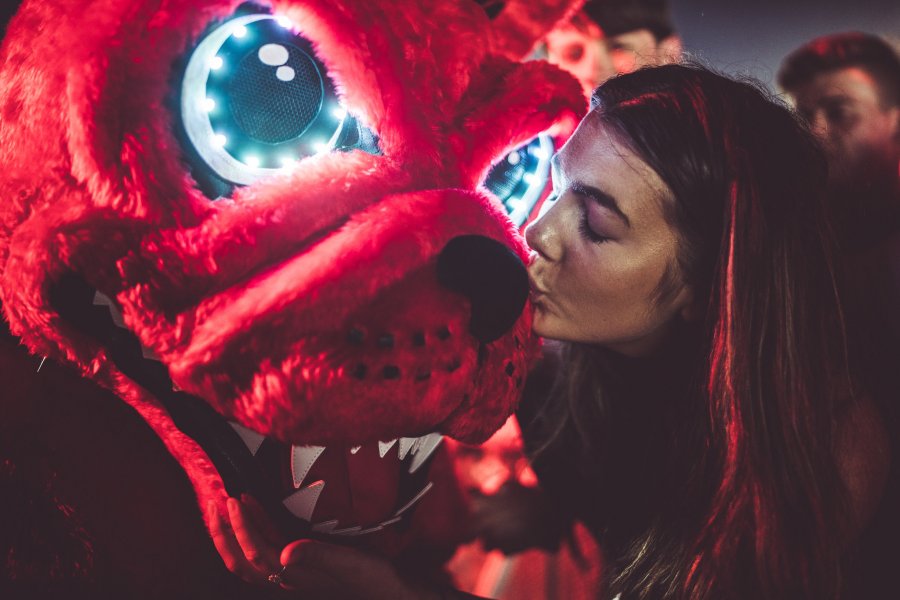 DP!: Do you think that the pool of headliners is getting smaller, due to the older bands that are starting to retire and call it a day?
A: I don't personally think that it is, because there are new bands that are coming through. This is something that I've talked about a lot. As an industry, we have to push bands through, but it's everybody; it's festival promoters, it's normal promoters, it's labels, it's the press, and – more to the point – it's fans. You've got to get behind the bands and push them instead of going "Oh, that band doesn't deserve to be a headliner." Get behind them, and really push, because if we're just gonna sit there and say there's no headliners there then, after a period of time, there will be no festivals.
You've got to be pushing bands through, and you've got to be acceptant of them. If a band gets in that spot and doesn't deliver, fair enough, criticise then. But, if a band does come through that you may have thought "Oh, I'm not so sure they deserve to be in that spot." – if they deliver like Slipknot did, like Avenged Sevenfold did, like Biffy Clyro did, like Muse did. I mean, Muse were a festival headliner anyway, but to come and play a festival like Download was a big deal for them, but they delivered. Lots of people that were saying "Muse should never have headlined Download" were afterwards saying "They were the band of the weekend," and that's what we've got to do. The fans have to do that to. You can sit and go "Oh, this band that are playing halfway up on the third stage are amazing and they should be headliner," you've got to be encouraging other bands to come through as well.
I would hope that all of us have a responsibility. It's not just down to me. It's me and everybody that has to make sure that we're getting behind these bands and giving them the opportunity, and supporting them when they get there.
DP!: Do you think the diversity of the music at Download is a good reflection of rock and its own diversity, and maybe how rock fans now are a lot more accepting now than how they were a few years ago?
A: I think that certainly the way that people consume music nowadays kinda sets the tone. If you hear something and you like it, and if you're getting that from Spotify, or iTunes, or whatever, you're liking that particular song. You're not immediately putting it into a category. The other thing is that as well is that, at festivals in particular, you will go and see a band that you wouldn't necessarily go and see in their own right, so you would go and think, "You know, I'll just go and have a look and see what they're like," and they're open to it. If bands are good, rock fans across the board will go "That's a thumbs up. Impress us. If you impress us, we'll like you. If you don't impress us, that's it. You're done." Not very forgiving, but also very open.
I've seen bands that prior to a festival have taken a bit of negative press about playing, but when ultimately they have actually performed the response has been amazing. It's good to see that, particularly with rock fans. If you can impress them, they'll support you.
DP!: How early did you start booking bands for Download Festival 2018?
S: Well, I started work about three weeks after the last festival had finished, and so did Kamran. We started straight away, and GNR have been in commotion for a long time. We're actually looking at headliners right now for 2019. It can be around 22 months to two years in advance, and we're even talking to one about 2020 as well, so it can be two year cycles for the headliners. We generally try and make sure that the headliners are booked and then we start the body of the festival. That's how we've approached it this year, and it's just the standard way of doing it. We started booking and sending out offers in bulk.
K: Yeah. Once the headliners were done, we started to get everyone else booked.
DP!: How do you go about delegating who organises and books which bands and acts? Do you work certain stages on certain days, or stick to genres, or another approach?
S: Between myself, Kam, and Andy – and Steph, obviously – we go with whoever's got the best relationship with either the bands, the manager, or the agents, so that's generally how we've done it this year. Between the three of us we kind of know every agent that's out there, and obviously we take submissions as well, and if we get a submission through either Andy, Kam, or myself will listen to it. We#ll then make a decision on that artist as well.
DP!: So, if you've got an emerging band that are unsigned, and they're on their own like a lot of bands are these days, what's the best way to put themselves forward for consideration?
S: It's a tricky question. A lot of people get a hold of our emails, which is one way.
K: Andy gets a lot of them.
S: I think there's a festival enquiry form on the website too, and Festival Republic send things over as well. We do book some bands, especially for the fourth stage, that don't have a manager so it does happen, but it's difficult when you get five hundred to five thousand submissions. Quite often we'll get submissions and myself, Kam, and Steph will divide them between us, and if we think there's something there then we'll bring it to the team again. That's how we did it this year. Instead of all three of us checking out one band, we've just divided because of the amount. That's just true with the submissions that have been unsolicited, and then we've got all of the agents and managers submitting their bands. It's quite a phenomenal thing to see how many there is on a list, and then you go "Right, we need to cut down 90% of this."
DP!: Have you got your own specialist genres and subgenres?
K: Definitely.
S: Yeah, definitely. I mean, I'm more into rock, pop-punk, and punk, and I mean Kam…
K: Yeah, I'm love metal, extreme metal, and hardcore as well, and a lot inbetween too.
S: I think when Andy hired us – we both got hired at the same time – and with myself and Kam I think he saw the two different things in us and wanted the whole team. There was only one job there to begin with, and then they wanted both of us, which really helped with the yin yang of our different tastes to come into the fold really.
DP!: I'm sure that helps with getting a range of different bands, and fans and followers of them. You've got You Me At Six, Avenged Sevenfold, Guns N' Roses, Thy Art Is Murder, etc. It's a big range.
K: Definitely, yeah. We try to cover all of the genres. It's not just a metal festival; we cover everything from pop-punk, to emo, to metal, to hardcore, and everything inbetween.
DP!: It must be quite difficult when you're thinking of who to book to try and find a balance, and avoid making the line-up have too much metal, or there's not enough classic rock, or anything like that.
K: Yeah. It's difficult trying to find a balance. This year we've tried to consciously make the fourth stage a little bit heavier. Obviously the third stage is emo and pop-punk, and hardcore essentially more than anything. Sean has been heavily involved in that. Then on the main stage we have the big headliners and the bigger bands basically.
DP!: Are you conscious at all, especially with topics and discussion going around at the moment, surrounding gender and gender balance with the line-up?
K: It is something that has come up quite a bit, yeah. We've had people email us pictures of the line-up but taking out every band that doesn't have a female member in it. So, yeah, we have consciously tried to put more female featured artists on there, but still have the quality on there.
S: That is the underline, yeah. There are plenty of amazing female artists out there, and we will book them, but it's not a numbers game as such for us. We can't really commit to 50% each way, which is what some people have suggested. We have to make it fair for everyone, and the quality is paramount, and that's what we say. Quality and following is paramount.
K: Definitely.
DP!: Were there any acts this year that were particularly difficult to book?
S: Guns N' Roses.
K: They were the ones that kept us waiting. We actually pushed the line-up announcement back because of Guns N' Roses.
S: I think people would have seen that we'd done that as well, because we spread them out over three days, and that's because we were really tying things up for Guns N' Roses. Historically you'll notice that we go three on the same day, and this year we went with announcements across Monday, Tuesday, and Wednesday.
K: We literally got the confirmation for Guns N' Roses on the Thursday, or something like that.
S: Yeah, so we had to stagger the announcement of the bands. We knew it was going to happen, but there were so many parts involved.
K: It was always going to happen, but we just needed a final sign off, and that finally came through on the Thursday. Thank God!
DP!: Were there any other smaller bands and acts across the likes of the third and fourth stages which personally you had a lot of involvement in and a personal investment in that you really wanted on the bill this year?
K: Yeah, definitely. Neck Deep was a good one to get on there. I've seen those guys come up from playing 100 cap venues to now headline a stage at Download. They've sold out Brixton Academy, they've sold out Manchester O2 Apollo, so it's good to see those guys come through. I think Thy Art Is Murder is another one as well. Again, I've seen those guys playing to no more than 100 people a night, and now they're headlining the fourth stage. The same with TesseracT, and Baroness as well.
S: I think for me, to just mention some small bands that not many people have heard of yet, I was really happy to get The Faim on. They're an Australian band, and it'll be their first UK festival. They've just been on tour with Lower Than Atlantis so they've just been introduced to the UK, and also DeD, and this will be their first ever UK performance. As Kam knows, I really love their album, so I'm really excited for more people to find out about them in the UK.
K: If you love nu-metal then it's right up your street.
S: Exactly.
K: As for a couple of more smaller bands there's Puppy. They're one band that I'm absolutely obsessed with at the moment. If you're a fan of heavy riffs and a bit of a Weezer influence then they're amazing. Another new band that's coming through is Dream State, and they're an absolutely incredible live band, female-fronted as well, and her vocals are insane. A lot of people compare them to a bit of a heavier Paramore.
S: Kind of like Paramore mixed with Bring Me The Horizon.
This year's Download Festival will take place on June 8th-10th 2018 at Donington Park, Derby.
Tickets are available now, including both camping and non-camping options, and also the option to pay via an instalment plan, and can be purchased online through the festival's official website (here).
Interview by Zach Redrup (@zachredrup)