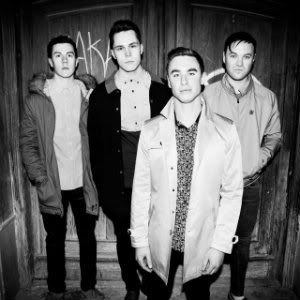 Date: February 21st, 2011
Venue: The Roadhouse, Manchester
Interviewer: Zach Redrup
Download: None available
Stream: YouTube
Website: None available
MySpace: www.myspace.com/donbroco
It's not very often that a band can release their very first EP and then go on to a successful headline tour a few mere weeks upon its release. Bedford's own Don Broco however are one of the few exceptions with the release of their 'Big Fat Smile' EP, so we decided to have a chat with them about the release, how the music video shoots were to promote the EP, and a small mention about vocalist Rob Damiani's recently revelead romance with Kelly Osbourne:
YOU CAN LISTEN TO THIS INTERVIEW HERE:
A full review of their show that evening at The Roadhouse venue in Manchester can be read here!
Written by Zach Redrup
Founder & Editor for DEAD PRESS! | Atheist and antitheist. | Judge of the quick & the dead since 1989.